Your favorite voter suppression panel—I mean, the Presidential Advisory Committee on Election Integrity—has brought the band back together and is ready to give curbing the right to vote another try.

After an initial request that each state submit a bevy of data about its voters—an ask that was met with bipartisan backlash—the committee's vice-chair, Kris Kobach, sent out another letter yesterday to secretaries of state around the country, requesting that the same information be sent again.
In his letter, Kobach asserts that the committee is only requesting information that is "publicly available" according to state laws. The data would then be compiled into a national database. To recap, the original request asked for:
Full first and last names of all registrants

Middle names or initials if available,

Addresses

Dates of birth

Political party (if recorded in your state)

Military status
Last four digits of Social Security number if available,

Voter history from 2006 onward
What is considered public record in terms of voter data varies from state to state, and concerns about privacy and the commission's use and protection of this information were spread across partisan lines. In fact, as Kobach mentions in his most recent letter, 30 states agreed to comply only in part, with the rest either refusing to submit data until they had further information about the commission's intent, or saying they would review what data could be shared with the committee.
G/O Media may get a commission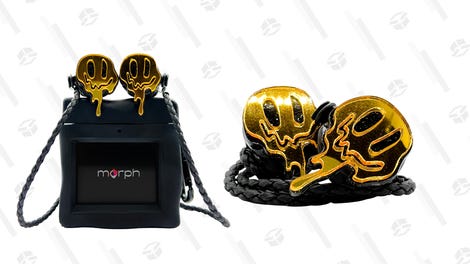 morph audio
Morph Earphones
The commission's work was further delayed because a suit was filed by the Electronic Privacy Information Center, which sought to prevent the group from obtaining the voter data it requested. A judge denied the Center's motion, prompting Kobach's renewed request—and an attempt to address the concerns that derailed their first effort.
Kobach's newest letter assures state officials that the commission "only requested information that is already publicly available under the laws of your State," and that "the Commission will not publicly release any personally identifiable information regarding any individual voter or any group of voters."
But Kobach, who has his own long history of attempting to obstruct the right to vote, did not shed any new light on the precise problems the committee is trying to address. Nor did he offer much detail about privacy concerns, saying simply that the commission was offering "a new tool" that would allow states to transfer the data directly to the White House computer system.
What the letter does make very clear is that President Trump's administration has no intention on curbing its fraudulent pursuit of the "millions of non-citizens" who it insists voted last November despite not a shred of evidence to back up its assertion.

What's that old saying? If at first you don't succeed (at snatching voter data so you can create more obstacles to voting, thus securing the dominance of your party until it burns the entire country to ash)—try, try again!