After her husband's death, a California woman dropped some boxes of his stuff at e-waste recycling plant CleanBayArea in South Bay. She didn't ask for a receipt, and didn't identify herself. Now, CleanBayArea is trying to find her, because they sold one of the discarded items for $200,000—and she gets half.
That item was a rare, 1976-era Apple I computer built by Steve Jobs, Steve Wozniak, and Ron Wayne, reports the San Jose Mercury News. CleanBayArea posted this account of what happened to their blog:

A month ago, an anonymous lady around 60-70 years of age came to CleanBayArea's recycling center in Milpitas, CA and dropped off a couple boxes of e-waste. She said that her husband had passed away and that she had decided to clean up their garage. She dropped off a couple boxes of e-waste and drove off without leaving any contact information. The boxes of e-waste had been sitting in CleanBayArea's warehouse for a couple weeks until a CleanBayArea recycling manager opened the box and found the Apple-1 computer under a bunch of cables and old keyboards.
CleanBayArea president Victor Gichun told a local Fox affiliate, "Her husband passed away recently. And I don't know her financial situation, but I think it can really help her."
Now, they're hoping the woman will come back to pick up her check. So come on Internet, let's get her attention.
G/O Media may get a commission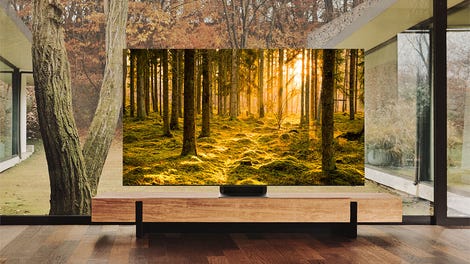 Up to 40% off
Samsung Smart TVs
Danielle Wiener-Bronner is a news reporter.