Last week, Republican Illinois Gov. Bruce Rauner was lauded by many and criticized by some (including white nationalist website Breitbart) for signing the Trust Act into law. That law prevents state and local law enforcement officers from detaining people based only on their immigration status.
According to the new law, which was passed by the state's General Assembly last May, in order for local and state law enforcements officers to turn an individual over to federal immigration authorities, they would need a criminal warrant signed by a judge.
The Trust Act—again, signed into law by a Republican governor—also limits local agencies' cooperation with federal immigration authorities, NBC 5 Chicago reported at the time.

But one suburban Chicago sheriff's office appears to be openly defying that new law, earning itself the first lawsuit over the issue.

Lawyers representing Niceforo Macedo–Hernandez, a 46–year–old immigrant from Mexico who has lived in suburban Chicago over two decades, sued the McHenry County sheriff on Friday for failing to abide by the Trust Act.

G/O Media may get a commission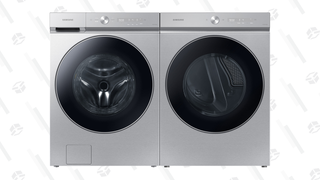 Get $500 back in credit
Last Chance: Samsung Bespoke AI Washer and Dryer Preorder
Macedo–Hernandez, a father of three, was arrested on a misdemeanor domestic battery charge, the Chicago Tribune reported. His family tried to bail him out of jail with a $500 bond, which authorities accepted, but instead, he was transferred to the custody of the U.S. Immigration and Customs Enforcement. ICE officials then began deportation proceedings against him.

The Tribune reported that two other immigrant inmates in McHenry County Jail, located about an hour and a half northwest of Chicago, have been denied release since the Trust Act took effect.

Sheriffs from other IL counties, meanwhile, said they are abiding by the new law, including releasing inmates who post bond.

But it isn't just shoulder–shrugging McHenry County Sheriff Bill Prim sending an "Aw, who gives a fuck?" to IL's new Trust Act. Some local judges are dragging their feet, too. In Macedo–Hernandez's case, McHenry County Circuit Judge Michael Feetterer denied a request to release Macedo–Hernandez, saying it wasn't his place to rule on the new state law, according to the Tribune.

But it's not like there isn't precedent. A 32–year–old arrested for felony drug possession was released by Lake County on bond shortly after the Trust Act took effect, despite a federal immigration detainer blocking his release. That's how the new law should be operating, Macedo–Hernandez's lawyers argue.

Two other anonymous plaintiffs have joined the lawsuit against the sheriff. One is a teenager and DACA applicant, and the other a man in his 40s charged with a misdemeanor traffic offense.