The owners and operators of a mobile home park in Marion, Ill. have agreed to pay $75,000 to settle allegations they discriminated against blacks, and families with children, as recently as last summer, according to a Justice Department complaint released Monday.
Since the early '90s, the department has instituted a program in which it approaches suspected discriminators with prospective black and white buyers and renters, and sees what happens.
Apparently acting on information suggesting the owners Lyle, Kyle and David Williams were allegedly refusing to rent to black applicants, the department began a testing program at the Williams' mobile home court on the outskirts of Marion in southern Illinois last summer. The town of 17,000 is almost 90% white.
The department found that that the Williams family, in particular Lyle (though all three Williams are named in the case) were forcing prospective renters to meet them in person rather than discuss rentals over the phone.
G/O Media may get a commission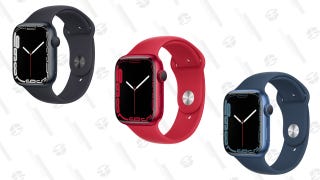 Up To $45 Off
Apple Watch Series 7
Once they realized they were black, Lyle Williams would say all their units were booked up.
However, if a white renter came by, a home would magically become available.
This happened in April 2014…
…June—and here, Williams also said they would not rent to families with young children…
…And again in August, where this time Williams was more explicit about the kids rule (in addition to the discrimination), saying they "run wild."
"It is both shocking and sad that in this day and age any person would try to discriminate against a fellow citizen on the basis of race," U.S. Attorney Stephen R. Wigginton of the Southern District of Illinois said in a statement.
The defendants did not admit guilt. Under the terms of the settlement, the Williamses will establish a $45,000 fund to compensate victims, pay $30,000 in civil penalties to the United States, and establish new nondiscriminatory application and rental procedures.
Rob covers business, economics and the environment for Fusion. He previously worked at Business Insider. He grew up in Chicago.