Every now and then, two things come together in such unholy matrimony, it leaves you a little shell shocked. For example, the Reebok Armani collaboration, "Accidental Racist," a collaboration between Brad Paisley and LL Cool J, and the very recent collaboration of hurricanes, climate change, and a racist head of state that doesn't care about poor people of color. Still, nothing could have prepared my psyche for the heinous and yet utterly predicable marriage between Forever 21 and Taco Bell.
The epitome of fast fashion and fast food have come together to release a line of clothing that goes by "#F21xTacoBell," featuring body suits that say "Hot" and "Fire" in the style of Taco Bell sauce packets and various other items emblazoned with the Taco Bell logo. For such an egregious display of capitalist spectacle, the designs are strikingly basic.
G/O Media may get a commission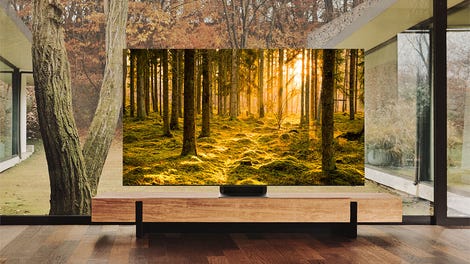 Up to 40% off
Samsung Smart TVs
Only in 2017 would something so ridiculous make this much sense. Sure, this is Taco Bell following in the footsteps of White Castle and McDonalds, attempting to incorporate that fashion thing the kids are into these days. Forever 21, a labyrinth of millennial platitudes and knockoffs, most certainly jumped at the chance to collaborate with everyone's favorite "Mexican" fast food joint. But this fraternization of two companies built on cheap products sends us into the kind of hyperreal capitalist normal that dystopian fictions are made of.
I have shopped at Forever 21. I'm not against a bean burrito and a taco at Taco Bell, though I've only had Taco Bell twice in the last eight years. Either way, I have supported this. I am a monster. And this is the reality I have helped create. I'm sorry.
The Forever 21-Taco Bell team-up is vexing, terrifying, and a perfect match, forged in the sulfuric bowels of hell. Congratulations to the new happy couple!
Sincerely,
me and basically Brendon Urie in that one Panic! At the Disco song.