It looks like Donald Trump is going to get his wall. But it's not going to be on the Mexican border.
Lea este artículo en español aquí.
Immigrant rights activists from around the country are traveling to Cleveland this week to build a giant wall around the Republican National Convention, which starts next Monday.
The group is even appropriating Trump's talking points, saying their wall is "going to be the best wall you've ever seen" and will be paid for by "Mexicanos" and "Latinxs and the conscious people of the U.S."
G/O Media may get a commission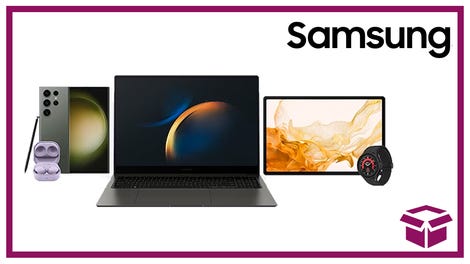 24 hour deals
Discover Samsung - Daily Deal
The idea is to give Trump and his supporters a taste of their own medicine by creating a barrier around the Quicken Loans Arena where the RNC will be held next week. The activists say they're aware that security will be tight, but that won't stop them from trying to block off certain routes to the arena with stretches of fabric that are 25-feet high.
"The wall is a symbolic show of communities coming together to build a barrier between us and the hatred that Trump represents," said Tania Unzueta, policy director for the #Not1More campaign, the group that's organizing the project to "wall off Trump" in Cleveland.
Unzueta said if the activists are able to raise $15,000, they'll have enough for the fabric, cardboard panels, and people needed to build a wall enclosing the Quicken Loans Arena. Mijente is currently hosting a crowdfunding campaign to raise the money for materials. So far they're about 9% towards their goal.
Activists say parts of the "wall" will include murals painted on structures, homes, and businesses throughout Cleveland.
The convention wall protest is a bold play considering that demonstrators will include undocumented immigrants, and Immigration and Customs Enforcement officers will be among the law enforcement agencies deployed to the RNC, according to the Cleveland Host Committee.
Unzueta, who is undocumented, said all participants in the protests will be informed of the potential risks involved with participating in the protest.
She says her group has partnered with other activist groups that are helping to organize the "wall off Trump" protest, including a group of Iraq veterans against wars and the Ruckus Society, an Oakland-based group that provides activists with non-violent direct action training.
Organizers would not say if they will attempt to physically block delegates and other convention-goers from entering the arena. But they're not ruling it out, either.
"It's not our intent but sometimes these things happen," said Unzueta.