An internal investigation made public on Friday by the U.S. Department of Homeland Security found "no evidence" of sexual abuse following a complaint at an immigration detention center in Texas.
The woman who initially made the complaint in September 2014, however, is telling a different story. Daniela,* a 34-year-old immigrant from El Salvador, told Fusion she witnessed misconduct in her shared cell, when a guard visited a female detainee.
"That includes an agent who entered the room in the early morning," said Daniela, who now lives in Maryland. "He was there in the room, he got under the covers, and started with her."
Daniela said her children — presently ages 3 and 5 — were sleeping in the room, as well.
The DHS report makes no mention of that alleged encounter, instead saying the complainant "had no firsthand information" about sexual abuse in the facility and had "reported hearing rumors" about inappropriate relationships between staff and detainees.
G/O Media may get a commission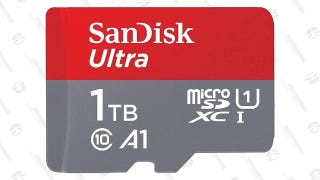 Save $75
SanDisk Ultra 1TB MicroSDXC Card
Daniela told her story to investigators, but her version of events is not accurately portrayed in the report, according to her lawyer, Allison Boyle.
The case came to light in October when a group of Latino and immigrant rights organizations filed an administrative complaint asking DHS to investigate claims that guards were engaging in sex acts with female detainees at the Karnes County Residential Center, one hour southeast of San Antonio. The facility had been all-male until July, but it was hastily converted into a family detention center to house a rapid influx of Central American migrants crossing the border illegally this summer.
The administrative complaint, filed in September by the Mexican American Legal Defense and Educational Fund (MALDEF), along with other groups, alleged that numerous women in the facility had reported sexual misconduct by guards. According to the document, guards pulled women out of their cells for sex sessions, referred to them as "novias" or "girlfriends," and promised assistance with their immigration cases in exchange for sex.
The complaint also alleged that guards groped women in front of other detainees, including children.
The allegations prompted Homeland Security's Office of Inspector General to launch the investigation, which they say ran from Sept. 19 to Nov. 24, and involved interviewing 33 witnesses. The DHS report, however, does not mention the MALDEF complaint specifically.
"Each of the female detainees identified by the complainant denied they had ever engaged in any form of inappropriate activity, to include sexual acts, with any Detention Officers," the report stated.
Investigators found no evidence that guards had taken detainees into laundry rooms or restrooms to engage in sex. They did, however, uncover interactions between staff members while reviewing surveillance video.
"Two [redacted] Detention Officers were engaged in a romantic relationship with each other and had engaged in inappropriate physical contact in the laundry room area while on duty," the report stated. "When presented with this information, Federal and State prosecutors concluded that no violation of Federal or State statute had occurred."
The DHS Office of Inspector General did not respond to a request for comment regarding Daniela's case and the broader investigation. A statement released Friday by U.S. Immigration and Customs Enforcement — the agency that staffs the detention center — praised employees.
"This report is a testament to work and efforts by ICE employees who remain committed to providing a safe and secure environment to all individuals in custody," said spokesperson Gillian Christensen. "ICE holds its employees to the highest standards of ethical conduct and takes any allegations of misconduct seriously and if warranted, takes action immediately."
Marisa Bono, the San Antonio-based MALDEF attorney handling the complaint, said she cannot trust the government's finding without more information about how they conducted their investigation. For example, it's unclear if each of the detainees had a lawyer present when interviewed regarding the sex abuse allegations.
"You have to question whether or not the federal government, given that this is one of their facilities, can conduct an investigation in a fair and unbiased way," she said.
Beyond this specific case, Bono believes the Obama administration's decision to expand family detention will create potential dangers for detainees.
"The central problem in all this is that the federal government is imprisoning women and children, and it's just a very unnatural and difficult situation," she said.
MALDEF will continue to press DHS for more information about the investigation and work to prevent possible abuses in the future, Bono said in a follow-up email.
"To our understanding, male guards are still overseeing a predominantly female population without supervision," she said. "There is no physical monitoring of enclosed areas, other than video cameras, as verified by the memo."
*Daniela's name has been changed at her request.
UPDATE, Feb. 9, 3:35 p.m. ET: This story has been updated with more detail regarding MALDEF's response to the report.
UPDATE, Feb. 7, 3:25 p.m. ET: This story has been updated to note that Fusion reached out to DHS for comment before publishing this story.
Ted Hesson was formerly the immigration editor at Fusion, covering the issue from Washington, D.C. He also writes about drug laws and (occasionally) baseball. On the side: guitars, urban biking, and fiction.