Malala Yousafzai has been dubbed "the most famous schoolgirl in the world," but she still goes to school and takes exams like the rest of us. The difference? Her extracurricular activities are slightly more impressive.
At only 17 years old, Malala is known for founding the Malala Fund in an effort to raise awareness about the maltreatment and lack of education that affect many girls around the world, and, in 2014, she became the youngest recipient of the Nobel Peace Prize. Now, there's a documentary about her life, He Named Me Malala, filmed by acclaimed director Davis Guggenheim.
Malala has earned international recognition for her relentless activism. She has already co-written a memoir and there's a New York Times documentary dedicated to her story. This new doc spotlights Malala's relationship with her siblings and parents, her life as a deceptively typical teenager, and the undying support of her family. The title of the documentary, He Named Me Malala, underscores the importance and influence of family throughout Malala's journey. She says: "My father only gave me the name Malala, he didn't make me Malala."
Some 66 million girls around the world have no access to education or are explicitly forbidden to learn. Malala, her father, and her other family members continue to champion change in education rights. Malala first begin spreading awareness at age 11, when her father suggested she report undercover for BBC on the Taliban's growing influence in Pakistan's Swat Valley. Her public profile surged and Malala gained international fame after an assassination attempt was made on her life. "A bullet will not silence me," Malala stated firmly.
G/O Media may get a commission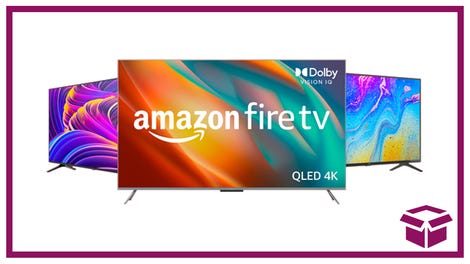 Ooh. stunning.
New Amazon Fire TVs
After six years of tenacious activism, Malala retains her humility. "I am still an ordinary girl," Malala says. "But if I had an ordinary father and an ordinary mother, I would have two children by now."
In a recent interview with The Daily Show's Jon Stewart, Malala said she's just finished her final exams and is two years away from college.
"Better start working on your resume and test scores," Stewart joked. "A Nobel peace prize will only get you so far."
Despite being a shoo-in at any university in the world, the teen enjoys some normalcy. When she's not out advocating for change, Malala is teasing her brothers and enjoying a game of cards with her family. She is also browsing Facebook on an iPad and Googling her crush, Roger Federer.
Of course, Malala continues to speak at international conferences and spread awareness, volunteer in many countries, and remain one of the world's most influential people. Her motto: "One teacher, one book, and one pen — they can change the world."
He Named Me Malala hits theaters October 2015.
Nikita Redkar is the editorial intern for Fusion who loves writing all things pop culture and feminism - sprinkled with the occasional punchline. She likes cute animal gifs and dislikes long walks on the beach, plagues, and other cliches.