DES MOINES, Iowa—Four young employees are joking around in the bright, unforgiving light of the Jimmy John's sandwich shop catty-corner to Drake University. The store is nearly empty—students are hunkering down for finals. The university and the street it sits on are classically collegiate. There's a space-themed coffee shop called Mars Cafe and a Planned Parenthood. The campus itself is made up of manicured quads and quaint paths.
But the environment at Drake University right now is quite different from that of any other American institution of higher learning. Even during finals.
Every election cycle, presidential candidates descend on the private school to persuade young Iowans into their corner. Drake hosted a Democratic debate in November, and on Monday night it will host the Iowa Brown & Black Presidential Forum.
Ahead of the upcoming Iowa caucuses, students have taken part in a televised focus group, been a fixture on the news, and posed for photo ops with politicians. One Drake law student named Sterling Wilkins even got to ask a question about Black Lives Matter at CNN's debate in October. "When you enroll at Drake University and it's presidential election season, you can be on TV like my student Rebecca," an professor of advertising at Drake tweeted.
In the months before Iowans gather to vote, students at Drake become some of the most important voices in the election. But Drake is not just the focus of American politics—it's a college campus in America, grappling with campus sexual assault and racism, like so many other campuses across the country.
G/O Media may get a commission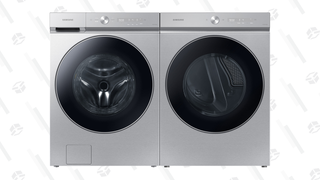 Get $500 back in credit
Last Chance: Samsung Bespoke AI Washer and Dryer Preorder
The five Drake students I meet up with, the interviews arranged through a political science professor, are polished. They speak about politics fluently, with ease and professionalism. They've done it before, it is clear, with other reporters and news crews. They have some of the most coveted opinions in America right now, so their concerns are paramount. Though a small fraction of caucus voters are young, college students provide campaigns with energy and youthfulness. "I do think we're lucky here," says Raymond Starks, a senior at Drake and fervent Jeb Bush supporter. "We have the climate [at Drake] where we discuss things."
For Starks, the things to discuss are immigration and the economy.
Olivia O'Hea, who sits to the left of Starks, jokes that she is the college's resident Democrat and says she is still undecided just weeks away from caucusing. "I'm really excited for the Brown and Black Forum to come to Drake and see a focus on minority issues, which I feel like have been a little glossed over in debates," she says. O'Hea wants more substance. "I was hoping to hear more about how specific policies—immigration, drug and crime policies, mandatory minimums—relate to minority communities."
Drake students are aware of their position on the national stage. "The Iowa caucus is a really cool addition to bringing political discussions to our campus," says Madeline Meyer, a senior and undecided independent. "Inequality and poverty in the United States is my biggest issue," Meyer says. She is hoping for a change in the tax code. "The very, very wealthy are doing a lot better than the middle class," she continues. "And then you've got the very poor."
Like many colleges and universities across the country, Drake's student body is deeply entrenched in the national conversation about Black Lives Matter. Sterling Wilkins, a second-year law student, asked the Democratic candidates at CNN's debate: Do black lives matter, or do all lives matter?
I meet Wilkins in the lobby of Drake's law school. He emerges alone, walking a few paces behind a pack of students who are excitedly chatting about the final they've just taken. We sit on a bench at the entryway of the building. "There are some serious problems here on campus," Wilkins says, referring to racism. One black student, he says, told him a white man banged on her car and called her the N-word.
A day after the University of Missouri gained national attention for its protest against campus racism, Wilkins tells me, he and 200 other students congregated on the Drake campus, wearing all black to show their solidarity. The following day, black students met in the African-American cultural center and got to talking about their struggles at the university.
Among their grievances, Wilkins says, were numbers. He counts aloud the black students in his class at law school. "There's eight out of at least 100," he concludes after assigning each one of his black classmates to a finger. "And none of us dropped out after the first year," he adds, boasting. "There are definitely people that feel that we're not as uniquely qualified as they are to be here," he says. He says debates on affirmative action in his law school classes are "a trope that's trotted out." Some of his classmates, he says, "think it's not fair to those who are in the majority who are adversely impacted."
The campus' black student group, Coalition of Black Students, drafted a list of demands, which Wilkins says he approves of because they're feasible. "One demand was for a cultural diversity program that is part of the curriculum," he says. "The [school] already has something like it, but can be satisfied by taking something like Spanish." Wilkins wants to see African-American literature as part of the core curriculum. A Drake University spokesman did not immediately respond to a request for comment.
There is at least one major issue at Drake, the students say, on which progress has been made: education on campus sexual assault. Meyer and O'Hea, two students I spoke with about the issue, credited the school with hearing student pleas for a more serious approach to the issue. Much like the Coalition of Black Students, a sexual violence prevention group called Demand a Better Drake sprouted last year after other colleges around the country began demanding more regulations from their schools. This year for the first time, Meyer tells me, students were required to take an online course about sexual assault and healthy relationships before classes began.
"I'd like more education," says Meyer. "But I think that it's a great step."
O'Hea chimes in: "Three of their goals have been completely accomplished and they're organizing this semester to get the rest of their goals met."
Politics pulses through every vein at Drake. But right now, all eyes are focused on the election. Wilkins tells me when I ask him why he chose the law school, "I knew I'd be here smack dab in the middle of election season."
Join us live on Jan. 11 at 8 p.m. ET as Fusion hosts the 2016 Brown & Black Democratic Presidential Forum from Drake University in Des Moines. The forum will focus on where the candidates stand on issues that matter most to America's growing multicultural population. Tune in to Fusion's cable network, or watch the livestream on Fusion.net, Facebook, and YouTube. And download the Fusion app and join the conversation during the forum. Available on iOS and Android.
Collier Meyerson is a reporter at Fusion with a focus on race and politics. She lives in Brooklyn.