CURITIBA, Brazil— New England Patriots' quarterback Tom Brady and Brazil's Rodrigo Zanini de Mattos have a few things in common. Both are national championship-winning quarterbacks. And they're both married to Brazilians.
But that's where the similarities end. Unlike Brady, who was earned nearly $1 million per game this season, Zanini has to shell out $50-$100 per game for the privilege of playing for Brazil's American Football championship Coritiba Crocodiles.
"It's for the love," said Zanini, who similar to Brady won the most valuable player award after helping his team to victory in the 2013 Paraná Bowl. After winning the championship, he went back to his day-time job as a systems analyst for Exxon Mobil Corp in Curitiba, where his team is based.
Zanini was one of a dozen burly Crocodiles gathered at a sports bar here on Sunday night to watch the Super Bowl. Many of them wore Patriots jerseys and knocked back bottles of Budweiser. Even before Super Bowl kickoff, the Crocodiles had a lot to celebrate. The previous evening, several of their star players led Brazil's national team to defeat Panama and secure their first berth into the International Federation of American Football (IFAF) World Championships.
G/O Media may get a commission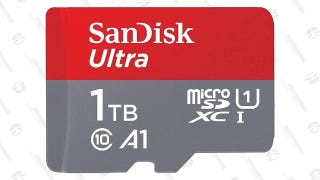 Save $75
SanDisk Ultra 1TB MicroSDXC Card
No longer just a fringe sport played by U.S. expatriates, American football is gaining acceptance in this soccer-obsessed nation as Brazilians transfer their love of sport and athletic foot skills from the pitch to the gridiron. Now the National Football League (NFL), seeing the potential in the world's fifth-most populous nation, is reportedly looking into opening its first office here.
"American football is just pregnant right now in Brazil, getting ready to give birth to something great," the Crocodiles former coach Johnny Mitchell, who played pro with the Jets and Cowboys, said in a recent media interview. "I think that in 7-10 years you could have talent on the level of the NFL."
An estimated 3 million Brazilians already call American football their favorite sport, and an expanding Internet infrastructure will further bring the game to the growing middle class. Worldwide, the Super Bowl's online audience last night jumped 30 percent and league followers on Facebook grew 65 percent, according to statistics provided by the league to Bloomberg.
With 200 million people, Brazil holds huge potential for NFL licensing deals, advertising, and gear sales to people such as Emerson Matitz and his wife Karen, both of whom wore Pats' jerseys to last night's Super Bowl party in Curitiba. Matitz said he was first exposed to the sport during the 2005 Super Bowl, the last time the Patriots won the national championship. Matitz said he became an instant fan, purchasing a book about the Patriots and buying eight authentic NFL jerseys.
The reputation of American football in Brazil has also been helped by the marriage of Patriots' MVP Brady to Brazilian supermodel Gisele Bundchen. "A lot of people who have never heard of football have heard of Brady," said Felipe Cursino, who plays fullback for the Crocodiles. "The fact that he's married to a Brazilian has helped the popularity."
Stephen Kurczy, a Brazil correspondent, has reported from the favelas of Rio de Janeiro to the jungles of the Amazon. Somewhere along the way he became addicted to açaí, a purple slushy made from the powerfruit.