The ex-CIA officer who first blew the whistle on the agency's waterboarding practice says the 30-month prison sentence he got for revealing classified information was "worth it."
"It's been a terrible three years, and it's ruined me financially and personally, but in the greater picture it's all been worth it," John Kiriakou told Fusion over the phone from Arlington, Virginia, where he just began serving an 85-day house arrest sentence. It was his first interview since leaving a federal prison in Pennsylvania on Tuesday.
"I'm proud I had a role in seeing that torture is now banned in the United States," he said.
For now, he's only able to leave his home to go to a halfway house or to church, so Kiriakou, 50, is struggling to wrap his head around everything that happened while he was behind bars—namely the release of the Senate's torture report less than two months ago.
That report, the result of an exhaustive federal investigation, found that the CIA's use of torture in the years after 9/11 was more brutal than the agency acknowledged at the time, even to the White House.
G/O Media may get a commission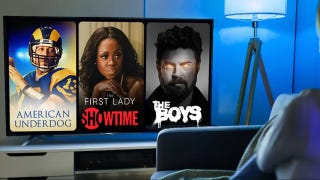 UNDER $1
99¢ Prime Video Channels
Kiriakou, a CIA analyst and case officer until he resigned in 2004, learned about his employer's interrogation tactics by reading internal reports. He first disclosed related details in a 2007 interview with ABC News.
The comments sparked international outrage, but were found not to be classified. But in 2012, he was arrested after confirming the identity of a CIA officer who was involved in the program to a New York Times reporter—a violation of the Intelligence Identities Protection Act.
He was also convicted on three counts of espionage and one count of making a false statement.
Kirikau defends his actions, and says they served a greater good.
He says the instances of public outrage that greeted each new revelation about the CIA's interrogation methods—and in particular at the gruesome details of the recent Senate report— have vindicated him. (Members from both parties supported the report's release, many concluding that it showed torture was counterproductive to American interests and values.)
"The irony of my prosecution is that everything that I said was true, and that's been borne out in the torture report," he said.
Still, some of the information in the report was previously unknown even to him, he said,  such as rectal feeding, a controversial method of force-feeding through the rectum which was used to gain "total control over the detainee," according to the Senate.
""But that's the problem with the torture program. Torture is a slippery slope, and once you start dehumanizing people, it's almost a human tendency to do worse and worse and worse things to get the information you are supposed to be after," Kiriakou said.
He dismisses the views of Bush administration officials like former Vice President Dick Cheney, who in response to the torture report said he would "do it again in a minute" because it helped achieve the primary objective of capturing the perpetrators of 9/11, calling it an attempt to salvage his legacy.
"When [these people's] obituaries are written it will say that they were instrumental in the torture programs, and they are desperate to show that it was necessary and it was appropriate, even though it was not necessary, and it was inappropriate," Kiriakou said. "No matter how many times Dick Cheney says it, it doesn't make it true."
Current CIA director John Brennan, who took over in 2013, has said that the agency "disagrees with the Study's unqualified assertions that the overall detention and interrogation program did not produce unique intelligence that led to terrorist plots being disrupted, terrorists to be captured, or lives to be saved."
Kiriakou says that his conscience is clear—regardless of his jail sentence and the "extremely tough time" his family has gone through due to his prosecution, which he says included some time spent on public assistance.
His time detained also opened his eyes to what he calls an urgent need for prison reform.
Over the phone he described witnessing "grotesque" crowded conditions and a lack of sufficient medical treatment at the Loretto Federal Prison. Prison officials at the facility were unable to immediately respond to those allegations.
In fact, Kiriakou's whistleblowing days may not be over. He says he's starting to work on a piece of writing about the conditions he saw in prison, and that he "intend[s] to have something written by the end of the the spring" on the subject.
Daniel Rivero is a producer/reporter for Fusion who focuses on police and justice issues. He also skateboards, does a bunch of arts related things on his off time, and likes Cuban coffee.