HOUSTON—Before the protests, before the war, before he was beaten and electrocuted by Syrian police, Kamal was a chef.
Over 16 years on the job at a five-star restaurant in a Damascus hotel, Kamal learned the finer points of French cuisine and enjoyed the glamour of the cosmopolitan capital. He perfected his favorite dish, the cordon bleu: a crispy chicken breast stuffed with steaming cheese, mushrooms, and corn.
That all ended five years ago this month, when thousands of Syrians flooded the streets to protest the country's oppressive regime. Kamal was one of them, marching through the city center and calling for democratic reforms. Like many others, he was imprisoned and tortured by the government as unrest quickly turned to war.
After he was released, Kamal fled to Cairo and was later admitted as a refugee to America. Almost 3,000 Syrian refugees have come to the U.S. since the civil war began in March 2011, and about 130 have settled here in Houston. Overall, more refugees go to Houston than any other city in the U.S. If Houston were its own country, it would receive more refugees than all but three other nations, according to the Houston Chronicle.
While the Syrian refugees in Houston face major challenges—especially learning English and getting around this sprawling city—many, like Kamal, have successfully started new lives. When he landed in the U.S. in January 2015, he knew almost no English. Now, after being in America for just one year, he's the head chef of a new Mediterranean/Arab restaurant that had its grand opening a few weeks ago.
G/O Media may get a commission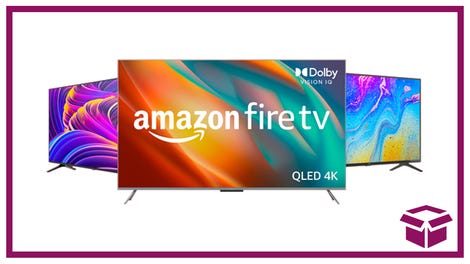 Ooh. stunning.
New Amazon Fire TVs
Kaan Cafe isn't exactly a five-star venue. It's on the ground floor of a dreary concrete office building a few blocks from a knot of freeway interchanges. But inside, lush red tapestries hang from the walls, and a soft, lilting soundtrack plays in the background.
Kamal, who has stringy black hair and a quiet laugh, told me about his new life as he served up a small feast of hummus, tabbouleh, and baba ganoush. Later, he brought out a plate of succulent kebabs tucked between two slices of pita.
It took two years of security clearances in Egypt before Kamal, his wife, and their three kids were approved as refugees. He's proud that his youngest child, a five-month-old girl born in Houston, is an American citizen.
The only real difficulty, he said, was with the language. He speaks now in a mix of English and Arabic. "All of the people I met here were very welcoming," he said.
Even years later, he's still undergoing medical treatment from the broken bones and torture he was subjected to in Damascus. He spent a total of 14 months in and out of jail, and still has a scar from when government doctors forcibly removed his kidney. But he doesn't talk much about that. He focuses instead on his future: His new restaurant and his family.
"In the U.S., if you work hard, you will find success," he said. "That's what I've discovered."

🇺🇸🇺🇸🇺🇸
Syrian immigrants have been coming to Houston for generations, many to study or because of jobs in the oil industry. Since the start of the civil war, the Syrian community here has worked to build a safety net for refugees from their homeland.
The nexus is the Syrian American Club, a nonprofit and social group. Its headquarters is a few blocks away from Kaan Cafe, in a high-ceilinged, airy building with arched doors and a small fountain in the middle. There's a meeting space used for weddings and events and a classroom where second-generation kids study Arabic.
Since refugees from the civil war started arriving, the group has tried to help them transition to American life. Older women visit refugees, talk with them, and babysit their kids. Others help them fill out job applications, or drive them to job interviews. "We even have refugees helping refugees," said Jala Barazi, one of the club's leaders and a Syrian immigrant.
Many refugees choose Houston in part because of its growing economy and low cost of living. Immigrants come from around the world; by some measures, it's the most diverse city in the country. That includes a large Muslim population. It's a city where it's not odd to see a woman in a hijab.
But refugees in Houston also face substantial challenges. One is just getting around: The city is tied together by its highway network, and trying to go from one place to another without a car can be all but impossible. One Syrian refugee, a former farmer, got a job at a nursery that was a 40-minute drive north of his home, Barazi said. But riding the circuitous bus route took him two and a half hours each way. So he quit the job after two days.
Syrian refugees don't come to the United States directly from Syria. Instead, they flee to another country first—usually Jordan, Turkey, or Egypt—and then apply for resettlement through the United Nations. A lucky few get approved to come to the U.S., while hundreds of thousands of others are going it alone, making the grueling and often deadly trip to Europe. Many have endured psychological or physical trauma after years of war and living on the run.
Once they arrive in the U.S., refugees are placed in an apartment and get cash support, English classes, and job training for six months paid for by the federal government, after which they're expected to support themselves. Most are able to pay their bills without government support, but it's a struggle. "Financially, they need a lot more than they're getting," Barazi said.
Politicians trashing Syrian refugees haven't made the adjustment any easier. At a rally last September, Donald Trump declared, "I'm putting people on notice that are coming here from Syria as part of this mass migration, that if I win, they're going back." Later, he suggested that refugees could be a "Trojan horse" for ISIS supporters.
Meanwhile, Republican governors, including Texas' Greg Abbott, have vowed to prevent Syrians from entering their states. Abbott and Attorney General Ken Paxton have filed lawsuits aiming to keep out Syrian refugees, but judges have dismissed them. The evidence the state put forward about the danger of admitting refugees was "largely speculative hearsay," wrote one judge in Austin.
The political frenzy has bred negative media attention. When word got out in December that one family was landing at Houston's airport, TV crews crowded the arrival gate, incorrectly reporting that they would be the first Syrians in Texas. The resettlement agency instead sent them to another airport and drove them to Houston to avoid the unwanted welcome.
On a personal level, the refugees here haven't reported any major issues with discrimination, Barazi said, other than one incident when someone started yelling at a woman in a hijab (she didn't understand what he was saying).
In any case, the predictions of huge numbers of Syrian refugees flooding into the country and the state haven't come true. In the past five months, only 955 Syrian refugees have been admitted into the U.S., even though President Obama originally vowed to resettle 10,000 between October 2015 and September 2016. Experts say it has to do with the time-intensive security screening process, which has been bogged down by delays.
Ali Al Sudani, the director of refugee services for Interfaith Ministries, a local resettlement agency, said he'd also seen a decline in the number of Syrian refugees coming to Houston this year. Since the beginning of the civil war, his agency has resettled about 25 Syrians in Houston. But the agency hasn't received any newcomers since December, and isn't expecting any more soon.
Those who are here are adapting well, said Sudani, himself a refugee from Iraq.
"Houston is a multicultural city, it's a melting pot of different cultures," he said. "That's why it's a top destination for refugees. Yes, we have a good economy, an affordable cost of living, but I think the main reason is that Houston is welcoming, and the people are friendly."

🇺🇸🇺🇸🇺🇸
In a suburban home a few highway exits away from the club, a family of more recent arrivals are building their own lives. Wasim and Faeza welcomed me into their home earlier this month, and sat in a sparsely decorated living room with heavy, soft carpets. In one corner of the room was a small TV with the sticker still on the screen.
The couple's five kids—two boys and three girls, ranging in age from 2 to 12—crowded onto the couches and ran around the room. Faeza has a pretty face framed in a white hijab; Wasim is balding and speaks passionately.
When we met, they had been in the country less than six weeks. But it didn't seem like that long. "Good days pass quickly," Wasim told me in Arabic that Barazi helped translate. "I thank God that we're here and that people so far have been very friendly and kind."
The family is from Homs, a Syrian city nearly destroyed by the half-decade of war. As the war ramped up, bomb blasts became a soundtrack to their lives, and firefights would break out in the streets.
One morning in early 2012, the family fled Homs as the sun was rising and caught a bus to Damascus. They hoped the war would calm down and they could return. But Wasim doubted they'd be back. "I knew I wasn't going to be seeing Homs again," he said. "It was a very difficult decision."
War followed them, and even the capital wasn't safe. By 2013, they won a prized visa for Egypt, and left Syria for the first time. Even there, the instability of a series of governments and scarce jobs gave them few chances.
"I felt like my kids were going to end up without an identity, without a country to belong to," Wasim said. They applied for refugee status, and a year and a half later, they were on a plane to the U.S.
When they landed in Miami, on Jan. 22, 2016, the other passengers broke into applause for the family. And when they got to Houston the next day, their resettlement agency had an apartment ready for them, with a stocked fridge and other Syrians to welcome them.
Their first weeks here have been a flurry of applying for Social Security, driver's permits, English classes, and Medicaid. Wasim worked as a welder—he proudly shows off cellphone photos of the big kitchen appliances he helped put together—and is applying for a welding job with the city.
The three older kids started school just 10 days after they arrived. They weren't used to having to stay in school until 3 p.m. (classes in Syria and Egypt typically end at noon) or speaking English. Since then, it's gotten a lot easier. "The first day was very difficult, but the second day was a breeze," said Bian, 12, the oldest, who wore a pretty red dress.
The kids are picking up English quickly, and making friends with their American neighbors and classmates. Omar, 6, sung me a few bars of the state song—"Texas, our Texas…"—before breaking into giggles.
Even as the family embraces their newfound Texan pride, they're connected to their relatives back home in Syria. Almost every evening, Wasim and Faeza try to call their parents and siblings on Viber or WhatsApp, sometimes staying up late into the night if the connection doesn't go through right away.
Many recent refugees I met didn't want their photos taken. But when I tentatively asked Wasim about a photo, he said, "We didn't come here to hide," and proudly arranged his kids on the couch. After the photos were taken, they opened a door to the dining room, revealing a table covered with fresh fruit, cookies, croissants, and a bottle of Sunny D. "If this wasn't such short notice, we'd have made you a Syrian feast," Faeza said. ("You can never leave a Syrian home hungry," Barazi added.)
Wasim and Faeza want their family to become American citizens. (They'll be eligible after five years.) They're working hard to learn English, and are excited to learn more about American culture. Once Wasim gets his driver's license, and gets a car big enough for five kids, they'll all pile into it and drive the interstates together like any other family in Houston.
"I don't think there's a future in Syria for us," Wasim said. "During a time when most of the world let us down, America didn't. Our future will be here."

🇺🇸🇺🇸🇺🇸
The family, understandably, hasn't been paying much attention to American politics after only a few weeks in the country. But when I asked Kamal what he thought about the presidential race and anti-refugee rhetoric, he broke into a long speech.
"It's a publicity show," he said, specifically mentioning Trump and Ben Carson. "The problem is, it's impacting what people think of Arabs and Syrians and Muslims—equating them with ISIS, while ISIS are not Muslims."
It's certainly hard to square Trump or Abbott's depictions of Syrian refugees with those I met in Houston: a chef chasing the American dream, a family fleeing their devastated city, a 6-year-old singing the Texas state song.
For now, Kamal is focused on building a reputation for himself as a chef and for his restaurant. His dream is to work again at a five-star eatery—maybe one with his name on the front. "I want to return to that kind of environment," he said. "I want to become a master chef."
While the menu at Kaan Cafe is mostly Arab and Mediterranean food, tucked in the middle of the list of entrees is a memory from his old life: The cordon bleu.
"My message to the American people is don't let the politicians influence your opinions," he said. "Syrian refugees are human, just like everyone else."
Casey Tolan is a National News Reporter for Fusion based in New York City.