Saturday was just about as gloomy as a winter day gets in San Francisco, so I hesitated when the friendly museum staff told me that the wait to get into Janet Cardiff's sound installation would be over an hour, outside, in the rain. I decided it was my penance for waiting until the last day of the exhibition, and tried to find a comfortable stance. I was alone, and flanked by couples immersed in their own conversations, impervious to my friendly attempts at small talk. It was blustery and my umbrella was borderline useless, and I feared for the health and safety of my iPhone, so it stayed tucked away in an interior pocket, giving me a severe case of Nomophobia. Yet, despite all of this, waiting in line actually made the art better.
For the last three years, the San Francisco Museum of Modern Art (SFMOMA) has been closed due to renovations. They've done their best to innovate around that inconvenience by staging pop-up galleries around the city. This time it was the cold cement interior of Fort Mason, a former army post right on the edge of the bay. In a room used for everything from gem and mineral fairs to weddings, SFMOMA moved in a 40-speaker sound installation by the artist Janet Cardiff.
The Forty Part Motet consists of an ellipse of speakers, each craned up to stand just about average human height, all facing inward. Each individual speaker plays a separate track, one of the 40 voices in a choral piece titled Spem in alium nunquam habui, a haunting work by Renaissance composer Thomas Tallis. Standing in the center of the circle the audience can localize each voice in space around them, diving inside the fourteen-minute piece.
At first I sat next to one speaker to hear all of the silences and abrupt bursts of full throttle soprano. Then, I wandered into the middle of the room, closed my eyes, and just like that, tears were streaming down my face. Maybe it was simply the music, the choral work itself could only be described as spiritual. Maybe it was the gloomy day, or witnessing the rest of the audience lost in their own experiences, but if I'm honest I think it also may have been the 60 minutes standing outside in silence, waiting to get in.
G/O Media may get a commission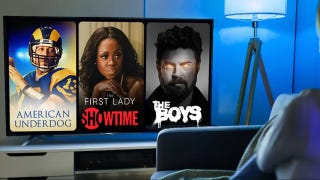 UNDER $1
99¢ Prime Video Channels
I ask you: when was the last time you waited for something? No dated doctor's office magazines to read, no Instagram to endlessly scroll through, just you, left to yourself, suspended in the moment before something. In an age of binge watching entire television series and pinging Starbucks ahead of time so your frappuccino is ready upon arrival, we are forgetting that waiting can actually add value.
Marina Abramovic, the legendary performance artist who often uses presence as her paintbox, has not forgotten the value of waiting. Her latest work, Goldberg, not only requires that the audience lock away their personal belongings, precious cell phones included, but also that the entire audience wait in complete silence for a half an hour prior to receiving a virtuosic piano performance of the Goldberg Variations. According to Abramovic's method, this priming of the senses via a sort of meditation should heighten your experience, and your reward. She is interviewed in the excellent podcast Note to Self about the project:

"You're taking a taxi, you're concerned you're on time, you're answering the last phone call and so on. And you're arriving, and you sit down, and you hear the concert… but you're not ready to hear anything. You're just too busy. So I'm giving this time and space to the public to actually prepare themselves."
When time is money, any time 'wasted' is money down the drain. However, psychologists have found that when we wait for an experience, the waiting isn't time wasted at all; instead we derive value from the anticipation. So maybe the line you stood in to watch the latest Star Wars movie actually changed how you viewed it. Maybe that brunch line actually makes your brioche French toast a little sweeter. Even Andy Warhol said, "the idea of waiting for something makes it more exciting anyway".
In the small room between the gallery and the outside world, still feeling optimistic from the sound of forty voices washing over me, I was tempted to reach for my phone and find out what crazy meme had emerged since I last logged onto Twitter. But instead, I decided to savor the anticipation, leave my phone in my pocket, and go wait for the bus to take me home.
Cara Rose DeFabio is a pop addicted, emoji fluent, transmedia artist, focusing on live events as an experience designer for Real Future.