Most people know Elon Musk as the CEO of electric car maker Tesla. But the other businesses he's involved in are just as innovative. There's his space flight company, SpaceX, that he hopes can power a mission to Mars. He's also invested in a secretive artificial intelligence company called Vicarious that is working on ways of recreating human brain functions.
And then there's solar energy. In the past seven days, SolarCity, the solar panel installation company run by Musk's cousins and whose board Musk chairs, has made two major announcements that add unprecedented incentives for average Americans to help expand solar power in the U.S.
On Wednesday, the San Mateo, Calif.-based company unveiled a new online platform through which individuals can purchase SolarCity bonds — in other words, make a loan to the company to allow them make it cheaper to install solar panels, and subsequently boost renewable energy use.
And the interest payments on the bonds will be paid for through revenues generated from existing solar panel systems the company has installed on people's roofs.
"It's important that we have consumers, homeowners, the American public participate in this [renewable energy] transformation," CEO Lyndon Rive said in a conference call. "And the best way to do that is if they get a financial return. This will allow them to become more educated on solar, tell friends more of their friends about solar, and create a larger movement."
G/O Media may get a commission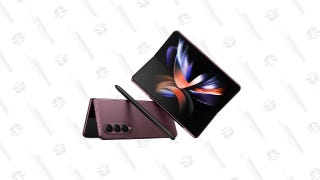 Save Up to $300
Galaxy Z Fold4
The bonds pay up to 4 percent interest, and the minimum amount an investor must pay is $1,000.
Meanwhile, a week ago, the company announced it would allow current SolarCity customers to buy their own panels.
Most U.S. customers currently lease their systems, because they've been too expensive to purchase outright. Instead, a homeowner would pay for the power the panels generated, but a third party retained ownership.This party was able to bank a 30 percent federal solar tax credit, but the price of this arrangement was not ideal for either party.
Thanks to the rapidly declining systems prices though — in 2013 alone, they fell as much as 14 percent,  as manufacturing volumes have increased — it is now cheap enough for a household to buy the systems through a loan directly from the company itself.
That means that homeowners will now be able to qualify for the tax break, as well as any other local rebates. While other companies already offer lending options, GTM Research's Nicole Litvak said SolarCity's was the "most innovative" she'd seen, because it keeps all the best parts of the leasing arrangement with none of the cost burdens. Basically, a homeowner will be able to pay off the loan through the electricity generated by the panels, which come with a 30-year warranty. That means SolarCity retains all the risk, since if the system isn't performing, they're not getting their money back and they are making the loan from their own financial service company.
The firm estimates that depending on the city or state the ownership option will cost 40 percent less than tapping into regular utility power.
"For the customer it doesn't feel like a loan," Litvak said. "[The customer] is paying for the power, and not just paying the monthly payment, which could be more than what they're paying for the electricity in a given month."
SolarCity, which already owns nearly a third of U.S. rooftop marketshare, projects that half of its sales next year will come through this arrangement.
"If that's true, that's going to be huge portion of the market," Litvak said.
And that market is only going to grow.
Rob covers business, economics and the environment for Fusion. He previously worked at Business Insider. He grew up in Chicago.