Here's what makes cosplay so fun: You can be literally any character in the history of the world, and the possibilities for interpretation are limitless. At San Diego Comic Con International 2015, we set out to find people dressed as characters of a different gender in addition to actual gender-bending of the original media characters. Still with us? Good. These are our faves:
This woman's name is Moonshine (amazing) and she told us she chose to dress as Fry from Futurama because, "I love gender bending cosplay and I already had the wig and jeans! Was pretty much halfway there…"
Sophie Jacobson chose her bunny Darth costume because "It's my favorite thing in the world, Star Wars. I wanted to see if we could sex up Vader, and it worked!"
G/O Media may get a commission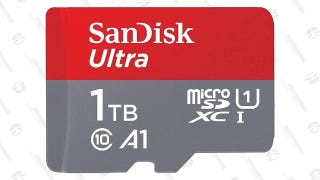 Save $75
SanDisk Ultra 1TB MicroSDXC Card
Erin Aschow actually dressed as Han Solo from Star Wars because she "didn't feel comfortable" wearing her Slave Leia costume in public. Loving this idea: She shot first.
This amazing Captain America is Camryn Dutrey. "He's my actual favorite. I love him, his character, and who he is as a person," she told us. Her commitment to accuracy (look at those boots) is inspiring.
Rebecca, Ariana, and Raquel Andere are sisters who wanted to do a group costume this year. Because Ariana is blonde, they thought it made the most sense to build the look around her. Alice, Tweedledee, and Tweedledum were a big hit on the floor.
Maria Ray and her friends decided to all gender-bend and dress as male characters. Star Lord was her obvious choice because she "loved the story" in Guardians of the Galaxy.
Pictured above is Annie Fitzgerald, who adores Loki. "It's always fun to make mischief," she told Fusion.
Harrison Ford always gets a lot of love at Comic Con. Indiana Jones got an upgrade thanks to Chelsea Ruiz, who claims her dad looks like the actor.
B-Mo, Marshall Lee, and Fiona (Clare Berghorst, Jake Xander, and Brittany Zapata) are gendered interpretations of main characters. while B-Mo is gender neutral, Marceline and Finn's gender-bent alter egos actually make appearances on Adventure Time. The crew thought it would be fun to try the swapped versions to see if they'd still be recognized. Too. Cute.
But the winner of all things gender-bend at Cosplay is Rannie Rodil, who does gender swap costumes every year. Her version of  Immortan Joe from this summer's Max Max: Fury Road is EVERYTHING. She had a plastic body suit covering her torso so she could even fake nudity. PRO-LEVEL.
She didn't stop there, though! Every day of the con brought out new cosplay options. See:
Rannie as Night's Queen from Game of Thrones
Rannie as "Popeye the Sailor Moon."
Rannie with her friends Beetlejuice and Tank Girl.
::sigh:: We'll have to step our game up this Halloween.
Akilah Hughes is a comedian, YouTuber, and staff writer and producer for Fusion's culture section. You can almost always find her waxing poetic about memes and using too many emojis. 🍕