Is each successive generation of Jeb Bush's line doomed to be even lamer than the last? Is Jeb the dominant gene? Does Jeb-ness only get more compounded over the ages, perhaps like a Baltic herring that is buried in a can so that it ferments in its own rotting brine for months?

The answer is yes!!!!!
According to reporting by Axios, George P. Bush, son of Jeb (George P. Jebson if you may), is apparently even more feckless in his relationship with Donald Jr., son of Donald (Donald Donaldson if you may), than his father is with the president.
Donald Jr., who is friends with George P. Bush despite the animosity between their fathers, recently pulled out of a fundraiser he was supposed to headline for George P. because of Jeb Bush's tweet attacking his father's inhumane immigration policies. This is how Axios describes "how things unraveled" over time:
Don Jr. was furious after Jeb Bush said in March that, despite losing the 2016 election, at least he goes home to children "who still love me," which Don Jr. perceived as a swipe at Trump.
Don Jr. reached out to George P., who was apologetic, according to the sources close to the president's son. And when Don Jr. fired back at Jeb on Twitter, he purposefully left George P. out of it.
Earlier this month, Jeb Bush also told CNBC that he "can't imagine having to attack" his rivals in the way President Trump does to "make himself look strong."
Don Jr. called George P. again, and George P. "apologized profusely," according to the sources, telling Don Jr. that he had already talked to his father and that it would not happen again.
After that, Don Jr. said he could no longer help George P. if his dad continued to attack the president.
G/O Media may get a commission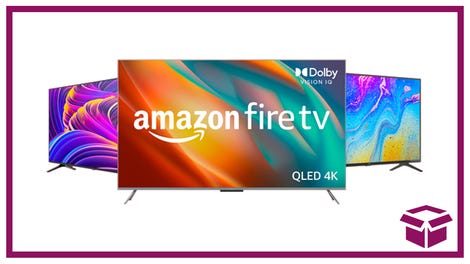 Ooh. stunning.
New Amazon Fire TVs
That's right—rather than sticking up for his father, George P. has been bending over backwards to "apologize profusely" to Donald Jr. for Jeb's very mild attacks on the president. So while Jeb Bush might be a completely worthless, actively harmful, and supremely embarrassing member of the Bush family, it turns out that there's always an even worse generation to come.