It's always a good time when Republicans trying to take away constituents' access to affordable health care reveal that they don't even know how the internet works.
The latest recipient of cyber–karma is the Indiana Republican Party, which asked for Obamacare "horror stories" on Facebook and instead received thousands of positive messages about how the Affordable Care Act is saving people's lives.

As of this writing, the post has been shared nearly 3,300 times and has received almost 4,500 comments. The overwhelming majority of these comments, at least the ones I've managed to scroll through, support Obamacare.

"We were promised Obamacare would make healthcare cheaper, better, and more available, but in reality it's turned out to be the opposite," the state GOP party said. "What's your Obamacare horror story? Let us know."

G/O Media may get a commission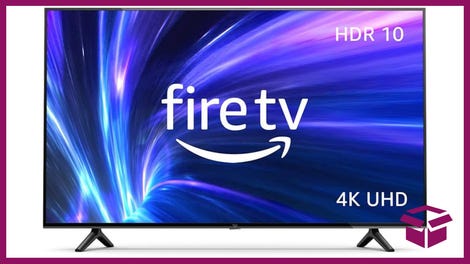 42% Off
Amazon Fire TV 50" 4K Smart TV
"I'm able to receive treatment for my pre–existing condition after going for 10 years with no health insurance," one Facebook user wrote. "What a nightmare."

"Thanks to Obamacare, my mom's cancer treatments weren't stopped for some arbitrary lifetime coverage limit," wrote another. And on, and on, and on…

The existence of the backfiring GOP post was first reported by the Indianapolis Star. As the newspaper noted, a recent poll by USA TODAY/Suffolk University found that only 12% of those surveyed support a disastrous Senate health care plan that would leave millions of people without access to vital health care coverage. A staggeringly low 26% of Republicans said they supported the Senate bill.

That should've been some kind of indicator to the Indiana GOP that their bright idea for social media might not have been such a good idea, at least not for their cause.

Nevertheless, despite the widespread public backlash against Republican plans in both the House and Senate to roll back Obamacare, the GOP–generated storm clouds on health care haven't entirely dissipated.

According to The Washington Post, President Donald Trump over the weekend continued pressuring senators to support the Republican bill. And some Republicans are now floating the idea of reducing a tax cut on the wealthy included in the bill or restoring some of the Medicaid funding that would bet cut.

Neither of these measures, aimed at attracting support from more "moderate" Republicans, would entirely restore coverage for the minimum 22 million people the Congressional Budget Office estimates would lose their coverage should the Republicans' health care plan be adopted in its current form.

Or, Republicans could simply repeal Obamacare without having a replacement, the ultimate act of callousness, arrogance, and cruelty. White House Director of Legislative Affairs Marc Short signaled over the weekend that the Trump administration still considers this a viable alternative option.