They call themselves "cannataerians" and the first principle of the religion is "don't be an asshole."
Welcome to the First Church of Cannabis Inc., a direct response — or perhaps challenge — to Indiana's new law aimed at safeguarding religious freedom.
The controversial new law has mainly been in the news because opponents say it legitimizes discrimination against LGBT communities. But marijuana church founder Bill Levin found a way to use the legislation to another end — to create a new faith where the main sacrament is cannabis.
"It has nothing to do with God; I don't have the balls to describe a god to anybody," Levin told The Huffington Post on Monday. "This is a god-filled or godless religion — it's entirely up to you."
G/O Media may get a commission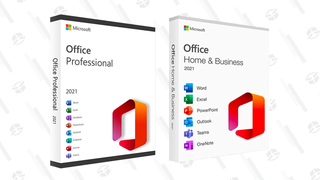 89% off
Microsoft Office Professional 2021 Lifetime License
Levin's undertaking may test the flexibility of the new freedom of religion law. Marijuana is illegal in Indiana, for both recreational and medical purposes.

Pothead defense for Aaron Hernandez?
Former NFL tight end Aaron Hernandez was apparently a huge pothead, something his defense team hopes will get him off the hook in a trial for murder, Sports Illustrated reports.
Hernandez stands accused of killing Odin Lloyd, a semi-pro football player. Whether the pair were friends or simply acquaintances has become a divisive point in the case — and much of their relationship seems to hinge on marijuana.
The defense is arguing that Lloyd was Hernandez's "blunt master," keeping him stocked with weed and rolling his joints.
"The defense's basic theory is that Hernandez not only had no reason to kill Lloyd but that Hernandez had every incentive to protect his blunt master," SI's Michael McCann reports.
But marijuana plays another important role in the case. Hernandez's girlfriend removed a box from his home the day after Lloyd was killed — a box that could have held the murder weapon, prosecutors allege.
But according to the latest testimony from the girlfriend, Shayanna Jenkins, the box may have contained weed. She testified that she didn't open it, but it "smelled skunky…it smelled like marijuana."
So was Hernandez simply hoping to remove a big-ass box of weed that may have gotten him in trouble with the law and the NFL? Or was there something more incriminating inside?
The prosecution is expected to rest its case next week, SI reports.

Alaska reporter turned weed activist may run for mayor
Anchorage police raided the cannabis club of former television reporter Charlo Greene earlier this month. Her response? Try to become their boss.
Greene is exploring a run for mayor, she announced on Sunday. She would be a write-in candidate in the April 7 election.
Police claimed they received reports of illegal marijuana sales at the cannabis club, but have yet to press charges against Greene and say their investigation is ongoing.
Greene publicized her possible candidacy and told her version of events in a video posted to YouTube on Saturday.
"The officer had his hand on the trigger, as I, a law-abiding citizen, stared down the receiving end of an assault rifle my tax dollars paid for," she said in the video.
"And in that moment, I thought, I've done everything right. In spite of growing up in poverty, I became the first of my six brothers and sisters to earn a college degree. I chose positive friends, I haven't had so much as a speeding ticket in the past few years, I've dedicated my life to healing our community with cannabis. And because of that, I have a gun in my face."
Ted Hesson was formerly the immigration editor at Fusion, covering the issue from Washington, D.C. He also writes about drug laws and (occasionally) baseball. On the side: guitars, urban biking, and fiction.