In 2012, the issues of sexual assault and harassment gained national attention in India after a horrific incident in which a young woman was gang raped on a bus in New Delhi. She died of her wounds soon after and her case set off mass protests against sexual assault like never seen before, with women and advocates demanding that law enforcement and politicians take rape seriously.
Though change is slow, there has been some real action: revised anti-rape laws were passed in 2013 expanding the definition of rape and setting harsher sentencing guidelines for those convicted. And there's been unprecedented media coverage of rape and sexual assault since the 2012 incident.
But on Sunday, the country's tourism and culture minister Mahesh Sharma showed just how far officials still are from coming to grips with sexual assault in India, and how far they are from understanding that women are not to blame.
"For their own safety, women foreign tourists should not wear short dresses and skirts," said Sharma at a press conference in Agra, near the Taj Mahal. "Indian culture is different from the western."
He told reporters women will be issued written guidelines on safety precautions upon their arrival at an Indian airport, including advice not to wear short skirts or dresses or go out alone at night in small towns. There was an immediate backlash online,  particularly against his comments that women should cover up:
G/O Media may get a commission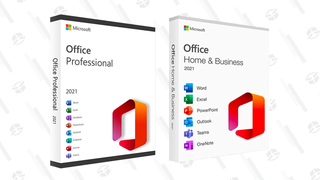 89% off
Microsoft Office Professional 2021 Lifetime License
Meanwhile, some defended the minister's position, saying he was protecting "Indian culture" and just giving women practical advice on how to stay safe:
But the minister's comments reveal a deeper problem: that an ideology of victim-blaming persists at the highest levels of government. Instead, maybe ministers should tell men not to harass or attack women regardless of how they dress:
After the outcry, Sharma backtracked on his comments, telling reporters he meant to advise foreign women not to wear short skirts and dresses when they enter religious sites in India, while seeming to maintain that women should "be cautious" in their clothing for their own safety.
"I was speaking about religious places, like temples. I did not comment on what women should wear or not. I am the father of two daughters. I cannot put a ban on what women wear," he told reporters on Monday. "Such a ban is unimaginable, but it is not a crime to be cautious."
The latest Indian government data on rape and sexual harassment shows that 34,651 Indian women reported having been raped in 2015:
While that figure marked a slight decrease from 2014, it's still likely significantly smaller than the actual number of women who were raped, because of underreporting.