Transcanada, the company behind the controversial Keystone XL oil pipeline, announced on Thursday that it was canceling two upcoming construction projects—the Energy East pipeline and the Eastern Mainline gas pipeline—that had been set to snake across Canada, carrying oil and gas from Alberta to several eastern Canadian provinces.

The company cited a "careful review of changed circumstances" in a brief press release.
The pipelines' demise was celebrated by environmental activists and native communities who had long opposed them.
"This as a tremendous battle victory in the greater fight to keep fossil fuels in the ground and for climate justice for Indigenous nations," Indigenous Environmental Network activist and organizer Dallas Goldtooth said.
Today's announcement supports the validity and strength of an Indigenous rights-based approach to win these battles. All along the Energy East pipeline route First Nations took a stand to defend their inherent rights, protect their water and Mother Earth and resist the colonial actions of Canada and its oil regime. This fight against TransCanada has always been about more than just a pipeline, it is also about deconstructing colonialism and building a better, more sustainable, and just society for the benefit of all living beings and future generations. As such, we fight on!
G/O Media may get a commission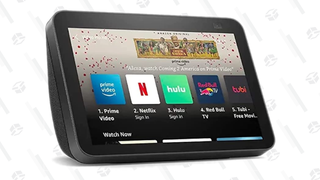 Speaking with reporters on Thursday, Montreal Mayor Denis Coderre also cheered the decision, calling it "an enormous victory."
"You cannot just play in silos anymore," Coderee explained. "It's important to send as a message that we need to make sure you cover all the angles from an Aboriginal point of view, from a municipal point of view."
Activist Bill McKibben, founder of the environmental group 350.org, also hailed Transcanada's announcement:
The world is grateful to the Canadians and Indigenous peoples who organized against this project. The climate math is sadly simple–the carbon contained in Alberta's tar sands must stay there. Nothing else that Canada could do to help stabilize Earth's climate matters anywhere near as much.
Environmental groups opposed the Energy East pipeline due to its potential for leakage along its route across Canada, as well as over the risk greenhouse gasses and water contaminants escaping during the petroleum extraction process itself.
Despite canceling the estimated $12.5 billion dollar (U.S.) project, Transcanada insisted on Thursday that it will "continue to focus on our $24 billion near-term capital program which is expected to generate growth in earnings and cash flow to support an expected annual dividend growth rate at the upper end of an eight to 10 per cent range through 2020."
In other words, they still plan on being very, very rich.