Inmates who took over part of an overcrowded prison in southern Alabama two times over the last few days are demanding that the state change its draconian sentencing laws.
The uprising at Holman Correctional Facility in Atmore, Alabama, began on Friday night, when more than 100 inmates barricaded themselves in a dormitory and began lighting fires. It took officers hours to regain control, and at least two officers—including the prison warden, Carter Davenport—were stabbed in the process, The Associated Press reported.
Then again on Monday, another group of inmates took over the same area, preventing guards from entering for several hours.
Officials say they are now in control of the prison, and Governor Robert Bentley toured it Tuesday morning along with heavily armed national guard troops, calling it "archaic." The riots happened because guards were short-staffed, he told reporters.
G/O Media may get a commission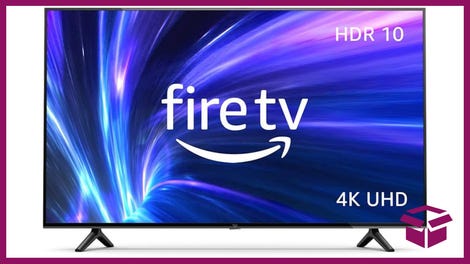 42% Off
Amazon Fire TV 50" 4K Smart TV
But the violence also happened because inmates were living in a prison that even the governor admits is severely overcrowded and in poor condition. Alabama's prison system is at nearly 200% capacity—the highest in the country—and many of its prisons are decades old.
During Monday's riot, inmates sent a video outlining a list of demands to Raven Rakia, a freelance journalist in New York City, who posted the list on Medium. According to Rakia, the inmates are demanding:

"Immediate federal assistance"
The release of "all inmates who have spent excessive time in Holman Prison"
The abolishment of habitual felony offender laws, which mandate long prison sentences for repeat offenders
Parole for all inmates who "fit the criteria to be back in society with their families"
The implementation of "proper classes that will prepare inmates to be released back into society" in all Alabama prisons
Monetary damages for "mental pain and physical abuse that inmates have already suffered"
Video recorded on smartphones spirited into the prison provided close-up views of the uprisings on Friday and Monday. A Youtube video posted on Friday shows inmates walking freely around the prison and setting things on fire. "It's going down in here," one man says.
During the Monday riot, an inmate gave a reporter at WKRG news channel a tour on FaceTime of the barricaded area, insisting that they were protesting nonviolently. They complained about the poor conditions in the prison: broken toilets, moldy walls, broken shower heads. Inmates could be seen cheering when news about the uprising was shown on TV.
Elected officials have been trying to address the state prison system's overcrowding for decades. Last month, the governor introduced legislation to build four new modern prisons, paid for with $800 million in new state bonds.
We'll update this story as we learn more.
Casey Tolan is a National News Reporter for Fusion based in New York City.