It's not often that you see Finn the Human, Asgardian Storm, and a scruffy Cersei Lannister all huddled together in a corner kiking about how good Lady Dubledore's epic Pai Mei-inspired beard looks. But that's just the sort of thing that happens at Flame Con.
Last Saturday more than 2,000 comic book fans, artists, drag queens, musicians, and lovers of all things queer descended upon Brooklyn's Grand Prospect Hall for New York City's first LGBTQ-oriented comic convention. Flame Con was organized by Geeks OUT!, a group founded in 2010 to promote queer visibility at more mainstream conventions like New York's ComicCon.
When people think of comic book conventions, they tend to envision large gatherings of clique-ish, awkward, middle-aged white guys (dressed up as their favorite characters) who aren't exactly the most welcoming bunch. Judging by the way comic book movies and TV shows are marketed, you might get the idea that those same guys are the only people who'd ever want to come out to a con.
Geeks OUT! wanted to prove that assumption wrong, so last fall they decided to branch out, successfully launched a Kickstarter campaign, and began setting the groundwork for Flame Con.
G/O Media may get a commission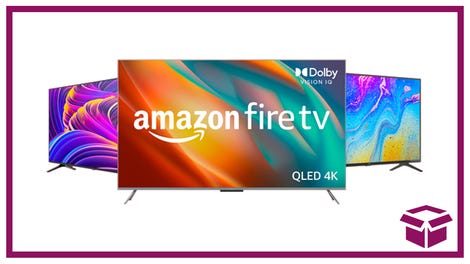 Ooh. stunning.
New Amazon Fire TVs
At first glance, Flame Con seems similar enough to other cons—it has that same sort of comfortable, cozy din of excitement that you'd find in any hall full of people equally obsessed with superheroes and the supernatural. When you look closer, though, you can see the careful attention to detail that's been taken to make the con an inclusive space.
Wheelchair accessibility signs reference Professor Charles Xavier and Oracle, Barbara Gordon's (Batgirl's) second superhero monicker after she loses her mobility. Attendees are encouraged to respect one another's preferred gender identities with customizable nametags. Cultivating that welcoming atmosphere, says Flame Con organizer Joey Stern, was one of the team's primary goals.
"It's a really an issue of people not seeing all aspects of the convention goers," Stern told Fusion about more traditional cons. "There is just a lot of catering to cis straight white men that doesn't acknowledge itself as catering. So, at [Flame Con], we cater to queers and it's clearer."
Mainstream cons are getting better about highlighting a wider variety of themes like the necessity of diversity in comics,  but Flame Con's focus on queer and minority issues is a core element of the event. Queer close readings into the relationship between Sherlock Holmes and Dr. John Watson and discussions about the importance of embracing darker LGBT characters were some of the con's panel discussions.
Like any con worth its salt, Flame Con featured a mix of wide-ranging panels and meet-n-greets with some of the the queerer names in nerd media. Welcome To Night Vale's Cecil Baldwin and Dylan Marron opened the day with a dramatic reenactment of The X-Files before unleashing the crowd onto the show floor where Marvel Comics editor Dan Ketchum offered portfolio critiques to aspiring artists.
"I've been going to comic cons for about 25 years and what I like about this one is that because it's smaller you can actually take the time to talk to the people at the booths," Alexis Daria, decked out in Kitty Pryde gear, told Fusion. "You can talk to the artists and other con-goers and it's not this kind of hit and run thing."
Kevin Wada, an artist who draws inspiration from high fashion and the iconic women of Marvel comics, said that coming to Flame Con felt like coming home.
"This place is so queer-friendly, and there's lots of women," Wada told Fusion. "They're my fanbase. They're the people I feel comfortable with that understand my art."
Flame Con had something for everyone. As the day drew on, the con morphed into a cosplaying contest and dance party that raged on well into the night. Akashia, one of the contestants from the first season of RuPaul's Drag Race, took to the stage in full Storm-drag for a performance that brought the house down. Naturally, she lip-synced to a mashup of Garbage's "Only Happy When It Rains," Rihanna's "Umbrella," and The Weather Girls' "It's Raining Men."
When you search through the #Flamecon hashtags on Twitter, Tumblr, and Instagram, you can see just how much straight up fun everyone had, and Flamecon's organizers have taken note. Given the feedback, Geeks Out! is bringing Flame Con back next year. We asked Joey Stern what future Flame Cons might look like, and his answer was simple and to the point.

"Bigger, Queerer, Arty-er," he said.