There is a thick, haunted feeling in the air of the empty reception area of Bayview Correctional Facility. Since Hurricane Sandy crashed into New York in October 2012, the inmates have been absent from the eight-floor former women's prison, but their presence is still palpable.
It lingers in the paper signs still hanging on the library wall reminding prisoners that only five books can be borrowed at a time; it's in the wind that whips through the caged-in rooftop basketball court overlooking the luxury building boom of the Chelsea art district; it's in the pencil note scrawled on a solitary cell wall— "When I die, will anyone cry?"
But after standing abandoned for three years, the building that was once a place of captivity and abuse is getting a second life.
The NoVo Foundation, an organization started by Jennifer and Peter Buffett, (the son of financial mogul Warren Buffett), in collaboration with the woman-led real estate development company the Goren Group, has won the bid to transform the space into The Women's Building, a "hub of activism and engagement" for groups dedicated to justice and equality for women and girls around the world.
G/O Media may get a commission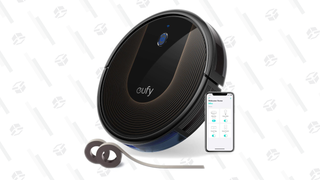 48% Off
Eufy BoostIQ RoboVac
"It was really a historic opportunity to reclaim a site of women's confinement and pain and transform it into a new home for those working for social justice for girls and women," Pamela Shifman, executive director of the NoVo Foundation, told Fusion.
Since as early as the 1970s, feminist activists like Gloria Steinem, who is a supporter of The Women's Building, have dreamed of a place where women could come together to support each other both in their lives and in their missions to effect change.
"It's so symbolic and important to take this building, the walls of which, if they could talk would tell us of many injustices, and make it a building that symbolizes and houses freedom," Steinem says in a video posted on the project's website. "It is long overdue. It has been wanted and desired and cherished and looked forward to for decades."
Now, with a 99-year lease, this vision is finally coming to fruition.
"It made me think of metamorphosis, it made me think of the caterpillar turning into a butterfly," says Sharon Richardson, 56, a former inmate who served the last year of her 20-year prison sentence for conspiracy to commit murder at Bayview.
Richardson remembers looking out of her fifth-floor cell window onto Chelsea Piers every day and watching people go by, walking their dogs and riding their bicycles. She says she had a routine every morning that included watching the ships sail in on the Hudson River.
"I remember feeling one day my ship was gonna come in," Richardson says.
Richardson left Bayview in 2010, two years before Hurricane Sandy forced the evacuation of the 153 inmates in residence. The damage was extensive and the prison never re-opened. By that time, Bayview had become notorious for abuse. A 2008-2009 report by the U.S. Department of Justice on "Sexual Victimization in Prisons and Jails" found that 11.5 percent of inmates surveyed at Bayview reported incidents of staff sexual misconduct, one of the highest rates of the prisons surveyed.
The NoVo Foundation is still refining the vision for The Women's Building, which they hope to open in the next four to five years. But during the renovation process, they are dedicated to honoring the experiences of the women who spent time locked behind its walls. To that end, they have been conducting focus groups with former inmates, like Richardson, to understand what they want to see in the future space.
"I'm really hoping that this is going to be a women's building that actually creates a safe place which involves running support groups in every aspect," Richardson says.
She mentions the possibility of a day care and a quiet space, maybe a place where people can write or do poetry or grab a bite to eat. She says she hopes it's a space where all women, whether they were incarcerated or not, "can go and get [what they need], go in one way and come out different, every time they go."
In addition to providing office and community space for activists and organizations, the NoVo Foundation is also intent on preserving part of the existing prison as a sort of educational site and memorial to what came before.
"It is a deeply painful experience to walk through Bayview and to experience the despair of that prison, which really housed the most marginalized women, the overwhelming majority of whom are survivors of trauma and violence," Shifman says.
Early renderings of the renovated building show lots of light and glass, greenery and open areas where once there were only caged-in spaces and confinement. This is a little more in line with the original mission of the building.
Bayview was built in 1931 as a YMCA for seamen. While it was transformed into a women's prison in 1974, many of its original features remained. The pool, with colorfully detailed tiling, was drained and divided by a makeshift floor into a two-story storage area. The tiled words "Shallow" and "Deep" can still be seen on either side of the sloped lower level-cum-pool bottom, along with paper signs indicating where things like "Floor Finisher," "Sanitary Napkins," and "Liquid Laundry Bleach" were stored by the prison.
Now, the building will undergo another transformation, to the excitement of not only its former residents, but of many figures in the women's rights movement around the city and the world.
"This is a building that can accelerate change across the globe," Shifman says. "It can accelerate change locally, it can accelerate change nationally, and it can accelerate change globally for women and girls."
Richardson, for her part, hopes to be able to return to the site of her former incarceration as a tenant with her new nonprofit dedicated to helping women share their stories.
"I'm working on developing this program and putting it together, and I'm going to need an office, I'm going to need a space. I am hoping that they would graciously allow me to have a space in that building. That would be awesome!" Richardson says, laughing.
"I am a strong believer that when we come together, we are so powerful. When we sit down and we tell our stories to each other and we cry to each other, we make something happen in the room."
Photos by Allison McNearney
Allison McNearney is a freelance editor and writer based in New York City.