When a pair of BuzzFeed Motion Pictures staffers released a video about witchcraft in late September, the site's brand of content sorcery was on full display. Millennial hosts with soft-edged buddy humor made their way into a Los Angeles magical supply shop. They shared relatable jokes when an "expert" explained to them how phallic candles conveyed "the driving primal force of masculinity." They mugged for the camera while participating in a seemingly awkward Wiccan ritual.
Likewise, when two colleagues inquired if crystals might help their chronic pain in a video put out this week, they jumped into treatment with BuzzFeedian gusto. After making an opening crack about how "science" wouldn't heal their ailments, the co-hosts had rocks placed upon their bodies. "The pain, where it usually is, is not as severe right now," host Kelsey Darragh said afterward. "So I definitely think there's a connection between the crystals and the relaxation that it brought."
Earnest as it seems, this content has caused a small firestorm. First came the plagiarism accusations by a YouTube personality who claimed that she was the first to probe the efficacy of crystals and explore the limits of witchcraft. A small army of fans then called out the media company for supposedly squashing upstart creatives. And what began with a pair of standard-issue videos from the BuzzFeed entertainment-industrial complex ended with a 1,300-word Medium post by the BuzzFeed hosts detailing how a social juggernaut and independent vlogger had employed a similar type of digital alchemy in their respective creations.

"You're not attacking some obscure large corporation — you're attacking two women who care a lot about the content they produce, and the people that content resonates with," Sara Rubin and Darragh, the BuzzFeed hosts who made the witchcraft and crystal videos, respectively, wrote in a joint Medium post Wednesday.
G/O Media may get a commission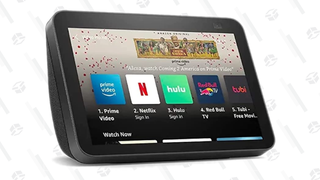 The exhaustive explanation—complete with source lists, screenshots of emails, and a visual timeline of events—came after vlogger Jaclyn Glenn, host of the Fullscreen show The Skeptic's Guide to Wellness, released two videos this month alleging that BuzzFeed stole her ideas. The first, posted on Oct. 6, came after BuzzFeed set part of its witchcraft episode at the same North Hollywood magical supply shop where Glenn filmed her own dispatches from mid-September. (Hers were released on Sept. 15th and 19th; BuzzFeed's came out on the 30th.)
"I'm sorry, I just find it impossible to believe that BuzzFeed just so happened to stumble across the same exact location and set up the same exact shots as my show just three weeks later," Glenn said. The video, titled "BUZZFEED STOLE FROM ME," has been viewed at least 270,000 times, far more than most of her other offerings.

Then, on Wednesday, Glenn posted a second takedown after BuzzFeed published a video about crystal healing that seemed to mimic her own from last week. Using side-by-side clips for effect, Glenn argued that she had been more skeptical of the medical benefits of the treatment, among other things, at one point adding that both she and the BuzzFeed staffers made a similar quip about crystal dildos.

"I was in shock the first time, and then it happened again," Glenn said, adding that she's currently working on a vlog about her experience taking ayahuasca. "If they post one about ayahuasca, I'm going to have a mental breakdown."
BuzzFeed Video tweeted the company's response to these "false accusations regarding two of our veteran video producers," detailing a months-long creative process. Such science-neutral content is produced by BuzzFeed's entertainment staff, which is separate from its news division.
"While your video explored the potential healing qualities of crystals, the frame and point of view of our video was inherently different," Rubin and Darragh wrote in their Medium post, pointing to how the latter and her co-host discussed their own chronic pain. "You cannot plagiarize another woman's chronic pain experience, because every woman's chronic pain experience is different."

Rubin and Darragh did not respond to requests for comment. But Amanda Holland, a former BuzzFeed staffer who worked with Rubin on the early stages of the 10-minute witchcraft video, added that it was initially pitched in late spring. "The reason it took so long to make is that they were having a hard time finding someone they could pitch to the research department as a Wiccan expert or witch expert," Holland told me by phone Thursday. "They won't let you call just anyone an expert."

Indeed, there are likely few Wiccan experts to find—even in Los Angeles. Yet Glenn's allegations played into an existing narrative about BuzzFeed Motion Pictures, which has previously been accused of plagiarizing from other video producers. YouTube in particular is a sprawling network of content creators, many of them independent, and their work is harder to search and police for theft than, say, text-based media.
The videos do look and feel oddly similar. But BuzzFeed's timeline, also comprising screenshots of emails and Google calendars, indicates that staffers were discussing ideas and contacting Wiccan and crystal sources before Glenn's videos dropped. Unless Glenn is also accusing BuzzFeed of conjuring those documents, they suggest both parties independently converged at the top of the observational-comedy-about-holistic-solutions video niche.
Glenn, who did not respond to an email seeking comment, added in her tweetstorm that BuzzFeed was trying to "threaten me into silence." It devolved from there:
"We're all female content creators in a very competitive space but we should be supporting each other," Rubin and Darragh concluded Wednesday night on Medium, before the above tweets were posted. "Hopefully the next time you see similarities in videos, you'll celebrate that these important topics are being covered at all."