TOKYO—When Kisho Kurokawa imagined the city of the future, he saw people ever more on the move, a society changing faster than ever before. Working in Tokyo in the 1960s and 70s, the architect designed an apartment building that would keep up with that future.
Say you wanted to move across town. Instead of searching for a new apartment that was right for you, you'd just detach your apartment from its current building, truck it across town, and attach it to a new building. If you got tired of your digs, you could take your apartment down, update it or expand it, and put it back.
Kurokawa's utopian vision was only realized once, in his Nakagin Capsule Tower, an apartment building made up of 140 tiny concrete "capsules," each 300 square feet.
When the building was completed in 1972, it made a huge splash in the architectural world. "It stunned every major architectural journal of the year," said Zhongjie Lin, a University of North Carolina architecture professor who's written a book about Kurokawa's "Metabolist" movement.
G/O Media may get a commission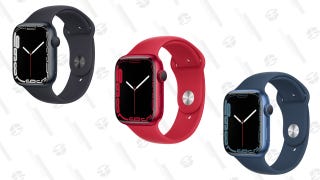 Up To $45 Off
Apple Watch Series 7
The tower is still one of a kind. But today, it's in a state of disrepair, with pretty severe water damage and crumbling concrete. Many residents want to tear the whole thing down and start over. Meanwhile, in the past year or two, several owners have put their capsules up on Airbnb, which has given architecture buffs—like me—the chance to see inside this fascinating building.
The tower was intended to serve a new, urban business class, giving salarymen who lived in Tokyo's far-flung suburbs a crashpad if their work went later than the last train.
It was also an early pioneer of prefabricated architecture. The capsules were manufactured at a factory about 250 miles away from Tokyo and then moved to the site and attached to two central concrete and steel towers. The entire building was completed in just a couple months. 

The units, which cost about the same as a car when the building was first constructed, are dominated by a circular window, like a huge porthole on an urban cruise ship. There's an attached bathroom, which is barely bigger than what you'd find on an airplane. One wall is outfitted with the highest-end appliances from 1972, including a stove, a TV, a mini-fridge, and a tape deck.
The capsules were intended to be updated with the latest technology and replaced every 25 years, making it adaptable to the future. But the cost was prohibitive, and that never happened. "It turned out that replacing the capsules would cost more money than tearing the building down and building a new one," Lin said.
When I stayed in the tower last month, the building was in a sorry state. Many capsule doors have plastic bags taped over them to catch dripping water. The dim hallways have a musty smell. Residents have been without hot water for the past four years due to aging pipes.
A couple years ago, a window fell out and crashed to the ground. No one was hurt, but now the outside of the building is covered in ugly protective netting.
Facing problems like these, the owners voted to demolish the building in 2007, hoping to replace it with a newer, more typical apartment complex. Preservationists and architects were outraged; Kurokawa, who died later that year, strenuously objected. Residents were thinking more of economics than historic preservation, however: The tower is situated on a prime piece of real estate in Ginza, one of Tokyo's highest-end neighborhoods, so the property value of a modern building could be huge.
But before they could actually move forward, the global financial crisis hit, and the demolition plans ground to a halt.
Now, residents say, about half of the 140 capsules are in such bad condition that they go unused. A fourth of the capsules have people living there permanently, while the last fourth are used as offices or guest rooms.
Noritaka Minami, a Chicago photographer, has been visiting the tower twice a year since 2010, taking photos of the capsules for a new art book. He's fascinated with how the residents have transformed their standardized capsules into unique little homes over time. "With any space, modification is inevitable," Minami said. "In this building, each space is a container of all the history since '72."

In some capsules, people have preserved the original design; others have revamped their capsule to be as modern as possible. The capsule I stayed in was decorated with dark wood and flower patterns, trying to replicate a traditional Japanese sitting room.
Tatsuyuki Maeda, 48, is one of the owners who remains. He bought his capsule five years ago. "Every day, I would walk on this road to get to my office," he said. Every day, he'd look up and admire the building. So after the financial crisis, when the prices were low, he bought one capsule that was in bad condition and renovated it.
Now, sitting crosslegged on the hardwood floors he laid himself, Maeda says he hopes to keep the capsule for the rest of his life. He lives a train ride away from downtown, but uses it to have guests over and entertain friends. An architecture buff, Maeda recently finished a crowdfunding campaign to publish a book about the tower, with profits going to renovation efforts.
"I want to renovate not just one capsule, but a lot of the capsules that are not in good shape," he said.
For some owners who feel too cramped living here, the answer is Airbnb. At least five different capsules were listed on the site earlier this year, although searches now turn up only two listings. They go for $60 to $80 a night.
Most of the Airbnb listings in Tokyo tend to be either sleek modern apartments, nondescript one-rooms, or traditional old Japanese homes. The Nakagin is something else entirely. "If you are looking for the amenities of a contenporary hotel, this is not a plce to stay," cautions one poster.
And while some guests complained about the tiny space or lack of amenities, for the most part, it's the peculiar design that is attracting tourists. "Getting to experience the project is a bit like a dream come true," wrote a guest from Toronto. From reviews like these, you get the sense that Airbnb could be an answer for preservation questions: letting architecture enthusiasts (and tourists predisposed to quirky digs) stay in the building might help fund some kind of renovation.
Like other buildings and cities, however, Airbnb has proved controversial here. The building's management has frowned on allowing tourists to parade through the halls, and has reprimanded owners who listed their capsules. The owner of the capsule where I stayed told me in an email: "Please don't ask anything at reception. And please don't stay at lobby. Also please be quiet in the room and building. And please don't walk around in the building." (Sorry!)
It's conflicts like these that perhaps get at the heart of why it's so hard to preserve buildings like the Nakagin tower, an architectural icon that is at the same time an apartment building with residents who see it as just a place to live. "It's not a museum and it's not an arts center," Minami said. "It's a private property with a hundred different owners."
In some ways, Kurokawa's vision of the future has come true. People living in cities in Japan and around the world are more mobile than ever before. Young people especially are attracted to smaller and smaller apartments. But no other capsule towers were ever built, and we continue to suffer through packing, trucks, and cardboard boxes every time we move.
The Nakagin has proven influential in some ways, at least. Prefabricated buildings are now the norm. Eighty to ninety percent of buildings constructed in Japan have at least some prefabricated elements, Lin said.
Still, the building's own future remains uncertain. There hasn't been any vote on demolition since 2007. And while some owners like Maeda have lovingly restored their own capsules, without a full-scale renovation effort, there's little doubt that the Nakagin tower will fall deeper into disrepair.
"The tower was based on this idea of mass reproducibility—the idea that the capsules can be mass produced in a factory," Minami said. "And yet today, it's one of a kind. If the building disappears, it's the last one."
Casey Tolan is a National News Reporter for Fusion based in New York City.