GUYMON, Oklahoma—Painted prominently on one side of the Nuestra Tierra neighborhood market, a vibrant mural welcomes outsiders and serves as a reminder of how the city of Guymon has transformed over the years. The left side features images of American icons, including George Washington, Abraham Lincoln, and the Statue of Liberty. Meanwhile, the right side showcases Latinx icons like the Angel of Independence monument.
Commissioned by Benjamin Vega, a Mexican American who co-owns the market with his wife Maria and has lived in Guymon for 20 years, the mural is meant to encourage visitors to take photos. "He wanted something different in Guymon, something that would draw people's attention to stop," Maria told me.
Located in the middle of the Oklahoma Panhandle, more than four hours from the capital of Oklahoma City and five hours from Tulsa, Guymon is a community of contrasts. It's the only city in Oklahoma with a majority Latinx population at 52%. And refugees from countries such as Eritrea, Somalia, South Sudan, and Myanmar escape here to flee violence and persecution back home.
Counterintuitively, though, Guymon is in one of the reddest counties in arguably one of the reddest states in America. Statewide, Oklahoma is 75% white. As a result, Guymon—which has a white population of 43%—feels more like New York City, Chicago, or Los Angeles than the Oklahoma Panhandle, once known as "No Man's Land." Indeed, it's not uncommon to hear a variety of languages while shopping at the local Walmart Supercenter.

🗳🗳🗳
The presidential election is just a month away, but political signage here is scarce.
G/O Media may get a commission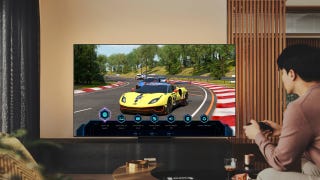 Up to $700 off
TVs, Cell Phones, Smart Home, and More
Glenda Williams, secretary of the Texas County Election Board, said it seems like politicians have forgotten Texas County and the rest of the Panhandle. "Remember that we are part of Oklahoma," she said.
Despite this lack of attention, the Texas County Election Board has seen a boom in the number of Latinx residents registering to vote over the past six months. The board used to see one or two people walk into its office to register each month, but now it sees anywhere between five and 10 people register each day, according to Williams. "We take it for granted being, here, and it seems like they are more excited to be able to register and vote," she said, adding that two of her precinct workers teach citizenship classes, and encourage new citizens to register to vote.
Nationally, most Latinxs support the Democratic Party, with 58% of registered voters favoring Hillary Clinton for president, according to a recent Pew Research Center poll. But that's not the case in Guymon.
Oklahoma has a closed primary system, so only voters registered for the party that's holding the primary are allowed to vote; this means in conservative counties like Texas in the Panhandle, there are often fewer Democratic candidates to vote for. "I think they are leaning toward what this community basically is, which is Republican," Williams said.
Voter registration numbers seem to back up her analysis. Of the people registered to vote in Guymon, 3,146 are Republicans, 1,488 are Democrats, and 1,123 are independent. There are also a handful of libertarians.

🗳🗳🗳
Guymon's namesake, businessman Edward T. Guymon, was born in Illinois before heading west. The city was incorporated in 1901, and it later became the county seat of Texas County when the Panhandle was divided into three separate counties.
For many years, this community in the flat plains of Oklahoma has changed and grown largely because of Seaboard Foods, which opened a pork-processing plant here in 1995. The company, which processes more than 19,000 hogs each day, employs a "melting pot" of nearly  2,500 people in Guymon, making it the city's largest employer, according to training manager Jennie Watkins. About 45% of Seaboard's employees in Guymon are Latinx, Watkins said, while 20% are refugees from African countries.
Seaboard Foods is where many newcomers go to find jobs in Guymon. Watkins said starting wages are $14.40 an hour, and that the company tries to accommodate employees by considering whether they need rides to work, pairing them with other workers of similar ethnic backgrounds, and translating training materials into a variety of languages, including Burmese, Amharic (the official language of Ethiopia), Tigrinya (the most commons language in Eritrea), among others. Seaboard also wants its training materials to come in audio form, so those who can't read or write are still able to understand.
Outside of Seaboard, several events are held in Guymon throughout the year to help bridge the cultural divide between the city's various residents. The Guymon Fiesta showcases Latinx cultures, Azuma: An African Celebration highlights African cultures, and Pioneer Days celebrates the cowboy spirit.
Acaba Hisabu, 27, moved to Guymon a few months ago from Atlanta to join her husband, who works at Seaboard. Together, they have an 8-month-old little boy and are expecting another baby in several months. A refugee from Eritrea, Hisabu works at Red Sea Grocery Cafe, a store that caters to the local African population by selling coffee, lentils, and other food items. She hopes to join her husband at Seaboard soon.
Just down the street from Red Sea, signs along Main Street invite customers to "envios de dinero a Cuba" (transfer money to Cuba) or "cambio de cheques" (exchange checks). Around the corner at Novedades Angelica, store owner Nicolasa Tum waits patiently for customers with two of her five children. Tum and her husband found jobs at Seaboard after arriving in Guymon from Quiche, Guatemala, in 1997. When the couple tired of working there, Tum opened the store while her husband went into construction.
Tum, 43, declined to comment on the election, but noted that she and her husband became U.S. citizens years ago. "I like Guymon because there's no violence or drugs for kids or people," she said.
For her part, Watkins echoes Tum's sentiments. She says white locals accept newcomers because both groups are driven by the same desire: a safe, comfortable environment for their family.
"For people in Guymon, families are everything,"  Watkins explained. "They want to support their family and have their children have a better life than them."
"They want what we all want."
Kristi Eaton is a freelance journalist who has reported from Mexico, Cambodia, Thailand, Myanmar, the Northern Mariana Islands, and the U.S. for a variety of outlets, including The Associated Press, Marie Claire, NBC News, The Washington Post. She's a fan of quirky roadside attractions, impromptu dance parties, and in-depth conversations. She also wrote a book about Main Streets in Oklahoma.