Dina Brodsky did not set out to be a painter. She graduated from high school and started college just before she turned 18, which gave her some time to kill. So she enrolled in a painting class.
"I didn't know what I was doing with myself ," Brodsky said in an interview with Fusion. "I thought painting would be an interesting thing to do until I turned 18, dropped out, and hitchhiked around Europe. That was my plan."
Picking up a paintbrush for the first time was a transcendent experience for her — one that lead to what she calls her "improbable career" as a professional miniaturist.
Art galleries and museums like big paintings. They take up more space, so you need fewer of them to fill up the room for a show; they make a big impact on viewers and photograph well, and they sell for more money than normal-sized paintings. But Brodsky was always drawn to the small.
G/O Media may get a commission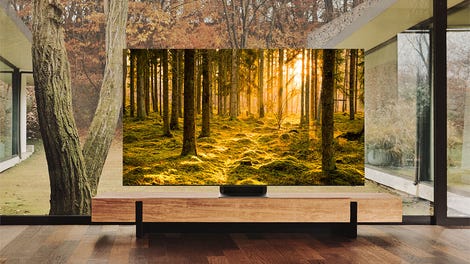 Up to 40% off
Samsung Smart TVs
"I went to undergraduate at the University of Massachusetts Amherst, and that's where I discovered miniature painting — and where I was most told to stop it," Brodsky said. "They wanted big installation art and I was doing tiny realistic oil paintings. It was the opposite of what they were looking for."
She went on to earn her Master of Fine Arts degree from the New York Academy of Art, where she honed her miniature painting skills. Since graduating, Brodsky has been able to realize her dream of traveling through Europe, though by that point, she says, "all I wanted to do was go to museums and draw things."
The techniques used to create Italian Renaissance-era fresco paintings, 15th-century Flemish portraits, illuminated manuscripts, and Islamic miniature art have all played a role in Brodsky's work. She had a job painting jewelry for Ralph Lauren, which gave her a chance to work with Mylar paint. Mylar is a plastic-based architectural film with almost no grain, which makes it an excellent candidate for detail work. She creates her miniature landscapes and still lifes by painting oil paint over Mylar onto tiny PlexiGlass sheets.
For her smallest works — 2 inches by 2 inches — it takes about 15-20 hours to complete them. She says they feel like "instant gratification." Larger ones, up to 8 inches by 8 inches (a little bit bigger than a new iPhone), can take anywhere from 150 to 300 hours to finish. Most days, she wakes up, goes for a run, and then paints for 10 to 12 hours. Apart from having very small brushes, Brodsky says making small paintings isn't that different from making normal-sized paintings. Though physically, it's a bit more of a challenge.
"Instead of sitting at an easel, I'm hunched over on a chair," Brodsky said, laughing. "It's ruined my posture and will probably eventually ruin my eyesight."
I had to ask her: Has she ever misplaced one of them?
"I'm always afraid of that happening. Mostly it doesn't," she admitted. One day she picked up a taxidermied bird in her apartment and found a two-year-old painting under it that she'd forgotten about. ("I had a series of larger paintings of taxidermy. A surprising amount of people will give you taxidermy.") So it's only happened that one time, though to be fair, she says it's possible she's lost and subsequently forgotten about more of them.
Timothy Smith has worked in the professional art world for 25 years. He became acquainted with Brodsky's work in 2008 when he was managing a gallery in the Chelsea neighborhood of Manhattan. She walked through the door carrying what Smith described as a "homeless bundle of stuff." It was a collection of her paintings, carefully encased in paper towels and old cloth.
"When someone comes in with something like that, you don't have high expectations," Smith laughed. "So she unwraps them and starts setting these 2- and 3-inch cubes out, and I said, 'This is amazing. I've never seen anything like this.' I said, 'You cannot show your art like this. You cannot walk around to galleries with your stuff in rags."
Her miniature paintings weren't right for the gallery he managed at that time. But he stayed in touch with Brodsky, calling her to catch up a couple times a year. Recently, he relocated to Florida and started his own gallery where he could curate shows the way he wanted to.
On November 15, the Sirona Fine Art Gallery in Hallandale Beach, Florida premiered the "Miniature and Majestic" exhibition featuring Brodsky's work.
"As you walk around the room, you have to stand close to the miniatures," Smith said of the show. "They demand that you stand close to them. You fall into your own little world to see them."
For her part, Brodsky says she's both surprised by and incredibly grateful for the warm reception.
"I made most of that series thinking I'd never even show it," Brodsky said. "For the most part it was what I did for fun while making other paintings."
Up next for Brodsky: A series based on her long-distance biking trips through Europe. And it will be tiny, of course: She's going to paint a Lilliputian cyclist's guide — "like if Gulliver went on a trip with the little people."