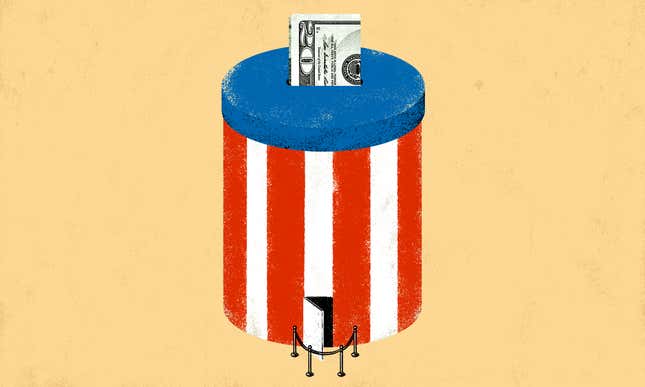 Alondra Alcantar says she had a solid plan in place to save for the $495 she needed to pay for her DACA application renewal in February.

The 19-year-old call center operator was going to finish paying her car off this month and was then going shift to saving up for the cost of renewal. She already had the $270 fee for the immigration lawyer taken care of and just needed three months to come up with the application fee.
Alcantar was born in Mexico and has been living in the United States since she was two years old. She's undocumented and has had DACA since she was 15. She has renewed her status every two years—the federal program, Deferred Action for Childhood Arrivals, has allowed Alcantar to legally work in the United States and live without fear of deportation.
Now, Alcantar is scrambling to come up with a new plan after Attorney General Jeff Sessions announced last Tuesday that the Trump administration was ending DACA following a six month grace period. Congress, President Trump said, has until then to come up with a solution, but as with anything that comes out of Washington right now, nothing is guaranteed. A White House memo sent to Capitol Hill staffers last Thursday said DACA recipients should "prepare for and arrange their departure from the United States."
Shortly after Session's press conference, the Department of Homeland Security announced the agency would no longer accept new applications for DACA. But there's a portion of the almost 800,000 DACA recipients who can still renew their DACA applications: DACA beneficiaries whose benefits expire between September 5, 2017, and March 5, 2018 have until October 5, 2017, to submit their renewal applications. According to the United States Citizenship and Immigration Services (USCIS), there are approximately 150,000 individuals who can still apply to have their DACA status renewed.
A USCIS spokesperson told Splinter the new DACA benefits "will expire two years from the new date of issue," which means applicants who are approved in the coming months will have benefits, and presumably protected from deportation, until 2019.
"I honestly didn't know what to do. My mom doesn't work, and she's undocumented. I couldn't ask her for help," Alcantar told Splinter. Alcantar is active on Twitter and ended up finding someone she had never met who offered to help her start an online fundraiser to pay for the application fee.
"With Trump only giving a month to renew existing DACA permits for one last time, I'm unable to afford it with such short notice," Alcantar wrote on the crowdfunding site YouCaring.com. "Your donation could change my life."
Alcantar set her fundraising goal for $500. She ended up raising $1,400 in just under two hours. Her fundraiser got a boost on Twitter after Aura Bogado, a Los Angeles-based journalist, tweeted a link to the fundraiser. Alcantar told Splinter she plans on paying for her application fee and donating the rest of the money to others in her situation.
The DACA announcement last week has led to a frenzy of people rushing to make the October 5 deadline, with dozens of individuals and groups launching online fundraisers on crowdfunding sites like YouCaring and GoFundMe. Others are also posting updates on social media asking for donations via PayPal and Venmo accounts.

Last week, the site YouCaring.com saw a 172% increase in fundraisers with the keywords "immigration," "DACA," and "undocumented," compared to the same period the week prior, according to stats provided by the site to Splinter.
Typically, applicants "save for months and months before having to submit their DACA application, whether it's their first [application] or renewal," Ignacia Rodriguez, an attorney and immigration policy advocate at the National Immigration Law Center, told Splinter.
She continued: "The general consensus is to encourage people to apply because they could receive their DACA issuance for a longer period of time. It's in their best interest now to apply if they qualify."
DACA applications can take several months to process. If the current three-to-four month average processing time continues, some applicants could have DACA until 2020, Rodriguez said.
Rodriguez said she encourages people to submit their application with the help of an attorney or a representative approved by the Board of Immigration Appeals, the highest immigration administrative body in the country. Applicants who have had any interaction with the criminal justice system should especially consider renewing DACA with a trained representative, Rodriguez said.
For undocumented immigrants looking to fundraise online, YouCaring says the platform is free to use, but each donation is hit with a 2.9% "processor" fee and another $0.30 charge per donation. Those fees go to the credit card processors, according to the site. Each donor contributing to a fundraiser is encouraged to make an additional donation to the site to keep it running.
GoFundMe takes a 7.9% cut from each donation to help pay for platform and processing costs. The site also charges a $0.30 fee per donation, according to the GoFundMe website. GoFundMe did not respond to Splinter's request for data on DACA-related fundraisers.
But a quick search on the crowdfunding sites shows DACA recipients have launched fundraisers recently in some of the most urgent categories—on YouCaring, several DACA fundraisers are in the "emergencies and disasters" section, right up against people seeking relief from the destruction wrought by Hurricane Harvey.
Ingrid Alvarez of Fontana, CA, was able to collect $540 in less than 24 hours on YouCaring. The single mom posted a picture and short paragraph on the site explaining her circumstances: "With only a month to raise the cost for immigration [applications] and the lawyers I am in need of some help."
But so far, success stories like Alvarez's have been few and far between.
Arturo Guerrero, of Streamwood, IL, skipped the bio paragraph and just posted a picture of his work authorization card to prove the urgency of his DACA application; his permit expires on September 22. He launched the fundraiser Thursday morning and has raised about $100 so far.
Guerrero, 28, told Splinter when he first applied for DACA, it took him about two months to save up for the $500 application fee. "I live check by check and have to save little by little on the side," he said. But this time, he doesn't have two months to save enough money. He has 11 days to file and pay for the renewal application.
Jose Ramon Montes, 22, launched a GoFundMe fundraiser to pay the $495 DACA renewal application fee a month ago, on August 7, 2017.
His first DACA approval letter arrived on his 19th birthday. He says it changed his life because it allowed him to go to college with a purpose, knowing he would one day be able to put his degree to work.
His GoFundMe fundraiser was for his second attempt to renew his DACA status this year: Montes, a student, was able to save up for the renewal application fee on his own earlier this year and filled out and submitted his renewal application by himself. But the renewal application was denied due to a paperwork error—a careless one, Montes said. USCIS said they do not comment on individual cases.
He hit his $500 goal on Wednesday, September 6—just one day too late for him to apply for his renewal. He told Splinter that as of now, he has no options to apply for renewal. Montes said he's trying to keep a positive outlook and still goes to protests to fight for those still eligible for DACA.
"For me, the worst thing that can happen in life is dying. And when you die you don't know it happened," Montes told Splinter as he smiled.
What might be the most successful DACA fundraiser launched in the last week was organized by four activists who plan to distribute the funds amongst applicants, raising more than $57,000 in just over a week.

"The shit hit the fan pretty fast, and we asked ourselves how can we help our folks apply before the deadline," said Zacil Vazquez, 28, who helped launched the fundraiser along with Graciela Marquez, Nube Cruz, and Alex Aldaña—all of whom are undocumented and have experience working in community and labor organizing, according to Vazquez.
Vazquez told Splinter the group launched the fundraiser on August 30 with an initial goal of $2,500. "We thought we'd get $50 for a few of our friends. Then we realized that we could reach more people.
"It's not only a work permit that allows us to provide for ourselves, but most importantly, it's protection [from deportation] for two years, if we could help get our folks some sort of security then, by all means, we were going to work for that," Vazquez said.
Vazquez says she is happy and grateful people have donated to the campaign but the experience has also been emotionally draining. She had received about 80 messages on Thursday morning when Splinter interviewed her.
She said emails came from a huge swath of people desperate to stay in the country, from cash-strapped college students wanting to stay in school to single mothers struggling to provide for their children.
Vazquez said American citizens and others with legal status here in the U.S. who know young immigrants with DACA should ask if they need help paying for their renewal. Or, if you have an undocumented employee, think about different ways they can keep their jobs.
"Allies need to step up, we no longer just need allies—we need accomplices," Vazquez said.