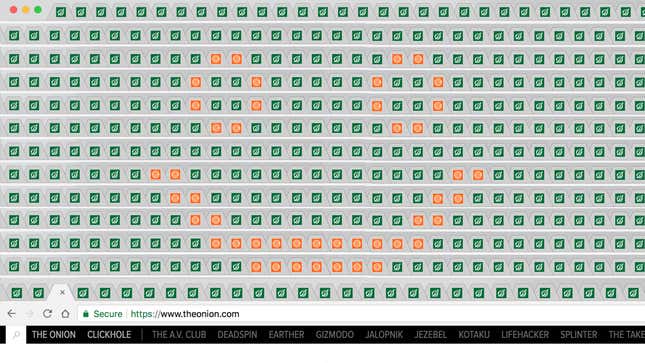 The Daily Beast reported today that Univision, the parent company of both the Gizmodo Media Group and Onion Inc., is planning to layoff a significant number of Onion Inc. employees in the coming days. Included in the Beast's story was this anecdote about a recent all-hands meeting between Onion Inc. employees and Univision head of digital, Sameer Deen:
When asked during an all-hands meeting with staffers from one site earlier this year what his favorite article was on an Onion Inc. site, Univision's head of digital Sameer Deen would not answer.
Employees at Gizmodo Media Group found this to be strange. In their experience, anyone who is not some kind of fucking freaky sicko has at least one favorite Onion blog. To demonstrate the veracity of this theory, something like 14 Gizmodo Media Group employees spent something like 17 minutes recalling their favorite Onion Inc. blogs from memory. Here are some of the posts they were able to remember without thinking very hard at all:
Congrats to the many employees of Onion Inc. for producing such an effortlessly memorable body of work. And congrats to a handful of Gizmodo Media Group employees for proving that they are not fucking freaky sickos.