At 19 years old, Essena O'Neill had built a lucrative modeling career for herself using Instagram, YouTube, and other forms of social media. But, as she revealed in a recent video, she "had never been more miserable" in her entire life.
The Australian model, currently signed to IMG Models' Sydney office, announced that she is quitting social media, MTV News reports. Her goal, she says, is to inspire her hundreds of thousands of followers to value themselves beyond their follower counts. She also wants to feel like she's using her platform to make a positive impact on the world.
"Taking myself off social media is a wake up call to anyone and everyone who follows me," O'Neill says in a YouTube video posted Monday, which has been viewed more than 900,000 times.
"Everything I was doing was edited and contrived to get more value and to get more views," she continues. "I told myself that when I had heaps of views, people will view me. I will feel valued. I will feel happiness. I let myself be defined by numbers, and the only thing that made me feel better about myself…really was the more followers, the more likes, the more praise, and the more views I got online. It was never enough."
The Gold Coast native also hopes to expose just how much influence corporations have in the world of social media. On Instagram, where she has more 750,000 followers, O'Neill has edited the captions that accompany some of the photos in order to show just how "edited and contrived" the supposed candids actually are.
G/O Media may get a commission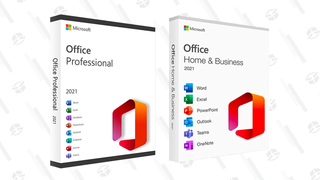 89% off
Microsoft Office Professional 2021 Lifetime License
"Companies know the power of social media, and they're exploiting it," O'Neill says in the YouTube video posted Monday. She goes on to say that if you see an Instagram user with a lot of followers featuring a product in one of their photos, that product's placement was likely sponsored. According to her website, she was making $2,000 a month thanks to YouTube's AdSense system of pre-roll advertising.
"[Social media] is now a business," she tells viewers. "If you don't think it's a business, you're deluding yourself."
O'Neill—who I was unable to reach for comment at the time of publication—has deleted her Snapchat and wiped her Tumblr of all posts. She says that she will leave her YouTube channel intact as she stands by a lot of the content she posted there, particularly her videos about veganism.
For now, O'Neill is shifting her creative energies to a new website called LetsBeGameChangers.com, which she says will promote self-expression, "love and connection" in the offline world, veganism, and other causes she believes in. It sounds like she's still hammering out the details, but she hints at a "range of interviews, projects, and features" that will be funded on a "pay what you think it's worth" basis. She also says that she will collaborate with companies that spread the "same core messages" as the website.
"I have decided that this is what I value," O'Neill tells readers on her site. "Deleting all those apps from my phone was one of the most empowering and freeing thing I have ever done."
Bad at filling out bios seeks same.