Barely two months after the Justice Department issued a scathing report on civil rights violations committed by the Chicago Police Department, a new investigation by the Chicago Tribune has revealed that for years findings of police misconduct have gone unpunished by the department.
According to the Tribune, "It's another failing by police authorities who already have faced years of criticism for lax and lengthy investigations of police officers, who are rarely held accountable for misconduct."
The latest revelations involve lost cases against officers and a failure by both police department officials and the Independent Police Review Authority (IPRA), whose job it is to investigate police misconduct, to follow through with recommended punishment against officers who have committed violations. The newspaper called it a "stunning breakdown of the city's police disciplinary system."
Two of the cases uncovered by the newspaper involve male officers who should have been disciplined for violence against their spouses, but weren't.
In the first case, two suspensions levied against officer Maurice Anderson for domestic abuse were never enforced. The first attack, in which Anderson battered his then-wife, a fellow Chicago police officer, by punching her in the face and body, happened in 2008. Four years later, according to the Tribune, IPRA found the victim's story credible and recommended Anderson, who also stole his wife's police-issue firearm, be fired.
G/O Media may get a commission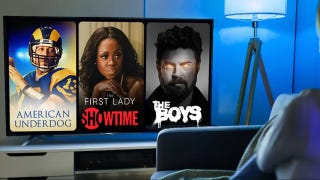 UNDER $1
99¢ Prime Video Channels
Officials lowered IPRA's recommendation to a 30-day suspension, but that suspension was never served.
In a second case highlighted by the Tribune, officer Michael Clemons continued on the job seven years after he allegedly stalked his estranged wife, who filed a restraining order against him. Clemons' estranged spouse accused him of sending her threatening texts, placing a GPS tracking device in her vehicle, recording conversations in their home and monitoring her computer activity.
IPRA recommended in 2014 that Clemons be given a three-day suspension, and the police superintendent's office recommended a 15-day suspension. IPRA then waited for a grievance claim Clemons planned on filing, but it never came. No action was taken until the Tribune pointed the case out to officials.
"It's the system. It works for them, not against them," TuWanda Clemons, the victim of officer Clemons' alleged stalking and harassment, told the Tribune. "They're above the law. I wasn't protected by them. How can they protect me against their own?"
As part of ongoing reforms of the Chicago Police Department following the 2014 shooting of black teenager Laquan McDonald by white officer Jason Van Dyke, who currently is facing a murder indictment and new charges of aggravated battery, IPRA later this year will be replaced by a new agency, the Civilian Office of Police Accountability. According to the newspaper, this new agency will have more power to investigate police misconduct. Let's hope that's true.