DES MOINES, Iowa—As he floated through the Gulf of Thailand on a tiny, flimsy river boat holding 135 people, Vinh Nguyen was focused on staying alive.
He was one of hundreds of thousands of Vietnamese "boat people" who fled the communist-ruled country in the late 1970s and early 1980s, escaping poverty, destruction, and the oppressive government left behind by the Vietnam War.
Over a week rowing through the open ocean, 21-year-old Nguyen and his boatmates were robbed by pirates, and some women were kidnapped or raped. Finally they landed on Thai soil, crashing their boat on the shore and ending up in a crowded refugee camp.
"At that time it was just survival," Nguyen said. "So many of us left because we wanted freedom. … If an electric pole knew how to walk, it would walk away from Vietnam. That was how bad the situation was."
G/O Media may get a commission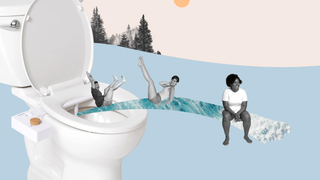 17% off
Tushy 3.0 Warm Water Spa Bidet Attachment
But as the boat people filtered into refugee camps around Southeast Asia, they found that no one wanted them. At the time, every country had stopped accepting refugees.
The first place in the world to welcome the boat people was somewhere Nguyen had never heard of: Iowa.
The state's Republican governor at the time—moved by stories of suffering and his own religious conviction—ignored popular opposition and opened his state's doors to Vietnamese refugees. Since then, thousands of refugees from Asia, the Middle East, and Africa have made the tiny, landlocked, overwhelmingly white state their new home.
In the last year, however, the state's welcoming stance has shifted, mirroring a turn in national politics that is suddenly hostile toward refugees. Longtime Gov. Terry Branstad declared in November that he wouldn't allow Syrian refugees to be resettled in the state, following the lead of other governors across the country.
Meanwhile, a host of Republican presidential candidates crisscrossing Iowa have used even stronger rhetoric. "I don't want them coming into this country, I don't want 'em, because we don't know who they are," Donald Trump told fans at a Des Moines town hall last month, and they leapt to their feet.
It's hard to be a refugee. The half-dozen refugees I met recently in Iowa spent years in crowded camps, and after arriving in the U.S., they had to rapidly adapt to a drastically different culture. Public support is frayed, and many have struggled to make ends meet.
But they all said they were grateful for the second chance they got here. "I believe I'm the luckiest man alive," Nguyen said.
A courageous governor
The first refugees to be resettled in Iowa arrived a few years before Nguyen and the boat people. When Saigon fell in 1975, marking the end of the Vietnam War, the U.S. agreed to take in more than 130,000 refugees from the region. Officials launched the first nationally organized, large-scale refugee resettlement effort in American history.
The program divided refugees among the 50 states. But that was a problem for one refugee community living in a Thailand camp: the Tai Dam, a minority ethnic group that lived in Laos and southern Vietnam and had been fleeing oppressive governments for decades. Tai Dam people have their own language, religion, and history, and resettling in the U.S. would have meant splitting their community across the states.
So the leaders of the Tai Dam wrote letters to every American governor, pleading to be taken in as a group in one state. Only one responded: Robert D. Ray, the Republican governor of Iowa. He said yes.
"He was a man who was very much given to reading all the mail. He would sit there late at night reading letters," said Kenneth Quinn, one of Ray's aides and later the U.S. ambassador to Cambodia. "He had this inner moral compunction to feel sorry for people and try to help them." (Ray, now 87 and in poor health, declined an interview request through an aide.)
A few years later, on a blisteringly cold night in January 1979, Ray returned to his office after watching his beloved Drake University basketball team play a game. Quinn and other aides showed the governor TV news footage from Malaysia, where a new group of hundreds of thousands of Vietnamese refugees—boat people like Nguyen—were washing up in tiny boats. As the cameras rolled, Malaysian officials pushed the boats away, and one started breaking up in the middle of the ocean. Bodies floated up on the shore.
No country was accepting any more refugees at the time, including the United States. But Ray told his staff there were two choices, Quinn recalled: "We can turn our backs or we can try to somehow reach out a hand to people who are desperate to live in freedom."
The next morning, Ray called a press conference and announced he was asking the president to admit the boat people, and to allow Iowa to double the number of refugees it resettled. He was the first state governor—and first governing leader in the world—to call for resettling the boat people, Quinn said. Later that year, President Jimmy Carter agreed.
In 1981, Nguyen got on a plane to Des Moines, and he's lived there ever since. Now, he leads the English as a Second Language program at the Des Moines public schools, where students speak more than 100 languages and one-fifth of them don't speak English natively. He's hired bilingual outreach workers to help refugee parents get involved with their kids' education and started weekend English classes that parents and their kids attend together.
"My story's probably not that different from most refugee populations here in Iowa," he said. "For a lot of us, it seems magical that we survived."
Why not Syrians?
When Ray announced that the state would resettle more Vietnamese refugees in the '70s and '80s, it was politically dangerous. Polls showed that a majority of Americans and Iowans, worried about losing jobs, were opposed to more refugees. Some wrote Ray letters urging him to change his mind. He would count the number of want ads in the Des Moines Register, call the letter-writers back, and tell them, "the refugees haven't come here yet, there are 1,200 jobs in the paper, go get one before they come," Quinn said.
Today, the politics of the refugee issue are similar. Several recent polls have found that most Americans oppose accepting Syrian refugees, who like the Vietnamese are the victims of the most brutal war of their generation. After the terrorist assault in Paris in November, when one of the attackers was found to have been carrying a Syrian passport (later determined to have been faked), 31 governors announced they would not allow Syrian refugees to be resettled in their states.   
Iowa's Branstad is one. "We have welcomed refugees from around the world into Iowa. We must continue to have compassion for others, but we must also maintain the safety of Iowans and the security of our state," he said in a statement in November. "Until a thorough and thoughtful review is conducted by the intelligence community and the safety of Iowans can be assured, the federal government should not resettle any Syrian refugees in Iowa."
Governors actually don't have the legal power to prevent refugees from being resettled in their states. Refugees go through a stricter screening process than just about any other immigrant to the U.S. And even before Branstad's statement, there were no Syrian refugees scheduled to be resettled in Iowa, said Carly Ross, the head of a local resettlement agency. (Branstad's office did not respond to repeated requests for an interview about his refugee policy.)
Branstad's decision has been condemned by refugee advocates, the four Catholic bishops of the state, and the state chapter of the ACLU, among others. It "turns our back on Iowa's tradition of welcoming refugees," wrote Des Moines Register columnist Daniel Finney.
Syrian refugees would in fact fit right in with the milieu of people already in Iowa, advocates say. Muslim refugees from Bosnia, Somalia, Iraq, Sudan, and other war-torn countries have successfully started new lives here. Des Moines has four Islamic Centers, and the first mosque in America was built by a Syrian immigrant in Cedar Rapids in 1939.
The Muslim community's more recent growth can be seen at places like New Horizons Academy, a private Islamic school in Des Moines, which has grown from five students in 2004 to more than 140 this year. Many are children of refugees, a new generation of Americans.
On a recent afternoon at New Horizons, a diverse group of students studied English, math, and the Quran in classrooms decorated with colorful drawings. Sitting at desks and spread out on pillows, they practiced writing Arabic script and took algebra tests. Some girls wore headscarves, and others didn't. Other than the fact that the kids greeted me with "salaam alaykum," it could be mistaken for a typical private school.
After Trump proposed banning Muslim immigrants, the school received letters of support from churches around the state. "Iowa has from my experience the highest level of tolerance and acceptance of others," said Luai Amro, the school's president, an immigrant from Palestine. "(Iowans) might not know outside of Iowa because they don't explore much, but the personality and the demeanor of people in Iowa, I would not choose any other place for me or my kids."
While there aren't many Syrians living in Iowa, some immigrants are already here. Adib Kassas, 43, a psychiatrist in Dubuque, came to the U.S. 17 years ago for medical school and has been living in Iowa for the past 10 years. He raised his five kids in Dubuque, where he serves as the imam for his local mosque. In the decade he's been in Iowa, Kassas said, he's felt welcomed and a member of his community.
Kassas thinks accepting Syrian refugees would fit with Iowa's history of offering refuge to victims of war. "There's nobody who needs help more than the Syrian people right now," he said. "They're tired of fighting and tired of killing and they want peace."
But in the last few months, he and his family have been getting a few reactions that they never did before—people flashing their middle finger as they drive by, or department store shoppers staring suspiciously at his wife, who wears a headscarf.
"Before, we were like any normal people," he said. "Because of the media, and the election … they are starting to think that we're different."
"The cheapest way of getting votes is to scare people," he added.
'Symbol of hope'
"As a refugee in the U.S., life comes in stages," Dinh Vanlo told me. He would know—as one of the Tai Dam refugees whom Ray welcomed to Iowa, he was among the first to be resettled in the country in 1976. Fast-talking and joke-cracking, he explained the refugee experience as he poured sriracha into a steaming bowl of pho at a delicious restaurant owned by a fellow Tai Dam refugee.
First, he said, most refugees go through some form of euphoria. Many like him come from camps with horrible conditions. In the camp where he lived in Thailand, "people would come look at you like you're an animal, like you're not human … like you're in a zoo," he said. "Hunger was our friend, hunger was our daily life."
When refugees get off the plane in Iowa, they find a house waiting for them, with luxuries like their own bathroom, electricity, and a fully stocked fridge. They think, "wow, this is heaven," Vanlo said.
But soon, they realize how different everything is from what they know. Vanlo, who barely knew any English when he arrived, struggled to acclimate. "Everything is upside down," he said. "You're angry all the time, you're depressed."
Resettlement policies don't make it easy. The U.S. refugee resettlement program is generally focused on getting refugees working as soon as possible to prevent them from requiring taxpayer support. Many in Iowa get jobs at meatpacking plants, unskilled labor that requires spending eight hours a day carting tons of meat around massive freezers. Vanlo said he was given a job at a factory cutting metal for fences on his third day in America. "I was still jet-lagged," he said.

Cash assistance from the federal government stops after 90 days. While state programs (some with federal funding) and nonprofits can fill the gap, many refugees struggle to make ends meet—especially while they're adjusting to a very different culture and, in some cases, learning English for the first time.
The state has fewer resources to help refugees here than in the past, especially in areas like mental health, even as some refugee communities suffer from elevated suicide rates.
Some, like Nguyen, come without any family members already in the U.S., which can make the transition especially difficult. "What can you do in three months?" Nguyen asked. "When they go to work, where's the time for them to learn English? Where's the time for them to learn the cultural orientation? Where's the time for them to learn about the system that they're going to live in?"
Finally, Vanlo said, most refugees come to some kind of balance—adjusting to their new life in America while keeping their own culture as well.
"I was blessed to come here," he said. "America is the best country in the world. I never had a country, so I might as well be a citizen of the best country in the world."
But he noted, "they didn't just open the country to me, they opened their state to me, their city, their neighborhood. They opened their hearts."
Maybe the power of welcoming refugees can be best seen in one anecdote of many that Quinn, the former governor's aide, still remembers. When Ray visited a sprawling refugee camp in Thailand in the early '80s, a family of Tai Dam people recognized him. They invited him into their shack to show him what they called their "symbol of hope." There, on the wall, they had pasted the Iowa Department of Transportation highway map, with pins in the cities where Tai Dam people lived.
"They said, that's our hope, to go there," Quinn said. "Who could ever imagine that the shape of your state would be the symbol of hope to these people who in every way could not be more different than Iowans?"
Join us live on Jan. 11 at 8 p.m. ET as Fusion hosts the 2016 Brown & Black Democratic Presidential Forum from Drake University in Des Moines. The forum will focus on where the candidates stand on issues that matter most to America's growing multicultural population. Tune in to Fusion's cable network, or watch the livestream on Fusion.net, Facebook, and YouTube. And download the Fusion app and join the conversation during the forum. Available on iOS and Android.
Casey Tolan is a National News Reporter for Fusion based in New York City.