What would you do if:
A)  You were told you were going to be in a documentary about how families manage their finances.
B)  Given $1,000 to spend on anything.
C)  Given $100,000 more dollars, but
D)  Subsequently told that you're not really going to be in a documentary, but rather in a nationally broadcast reality TV show where you have to decide whether to keep the 100 grand, or give it to a needy family?
That is premise of a new CBS Show called The Briefcase.
At least some the contestants appear to have made peace with their experience on the show.
G/O Media may get a commission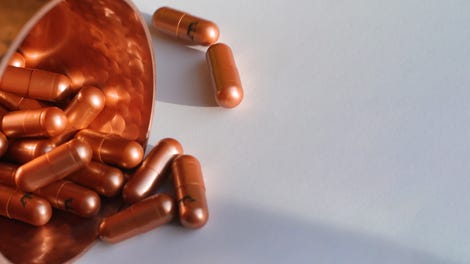 health
The Lyma Supplement
But many argue the show is exploitative, and are worried about how the rest of the country will come to view struggling families.
The first episode features the Bergins, a family of five in North Carolina whose ice cream business has begun failing; and the Bronsons, a family of four from New Hampshire with just one bread winner, Cara, a nurse; Dave Bronson, an Iraq war vet and Purple Heart recipient, can't work because of his injuries.
In the interest of news, we're going to go with a Spoiler Alert and say that in the end both families end up giving each other the money. You can watch the episode here; here's the trailer:
The Bergins did not immediately respond to comment, and we could not directly reach the Bronsons.
The Bronsons, at least, seem to have gone along with it, even after they learn what the show is really about. In an interview with the Manchester (N.H.) Ink Link, they said that while it was "definitely a challenge" deciding what to do once they learned more about the Bergins' situation, the outcome was "amazing."
"I think everybody involved took something positive from the experience," Dave said.
But many critics are nevertheless blasting the concept because of how it portrays families facing hardship in America.
Chelsea Kiene of the Center for American Progress says the show serves to reinforce the idea that some maybe more worthy of assistance than others.
"Pitting struggling Americans against one another is nothing new in the United States; the distinction between the so-called 'undeserving poor' versus the 'deserving poor' has long dictated policy debates on how to most effectively address poverty in America," she writes. "What's more, the pitting of struggling Americans against one another is reinforced by our current economic policy and budget debates."
Slate's Margaret Lyons agreed, saying the show reaches a level of invasiveness that goes beyond many other reality TV shows.
"The families visit each other's homes and look through each other's bills: For the participants, this is presumably meant to engender sympathy and greater commonality, but for viewers, this plays as, 'let's examine what they eat, what they wear, how they get to work, where they live in the first place, and ignorantly identify those things we perceive to be not poor enough, not sufficiently humble,'" she says.
CBS declined to comment. But in an interview with Variety, executive producer Dave Broome said the show was about "values."
"We're in the middle class in America," he said. "This is what people are dealing with every single day — rising debts, shrinking paychecks. Reality television works best when the masses can relate to it."
The show is scheduled to air for six more weeks.
Rob covers business, economics and the environment for Fusion. He previously worked at Business Insider. He grew up in Chicago.