Mexico's most powerful drug lord is redefining the prison barter system in the country's toughest maximum-security pen.
With a tummy full of Johnny Rockets' hamburger and a Coke — his final courtesy meal after getting collared by Mexican Marines last February — cartel leader Joaquin "el Chapo" Guzman was put into a barren jail cell with only book and an hour of sunlight to keep him warm. The guards were trying to teach him that he'd have to cooperate if he wanted any additional privileges.
The nights were cold, so Chapo first negotiated a jacket by ratting on a mayor and a high-ranking police officer.
Then his sweet tooth started acting up, so he negotiated a culinary diet of Mamuts, marshmallow cookies covered in chocolate, candy and peanuts in exchange for further cartel intel. Officials say Chapo has now established a good line of communication with CISEN (Mexico's CIA).
Next on his list of negotiated perks? A television set, according to a high-ranking government official. The timing of the TV giveaway is a little suspicious, considering fellow drug kingpin and rival Hector Beltran-Leyva was captured last week.
G/O Media may get a commission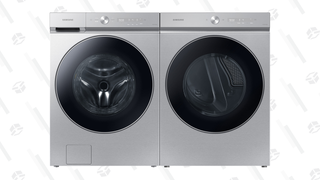 Get $500 back in credit
Last Chance: Samsung Bespoke AI Washer and Dryer Preorder
Chapo has got a vast network of confederates and accomplices on his mental rolodex — and each one could be offered up in exchange for some prison goodies.
So what will Chapo watch on his brand new TV? Univision has announced it will soon air a biopic drama about his life, called "The Drug Baron." Can he trade a few corrupt politicians for an HBO subscription?
And the prison guards should remember that TV is a risky object at a place like Altiplano, home to Mexico's most brutal and handy criminals. Hidden messages could be delivered via commercials or other local programming. That might sound crazy, but it's not far fetched — narcos are some of the most innovative and creative criminal minds around, and they've got deep pockets to buy advertising spots.
Chapo can earn much more than a television if he continues to cooperate. Now that his former colleague Ismael "Mayo" Zambada is fighting to replace him as the head of the Sinaloa cartel, Chapo might be tempted to offer him up for mini-fridge or coffee maker.
The world's most notorious drug lord could soon become its biggest informant, and he could feather a comfy little nest for himself in the process.
Carlos Loret de Mola is an award winning Mexican journalist and popular news anchor of Televisa's "Primero Noticias." He has served as a war correspondent in Afghanistan, Haiti, Egypt, Syria and Libya and writes for a number of news outlets on issues ranging from the drug war to international politics. Carlos has broken many influential stories about the operations that led to the capture of some of Mexico's most wanted criminals. In 2001 he wrote the book "The Deal. Mexican economy trapped by drug trafficking." He is a frustrated chef, runner and guitar troubadour… but he keeps trying.