Arizona Senator Jeff Flake, who is set to retire from the Senate after a storied one-term tenure, does not necessarily have plans to run for president—never mind that you keep asking and he keeps telling us—but he has also definitely "not ruled it out," the Washington Post helpfully reports.

Flake spoke at the hallowed "Politics and Eggs" breakfast at Saint Anselm College in Manchester, NH, on Friday, a longtime early stop for would-be presidential candidates (I do feel stupid for having typed all that, yes). There, he spoke for 20 minutes about how, you know, wouldn't it be interesting if someone like him, Jeff Flake, ran against President Trump in the 2020 Republican primary?
"I hope that someone does run in the Republican primary, somebody to challenge the president," Flake told the crowd. "I think that the Republicans want to be reminded what it means to be a traditional, decent Republican."
He blathered on: "If my party is going to try to pass off this degradation of the United States and her values from the White House as normal...then my party does not deserve to lead."
As the Post notes, Flake shot to some fame last year after publishing a book, Conscience of a Conservative, where he politely criticized his fellow Republicans for allowing Trump to happen, though that critique apparently does not extend to himself. Nor does it stop him from voting with Trump's agenda 85.9 percent of the time.
G/O Media may get a commission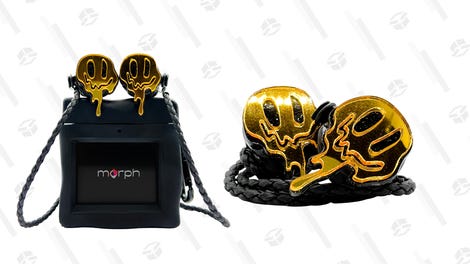 morph audio
Morph Earphones
And because Flake is a tested stunt queen, when he announced his retirement last October, he did so in a dramatic speech on the Senate floor, condemning his colleagues for permitting Trump's "degradation of our politics." Idiots lapped it up, and that's why we're now here, talking about how Jeff Flake ate some eggs in New Hampshire.
Bob Morgan, a person who attended Flake's speech, told the Post: "He's in New Hampshire on a cold March day, and he's from Arizona, so we kind of figured out that he's up here on a presidential campaign."
Bob...yes.