SAN FRANCISCO — It's impossible to grasp the scope of San Francisco's homeless problem without taking a stroll down a place like Division Street, near the city's eastern coast. Draped in shadows of the Highway 101 underpass, hundreds of tents lining the four-block stretch between Mission Street and Harrison Street render it impossible at times to actually walk on the sidewalk.
Two weeks ago, it wasn't this bad. But in recent weeks, there's been a rapid influx of homeless people moving to the area, bringing into question comments made by San Francisco Mayor Ed Lee, who in August 2015 said the city's homeless population would "need to leave the street" ahead of the Super Bowl in February 2016. Days following that announcement, he told the San Francisco Chronicle that however he planned on moving the city's homeless from the populous downtown area, it certainly wouldn't mean just shuttling them from one part of the city to another. He wouldn't "whitewash" the city for the influx of wealthy tourists coming to town for the games.
The city requested millions of dollars from taxpayers to host the Super Bowl—a game that's not actually in San Francisco, but 45 miles south in Santa Clara.
G/O Media may get a commission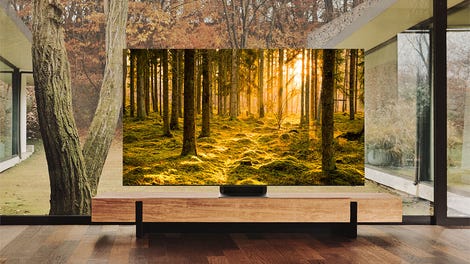 Up to 40% off
Samsung Smart TVs
So far, the only public explanation police and homeless shelter officials have given for the uptick in homeless on Division Street (locals call it division; if you're looking at Google, it's 13th Street) is that people were being moved to the area because it would provide better coverage during bad winter weather.
But conversations with a dozen homeless residents around the encampment, as well as with workers and store owners in the area, suggest the Super Bowl is the reason for the migration. Homeless people interviewed for this story said San Francisco police have been actively pushing and corralling the city's homeless into a four-block radius on Division between Mission and Harrison in preparation for the Super Bowl on Feb. 7, where they are hidden underneath a freeway underpass and bordering an industrial area of the city. Meanwhile, two miles away, near the water at the Ferry Building and the heart of downtown, San Francisco has begun setting up Super Bowl City.
Attempts to contact the San Francisco Police Department were redirected to the Mayor's office; multiple emails and calls to to the Mayor's office went unanswered.
Jennifer Friedenbach, executive director at the San Francisco-based Coalition on Homelessness, said that while there may be a multitude of factors leading to a migration to that specific area—the natural shelter, the lack of complaints in industrial areas relative to crowded downtown spots—she's also heard from some homeless around the area that they've been given explicit instruction to head to Division Street.
Friedenbach said she knows police are shooing people out of downtown. "We know individual police officers are telling people they gotta go because of the Super Bowl," Friedenbach told me.
Even with the city's wealth boom in the last five years, the homeless population is still growing. According to a Bloomberg Businessweek report, San Francisco's homeless problem is eighth-worst in the country, and 500 to 700 people are waiting for a shelter at any given time.
Outside one store, a homeless man who refuses to be named because of an active police warrant said he came to Division Street because police told him they wouldn't bother him here.
The store owner, who asked not to be named, told me she's constantly on the phone with SFPD dispatch. "I have a business to run," she said. In recent weeks, it seemed to her as if the homeless population was expanding, and when she raised the question with police dispatch, they gave her the reason why: they'd been given explicit instructions to send homeless people to this stretch of Division Street.
Down the street from Perree Foster's tent, there's the Soma StreatFood Court, where tech workers carrying Michael Kors bags munch on veggie burgers and ramen. Foster, a former Eastern Michigan college football player, ended up on the street a few years back. Foster said homeless are increasingly being treated like cattle by the police and the city.
"The goal was to push people here," he said. "This Mayor Lee—he doesn't know what he's doing."
He continued: "(Police) hassle you every other day. This will be back to normal as soon as the Super Bowl ends. As soon as the kickoff happens, this shit will go right back to the status quo. As far as the homeless and what they're going to be about, they're going to be right back downtown and shitting in your face as you walk into Macy's."
Multiple homeless people told me stories of police arriving in the middle of the night, taking all of their possessions, and forcing them to move out of their location. One man, who asked not to be identified, said he'd been living in front of Bill Graham Civic Auditorium near the Tenderloin for 11 years before police started confiscating his belongings and arresting him for living there. He's now camped out across the street from Foster.
"(The police) told me to go to the Best Buy," he said, referring to the giant electronics store across the parking lot from his tent.
When asked why he thought the homeless population is growing "by the day," he responded, "Why do you think? It's the Super Bowl. The mayor wants us hidden."
One man said that crime is increasing as more and more people move into the area. One woman said men have tried to come into her tent in the middle of the night while she sleeps. Foster said cars are stolen often. In the middle of an interview, he even recognized a person who had been living in the encampment driving a stolen Mercedes.
The Chronicle reported the city plans on adding 500 beds to homeless shelters around the city in preparation for storms brought by El Nino; any connection to the Super Bowl, officials insist, is "coincidental." For the time being, though, it appears their backup plan is simply to herd everyone where the thousands of tourists can't see them.
Friedenbach said it's impossible to tell if it's macro city policy that's responsible for the rise in the concentration of tents on Division Street, or simply the will of individual officers.
Either way, the Mayor's office is making it difficult to tell one way or another. Rachel Kagan, a spokeswoman for the city's health department, told Bloomberg that "workers haven't encouraged homeless" at the Super Bowl city to leave. But Friedenbach is still looking for answers.
"We've been really trying to track it, and we keep setting up meetings with these policy makers and asking them about it, and they keep denying it," Friedenbach said. "They're really emphasizing the fact that they've been totally misunderstood, and we hear from homeless people the exact opposite. So it's kind of like, 'What the fuck is going on here?'"
This post has been updated to clarify the location of the tents.
Michael Rosen is a reporter for Fusion based out of Oakland.