Presidential politics is messy, bogged down by personal vendettas, mud-slinging, and endless polls.
So it's nice to see people on Twitter pursuing a real, substantive question about a candidate's past work. Specifically: is GOP candidate and Senator from Texas Ted Cruz also the Zodiac Killer, who terrorized Northern California in the late 60s and early 70s?
Probably not, as Cruz was born in 1970. However, this past Saturday humorist and Frasier superfan Patrick Monahan was set on the case by a telling Google search.
To which the people demanded answers:
G/O Media may get a commission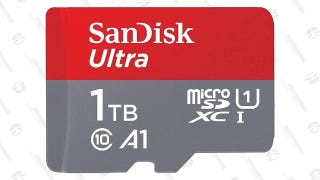 Save $70
SanDisk Ultra 1TB MicroSDXC Card
Eventually, the serious investigation and/or joke turned into the hashtag #ZodiacTed. It's true, As Miles Klee points out over at The Daily Dot, someone made the joke as far back as 2013:
But, the full joint investigatory/joking might of Twitter has only been devoted to the idea for the past few days though, with the rise of #ZodiacTed. The hashtag includes some very convincing editing work:
ted cruz is the zodiac, even wikipedia says so cc:@pattymo pic.twitter.com/8xc3gVhVGT

— a big dumbe shithead (@EvilRoySladeDS) January 21, 2016
As well as demands for investigative reporting:
And requests for comment from Senator Cruz, which have gone unanswered.
And, of course, general discussion of Ted Cruz being the Zodiac.
https://twitter.com/TweTro/status/689928626087718912
Last night the hashtag began trending in the United States, and also led to Monahan hinting at other investigators and instigators.
https://twitter.com/pattymo/status/689943325235888128
Naturally, there's also a ZodiacTed account, which has tweeted twice. Its second tweet was sharing an article about the joke. The first tweet, which posted this weekend, speaks for itself:
There's also a more substantially active Facebook page, "Ted Cruz is the Zodiac Killer," which seems to be operated by the same person. It was started in mid-December, predating ZodiacTed by a month.
Naysayers, often on the Facebook page, point out that Ted Cruz, who turned 45 on December 22, was born in 1970 in Calgary, several years and a country removed from when and where the Zodiac began his spate of murders.
This fails to account for a possible Ted Cruz: Time-Traveling Zodiac Killer scenario, but is otherwise a fair point. As a reporter, it is my job to tell you that the laws of time and space seem to indicate that Ted Cruz cannot possibly be the Zodiac Killer.
As a human being, though? I remain silent.
Ethan Chiel is a reporter for Fusion, writing mostly about the internet and technology. You can (and should) email him at ethan.chiel@fusion.net