It's about time to learn the story of the Lizard Man, because the Lizard Man is probably real and here to haunt your dreams. In Bishopville, South Carolina (population 3,471), someone spotted the—person? thing? sea creature?— that they call the Lizard Man on Sunday, according to ABC South Carolina. Here is a sentence from their story:

The fabled Bishopville swamp creature known as Lizard Man appears to have surfaced again Sunday afternoon.
Fabled swamp creature! Everyone sounded really excited to see him—the woman who snapped a picture of the alleged Lizard Man told ABC that "hand to God," she "wasn't making this up." After seeing the courageous woman's brave doxxing of the creature, a man reached out to ABC to provide even more evidence of the Lizard Man's existence, in the form of a video.
At this point, it's clear the Lizard Man has returned. But where's he been? According to some sleuthing, his last public appearance came in 2008, when poor old Dixie and Bob Rawson wandered out to their farm and saw a dead cow and dead coyote. This happened a week after they found bite marks on the front of their van. Here's WIS 10:

Neighbors told her it was the Lizard Man — a seven-foot green giant whose first reported sighting near Scape Ore Swamp 20 years ago entrenched him as a legend in these parts, a legend that's never been confirmed.

So investigators told the Rawsons not to worry, all that must have been done by some other animal — likely, a coyote. Now Dixie Rawson asks, "If the coyote did this damage, what killed the coyote and the cow? Was it the Lizard Man? I don't know."
G/O Media may get a commission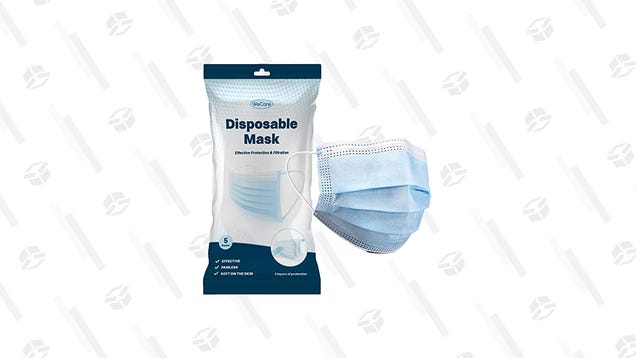 WeCare Disposable Masks With Elastic Earloops- 5 Pack
Was it?? As this passage alludes to, he first appeared in the area around 1988, when 17-year old Christopher Davis claimed he was attacked by a 7-foot tall "lizard-type-creature" while changing a tire. It sounded far-fetched, of course, until a couple of years later, Bertha Blythers claimed a similar creature jumped out in front of her car while she was driving down the highway.
The Lizard Man has persisted in local lore ever since. Lyle Blackburn even wrote an entire book in 2013. And now, it appears he might be returning. (The Lee County Sheriff's office was mum on whether they were looking further into it.) Be careful out there, Bishopvillians.
Michael Rosen is a reporter for Fusion based out of Oakland.