Despite the fact that it just announced a revenge porn crackdown, if you search terms like "ex-girlfriend porn" or "revenge porn" on the NSFW adult site Pornhub, plenty of results still come up.
Some of it is undoubtedly authentic—private, intimate moments between a couple put online presumably by a vindictive ex. But a lot of what comes up is fake: professionally shot, acted and scripted to look just like the real thing. Revenge porn isn't just something spiteful exes upload to exact revenge. It's something that lots of people actually want to watch.
"Thrashed Ex-Girlfriend" is one of the most watched "professional" revenge porn videos on Pornhub with more than two million views. It features former French porn actress Clara Morgane having sensual sex on the couch with the "ex-boyfriend" who uploaded the video. "Why the hell is she your ex? are you crazy?" commented one watcher. The conceit of the video is that she wouldn't have wanted the world to see it. By putting "ex" in the title, these fake "real amateur" videos intend to signal at least the illusion that they've been uploaded without the featured woman's consent.
Another of the fake revenge porn videos features a montage of sweet, fully-clothed moments with different exes who all eventually undress to be screwed from behind. There are exes touching themselves in the kitchen and exes giving blowjobs in the bathtub. Most of the videos are essentially the same. They offer the viewer the illusion of intimate moments between couples, before, according to the narrative framing, these fake "real ex-girlfriends" are publicly humiliated. The titillation comes from not only the sex, but the invasion of privacy and the act of the woman being shamed by an angry ex-lover.
When people upload porn to Pornhub, they label it either "professional" or "homemade," but even then, it is difficult to distinguish between which films are "real" and which are "amateur." Ever since porn sites dedicated to revenge as a genre began popping up around 2008, sites like realexgirlfriends.com have mixed real, user-submitted revenge porn with fantasy versions of it, side by side. One company that posts its videos to Pornhub, gfrevenge.com, goes as far as featuring a disclaimer on its homepage that all performers have signed a model release. In recent years, as more states have passed laws against non-consensual nudes, porn review sites have lamented that many of these sites have moved on from posting "authentic" leaked sex tapes and photos.
G/O Media may get a commission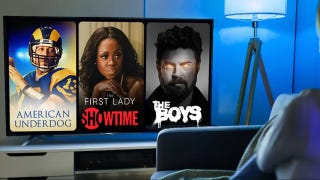 UNDER $1
99¢ Prime Video Channels
Here's how one realexgirlfriends.com reviewer, who seemed to believe the videos he watched were real, described the thrill of revenge porn voyeurism: "When Kara's boyfriend realized she was kicking him to the curb he arranged for his buddy to lurk in the next room and catch their goodbye fuck on tape…The Real Ex Girlfriends are the kind of babes you'd be happy to catch on the rebound!"

When Pornhub announced this week that it would streamline the process for victims of revenge porn to request takedowns of content, the company framed it as a quest to "end the cyber exploitation of innocent individuals."
"Being a revenge porn victim is embarrassing enough as it is," Pornhub Vice President Corey Price told The Verge. "We would rather not make the reporting process equally awkward, or make people feel apprehensive about approaching us to begin with."
But victimization isn't the only problem with revenge porn.
That revenge porn exists online to begin with is a legal problem. For too long, like many a crime disproportionately affecting women, complaints of revenge porn victims were primarily dismissed. Most of the states that have passed laws against revenge porn did so over the past two years. Elsewhere, the primary recourse for victims is still a creative use of copyright law. A federal law, slated for an introduction to Congress last July, has yet to see the floor.
But that revenge porn has flourished online is a deeply cultural issue, the problem of a society that ultimately views degrading women as sexy.
Earlier this year, when British journalist Anna Richardson leaked nude images of herself onto a revenge porn site in a particularly brave act of reporting, the comments were disturbing. "I would destroy this bitch and treat her like the slut bag she is," read one. "Spit in her mouth and choke her while throat f—king," said another.
When the U.K. outlawed rape porn in 2013, one major contention was that people "know the difference between entertainment and real life." And declaring otherwise seems, at first blush, like a conservative policing of sexual desire. As Stephen Marche observed after the Aurora, Colorado movie theater shooting in 2012: "A new cliché has taken hold, though, one that insists on an absolute separation between violent art and real violence."
It will likely be long before we can say without controversy that video games result in real world violence or violent porn ultimately results in violence toward women. But what is particularly unique about revenge porn fantasies is that on porn sites the fantasy often exists right next to the real life horror. They are indistinguishable from one another. Morally, then, is there really much distinction between getting off to a woman's humiliation or just getting off to some thin fantasy of it? Revenge porn is not a fantasy. It is very, very real.
I asked Pornhub about its stance on staged revenge porn, and whether perhaps it reinforces a message that putting a woman up for display without her consent is hot. So far, the company has not issued a response.
Pornhub is only the latest company to step up its efforts to crack down on revenge porn. Over the past year, Google announced it would at long last grant request to scrub non-consensual nude images from search results and Reddit, Twitter and Facebook all announced a ban on revenge porn, too.
And that's great. We need more laws on the books to disincentivize revenge porn by criminalizing it and we need ways for victims to quickly and efficiently get revenge porn taken down.
But one of the reasons revenge porn is so devastating is the way it spreads: usually, by the time a victim realizes their image is online it has metastasized far beyond the original source. And it spreads, mainly, because people want to watch.