Theodore Roosevelt Senior High School sits just a few miles east of downtown L.A. and the bars and clubs of Hollywood. Until recently the school had more than 5,000 students enrolled and had the fourth largest student body in the nation. But in the class of 2000 there was a student who stood out amongst the thousands, Maria Vanessa Perez.
Perez came to Roosevelt from San Antonio, Texas just as she entered her teen years. She stood out right off the bat, friends said, simply because she was mixed race and entering a high school where 99 percent of students were Latino— Perez's father was black and her mother was Mexican. Former friends and a teacher say she also stood out in another way; because she had very expensive taste — at a very poor school.
"You couldn't miss her in the crowd, she was very loud and her clothing was different," Rafael Esparza, a former high school classmate of Stiviano told Fusion.
Theodore Roosevelt Senior High School, in Boyle Heights, Los Angeles (Jorge Rivas/Fusion)
G/O Media may get a commission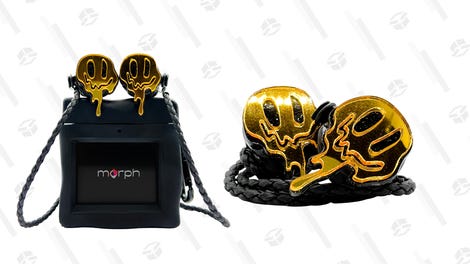 morph audio
Morph Earphones
Ten years after she graduated from Roosevelt, Maria Vanessa Perez legally changed her name to "V. Stiviano." And now, just a few years later, her new name is all over the news, at the center of a racial controversy that has captured the nation's attention, after recordings she made of Clippers owner Donald Sterling making racist comments against black people were leaked to the gossip site TMZ.com.
"V. Stiviano" hasn't publicly explained the meaning of her new legal name but the AP has reported that, according to court documents, she wanted to change her name because she was "born from a rape case and having yet been fully accepted because of my race."
Esparza says Stiviano "had self-esteem issues because of her acne, she just didn't like to be criticized and she was very interested in being accepted." Still, he was surprised when he saw his high school friend in the news. "I thought she was going to grow out of that phase," he said.
Stiviano was known to go to clubs in Hollywood, Esparza said. A lot of her schoolmates assumed her expensive clothes came from her wealthy friends in Hollywood, friends who Stiviano allegedly bragged about meeting, Esparza said.
A request to interview Stiviano was denied by her attorneys.
Javier Cid, a long-time teacher at Roosevelt, remembers Stiviano running up to him to "brag" about a pair of $800 jeans.
"She had very expensive tastes, which is not common for most students in this neighborhood,'' Cid told USA Today. Currently about 85% of students at Roosevelt High participate in free or reduced meal programs, according to the district's statistics.
Stiviano asked friends to call her Barbie in high school, her friends told Fusion.
"Which kind of says a lot about her and who she wants to be," Cid told USA Today. "Barbie, someone that just wants to have the car, the house, the clothes, the designer stuff."
Esparza described Stiviano as someone who was "honest, with no filter, she would just speak her mind." With everyone, he said, including teachers.
Cid told USA Today he recalled he was talking to another teacher at one time when Stiviano came to him running, blurting out, "'I finally got my boobs done.'"
"It was a very awkward moment for me," Cid said.
From Vanessa to V. Stiviano
Stiviano had two things in common with Donald Sterling before they even met: Sterling also graduated from Roosevelt High School in 1952, when Boyle Heights was still a predominantly Jewish neighborhood. Back then, he was still Donald Tokowitz, but he would leave that name behind in 1959 when he legally became Donald Sterling. He cited his friends difficulty pronouncing his name and business reasons for the name change, according to court records obtained by USA Today.
Sterling's wife also graduated from Roosevelt that same year.
TMZ published the controversial audio recordings on April 26, but weeks earlier on March 7, Sterling's wife filed a lawsuit against Stiviano for allegedly tricking or seducing the NBA team owner into buying her expensive gifts. According to court documents, Rochelle Sterling claims Donald Sterling met Stiviano at the 2010 Super Bowl in Miami and that the two have been involved in a sexual relationship that started the same year.
Stiviano denies that the two are romantically involved.
When ABC News' Barbara Walters asked Stiviano if she was in love with Sterling, she said no, saying she loved him but was not in love with him. Instead, she identified herself as his "confidant" and somewhat cryptically said, "I'm Mr. Sterling's right-hand arm man."
I'm Mr. Sterling's everything. I'm his confidant, his best friend, his silly rabbit," Stiviano told Walters. She added the biggest misconception about her is "that I'm a mistress or a whore."
When CNN's Anderson Cooper asked Sterling if he was intimately involved with Stiviano he said, "I don't think a gentleman should discuss his — you know, any of the personal items that go on with a woman. And I don't want to answer that particular question."
In the court filing, Rochelle Sterling accuses Stiviano of engaging "in conduct designed to target, befriend, seduce, and then entice, cajole, borrow from, cheat and/or receive as gifts transfers of wealth from wealthy older men whom she targets for such purpose."
Rochelle Sterling alleges that Stiviano is in possession of a 2012 Ferrari, two Bentley cars, a 2013 Range Rover and a $1.8 million home in Los Angeles, all purchased by Sterling.
In court documents filed by Stiviano's attorney Mac Nehoray, he dismisses claims that Donald Sterling was duped by his client.
"This is an action brought by a very angry wife whose husband is a highly public figure and who is well known to be 'keeping women' other than his wife and who has done so for very many years with a big toothy grin brandishing his sexual prowess in the faces of the Paparazzi and caring less what anyone else thought, the least of which, his own wife," Nehoray wrote in court documents filed on April 21, 2014.
Stiviano and her attorney argue she should not have to return any of the gifts she received.
A Woman Brought Outrage
The recordings Stiviano made brought widespread attention to multiple housing discrimination allegations, including a 2006 case filed by the Justice Department against Sterling, his wife and the Sterling Family Trust.
The Sterlings reportedly own 162 propertiesin and around Los Angeles, all part of a real estate property business that was accused of refusing to rent apartments to Latinos, blacks and families with children throughout the city. Sterling denies any wrongdoing. But in 2009 he agreed to pay $2.73 million to the Justice Departmentto settle the case. The settlement was the largest monetary payment ever obtained by the department for a case alleging housing discrimination in the rental of apartments.
That's not the only discrimination lawsuit either.
Another federal lawsuit filed in 2003 by the Housing Rights Center and 19 tenants accused Sterling's properties of not renting to Latinos because he allegedly said "hispanics smoke, drink and just hang around the building." The lawsuit also accused him of saying "black tenants smell and attract vermin."
He did however rent to Koreans. According to the lawsuit, Sterling believed Korean tenants "will live in whatever conditions he gives them and still pay the rent without complaint."
Sterling denied any wrongdoing in this case, too. The case ended with a confidential settlement and Sterling reportedly paid almost $5 million in attorney fees to the plaintiffs, according to the L.A. Times.
Critics say the National Basketball Association chose to ignore serious discrimination claims filed against Sterling.
"Despite the magnitude of the offenses and the size of the settlements, there was no outrage. Sterling caused actual harm to dozens of families, and the response was near silence," Jamelle Bouie wrote on Slate.com.
But the recordings and Stiviano have changed that. Now there's talk about Sterling's alleged history of systemic discrimination, the NBA has banned him for life and NBA Commissioner Adam Silver has asked the other 29 NBA owners to force the Clippers owner to sell his team. Esparza, Stiviano's classmate, says she deserves some credit for bringing the issue to light.
"People are quick to judge, and call Vanessa or V. Stiviano a gold digger, but she exposed the ugly truth, that racism and prejudice is still alive and has deep pockets to implement their old-fashioned ways of thinking in our country," Esparza said.