Young Thug released a new mixtape on Friday, but it's the couture look he's modeling on the cover that has everybody talking.
The cover of No, My Name is JEFFERY—a 10-track release featuring songs named after the Atlanta rapper's "idols" like Wyclef Jean, Swizz Beatz, and, um, Harambe—finds the musician swaddled in a rippling set of powder-blue garments designed by VFILES Runway 7 winner Alessandro Trincone.
The move isn't surprising; the 24-year-old's been casually wearing female-coded clothing for a while now. Last year, Thugger told GQ that about "90% of [his] clothes are women's" because "they fit how they're supposed to fit," and a recent Calvin Klein campaign found him modeling a black pinstriped dress over a pair of black flares, which continues to give me mid-aughts fashion flashbacks that I didn't necessarily ask for.
Many people have taken to social media to express how much they love seeing a black male celebrity fuck with gender in such a public way. Others have focused their JEFFERY cover tweets on how Young Thug kinda looks like the second-year-at-FIT lovechild of Raiden and Sub-Zero from Mortal Kombat—which, true! Still, some wonder whether his frequent dabbling with queer aesthetics verges on appropriation or even exploitation, since queer-identified rappers and musicians are regularly derided for stepping outside of their prescribed gender expressions and rarely attain the level of success seen by queer-baiting straight artists (hi, Nick Jonas).
G/O Media may get a commission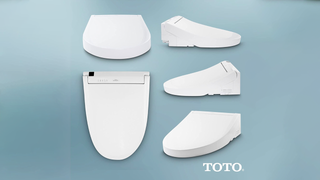 44% off
Toto Washlet Electronic Bidet Toilet Seat
"[Young Thug's] marketing strategy and branding being mistaken for innovation and bravery. kevin, the faggot down the street, is doing the same thing," Atlanta-based writer and artist Myles E. Johnson wrote on Twitter Thursday night. "it feels violent for someone to profit and recreate stardom from aesthetics that if you wore/when you wear it, would endanger your life. it also solidifies my belief that queerness is hated so much that everything can be exploited about it as long as you don't practice/ID it. I am thinking about artists like [Blood Orange] & [Mykki Blanco] that transgress straight aesthetics AND ID as and support queer culture."
Even if you're into the mixtape cover, you have to admit that Johnson's underlying point is undeniably true. Young Thug has never publicly put a label on his sexual orientation, although he did clarify that "I dress like a Prince, not a fag…I'm not gay" in 2016 song "Serious." It's not hard to see how his stance of intentional ambiguity, coupled with otherwise masculine posturing and lyrics about sleeping with women, has played to his advantage in a way that Dev Hynes and Mykki Blanco's clarity has worked against their chances for mainstream success. You could even argue that an artist's proximity to masculinity works in their favor regardless of gender; look no further than the success of Young M.A's excellent peacocking stud summer jam "OOOUUU" for proof of that.
Anyway, speaking of Mykki, the rapper's long-awaited self-titled debut album drops in September. If Blanco's probably Cristal Connors-approved 2014 mixtape, Gay Dog Food, is any indication, it should be good!
Bad at filling out bios seeks same.