Former boy band wonder and demi-god Zayn Malik released the third song from his debut studio album Mind of Mine yesterday. It starts with breathy gospel choir vocals that just reek of the sexy-sex vibes Zayn is using to shill this album. "This is probably gonna sound wrong / Promise it won't last long," he coos. The chorus drops into a straight club hit, with a thumping bass shadowing Zayn's soaring voice. "Like I Would" is a banger. But. After the chorus, in the second verse, Zayn returns to talk-singing. At the 1:15 minute mark, he's in the middle of a lyric and he says… Wait. Did he say "pussy on my tongue"?
He promised something was "gonna sound wrong" and we're pretty sure the lyrics circulating online ("so stop wasting all my time, messing with my mind") are incorrect. THAT IS NOT WHAT IT SOUNDS LIKE!
Zayn Malik has not confirmed the lyrics to "Like I Would." I reached out to his people to find out what the hell he's saying, but they emailed back to say that they don't have official lyrics to share. (!)
So. I took an informal poll of Fusion staffers. Here's what they think Zayn is singing:

"swish that pussy on my tongue"
"stop pussing on my tongue"
"so stop wasting all my time"
"pussy on my tongue something something someth"
"I heard 'pussy on my tongue' but it sounds like they're trying to blur it"
"smells like pussy on my tongue"
"smells like pissing on my job, pissing in my mind"
"wait. does that NOT say pussy? on my tongue? bc. it def sounds like it"
"pussy on my tongue"
"He definitely says 'switch that pussy on my tongue, lose it in my mouth' OR 'start twisting on my tongue, loosening my mouth.'  Either way I'm slightly aroused."
"I hear the word 'wissing.' That can't be a real word."
"So it's like pussy in my job listen in my… something?"
"😸 on my 👅"
"so star conceit on my job pushing in my mug"
"pussy on my tongue/proceed on my time"
"I hear 'So I stopped putting on my job' but it really doesn't sound like language to me"
"so I stop wasting all my time, wishing in my mind, it's cold hearted"
"so stop wasting all my time/this thing in my mind"
There were a few more repetitive entries, and here's the final breakdown:
15/22 pro 😸—68.1% certainty!

There you have it, kids. Zayn Malik's new song (intentionally or not) sounds like it's about cunnilingus. Namaste.
G/O Media may get a commission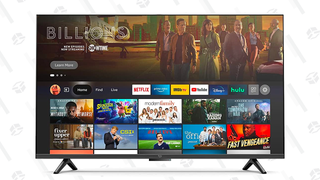 22% off
Amazon Fire TV - 50" Omni Series 4K - Early Access Deal
Kelsey McKinney is a culture staff writer for Fusion.