One line you hear a lot: Israel is not an apartheid state.

I'd love to hear people who say that explain the bill that was passed through the Israeli Knesset on Wednesday, declaring that Israel is the "nation-state of the Jewish people." The bill will become one of Israel's Basic Laws, essentially part of its constitution. One part reads: "The right to exercise national self-determination in the State of Israel is unique to the Jewish people." Another key line supports Israeli settlements: "The state views the development of Jewish settlement as a national value and will act to encourage and promote its establishment and consolidation."
Haaretz wrote that "immediately after the bill passed, Arab lawmakers tore it in protest, and were subsequently thrown out of the Knesset plenum."
"This is a defining moment, long live the State of Israel," Prime Minister Benjamin Netanyahu declared after the bill's passage. From Haaretz:

The prime minister also said that "in the Middle East, only Israel respects [rights]. This is our country, the Jewish state. In recent years there have been those who have tried to undermine that and question the principles of our existence. Today we made it into law: This is the country, the language, the anthem and flag."
Many Israeli representatives objected strongly to the bill, which also downgraded Arabic from an official language to a language with "special status."
Haaretz writes:
As they left the Knesset plenum, Arab MKs from the Joint List party confronted Netanyahu. MK Ahmed Tibi and MK Ayeda Touma-Souliman yelled at Netanyahu: "You passed an apartheid law, a racist law."

MK Tibi lashed at Netanyahu: "Why are you afraid of the Arabic language?" The premier retorted by saying: "How dare you talk this way about the only democracy in the Middle East?"
G/O Media may get a commission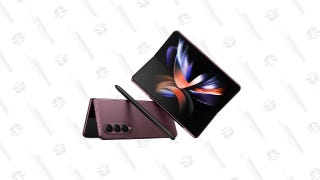 Save Up to $300
Galaxy Z Fold4
The lengthy debates over the bill, which was first introduced in 2011, watered down some of its more militant features. But many parts of the law—which aims to enshrine Judaism and Jewish culture as central to Israel's identity—remain, including identifying Jerusalem "whole and united" as Israel's capital.
Back in December of last year, President Trump conceded to a longtime Israeli demand when he decided to move the U.S. Embassy to Jerusalem from Tel Aviv. He also officially recognized Jerusalem as Israel's capital, a huge blow to Palestinians. Trump is incredibly popular in Israel with widespread support from the largely conservative population. They're even naming a new Western Wall train station after him.
Like Trump, Netanyahu is a strongman who has whipped up his base into a racist frenzy in order to secure votes. And also like Trump, he's corrupt as hell. Of course they like each other. All we can hope is that Netanyahu's hyper-nationalist policies, like this one, don't give our government any more ideas.