I first met Issa Rae in 2011 shortly after her web series, The Misadventures of Awkward Black Girl, wrapped its first irreverent season. Though we'd never met, we laughed like old friends about everything from dating in L.A. to Idris Elba's unstoppable swag. At the time, I didn't know Rae was on the verge of stardom—I was certainly rooting for her—but I knew she was special.

Fast forward six years and the actress-writer-producer is not only the creative force behind the hit HBO comedy Insecure, she's also fully committed to centering people of color in interesting and often hilarious narratives. With her company, Color Creative TV, Rae is working to amplify the voices of women and minority writers by connecting the up-and-comers in the digital space to the traditional studio system. It's a journey Rae knows well.
After writing a best-selling book, earning critical acclaim for Insecure, and showcasing other creatives on her YouTube channel, it's clear Rae is hella committed to telling stories on her own terms. Recently, Rae spoke to Fusion about her journey, the second season of Insecure, and if she cares about being shut out of the Emmy nominations.
This interview was edited for length and clarity.
Before the first season of Insecure came out last year, I felt like a lot of TV critics didn't get it. A lot of them just wanted to talk to you about what it was like being a black writer and creative. Do you think people understand the show more now? Or are you still getting questions about what it's like being black in Hollywood?
G/O Media may get a commission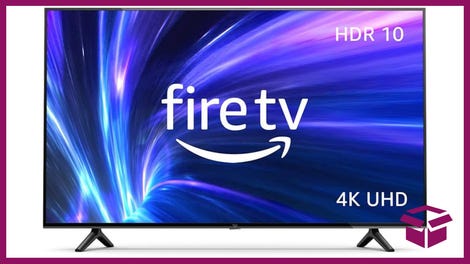 42% Off
Amazon Fire TV 50" 4K Smart TV
That's so true, the shift in questions is happening. It's so much more rewarding when people know the show already and you can finally get into what it is about the show that resonates with them as opposed to my race and what [Insecure] is doing for black people.
The show is very...black, for lack of a better term. There are a lot of specific things that come out of your personality and your diverse writer's room, so it just feels like watching the homies for me. It's interesting that other people can see the universality of it, even though it's not attempting to be universal. Was that something you purposely focused on while writing it?
Yeah, because if we tried to tell every black woman's story or if we tried to make it broader it just wouldn't be me. I wanted a show that was specifically in my voice. And also, I don't think it would resonate [if it were too broad].
We're seeing so many shows that are so specific that people find themselves and see themselves in, and there's an authenticity there that can't be replicated. You can't mass-produce [Insecure]. ABC or NBC can't do this show and sell millions worth of ad dollars because it is so specific, and I think people really appreciate that.
It's specific, but you're also writing about friendship and a woman who's struggling to figure out what she wants out of life. Those things cut across every group, but it's just so crazy that people are just starting to realize that black people have those experiences, too.
We all go through this. We all have heartbreak and lovelorn relationships. Once we get pass the universal elements it's fun to focus on where we're taking these characters specifically. And of course the L.A. backdrop just makes me so happy.
That has always been one of the things I really love about the show because I grew up here. It makes me feel really good to see "Black L.A." on display and it's not about gang-banging. In another interview, you said you wanted to be the Woody Allen of South L.A.
Minus the molestation.
I was going to add that, but I was trying to keep it cute. But why is that important for you?
Because there seems to be a very specific narrative, and South L.A. has so many different stories to tell, and it has so much beauty that I want to show in the same way that Woody Allen loves New York. I feel the same about L.A. and want to showcase its beauty. I always want it to be a character in the work that I do.
And it's not just talk. Your office is in Inglewood—you're very much rooted in the community.
And I live in Inglewood.
So when you gonna move on up? [laughs] Well, you don't have to because it's rapidly gentrifying.
So fast, right? It's also a topic we're taking on in Season Two. We're like a time capsule right now because in Season One there were so many places where we filmed that either don't exist anymore or are moving because of the rapidly changing landscape of South L.A. In Season Two, we address it head on and it'll be interesting to see—knock on wood—in Season Three what isn't there anymore.
I feel like living in Inglewood is a choice for you. Why did you decide to remain around the way?
My grandparents lived in Inglewood all my life, and I've lived in difference places [around L.A.]. My grandparents moved into a nursing home in the marina, so their house was free, and I decided to live there. I was also tired of paying rent to just anybody, I might as well throw it to my family. It just so happened that around the same time I was doing a show that was set in Inglewood and South L.A., so it became convenient, and I love living there.
Because people are so invested in the show and have taken teams—#TeamIssa or #TeamLawrence—did you feel pressure coming into the sophomore season?
A little bit, but only pressure to not do the most. I didn't want to come into this season feeling like I had to top Season One. [Prentice Penny, Insecure's showrunner] and I both agreed on that upfront. We resisted the idea that more eyeballs were going to be on it so we'd have to keep that in mind, given the fact that Game of Thrones would be coming on before it.
Aside from gentrification and the drama between Issa and Lawrence, what other themes will come up in Season Two?
We introduced Molly [played by Yvonne Orji] as someone who has a messy personal life and a messy love life, but is killing it at work. At the end of last season, we kind of had her friends call her out for it, but she's always had work to stand on.
[Before this season] we asked ourselves the question, "What would happen if she wasn't being valued at work?" If she was killing it, but not getting the right coins. That became an opportunity to talk about the wage gap. We'll see that kind of play out this season and just how hard it is to speak out about your worth, especially for a black woman in a corporate workplace.
When did you learn to recognize your worth and speak up for what you wanted as a black woman in Hollywood? In one interview you mentioned networks wanting to whitewash your idea for the show before it was picked up at HBO. How did you learn to say, "No, you're not going to mess with my vision and my voice"?
That came from observing black women power players in this industry that I admire. The Avas, the Oprahs, the Shondas, the Maras, the Debbie Allens. Being able to be around them and being able to maintain a relationship after this one Essence photoshoot that we did really came at the perfect time because I was just starting my show and I was coming to a point that I needed to put my foot down on something. It just gave me more confidence, because if I wanted to be like those women I needed to put my foot down and not be afraid to speak up and recognize what I bring to the table.
Emmy nominations were recently announced and Insecure was snubbed. Do you care? Did you feel robbed?
Yeah, I cared for about 10 seconds because it would have been so dope for the show and its exposure. It would have been great. But then I got over it quickly. We're happy with the work we're doing, the show's going to premiere and I'm happy, and I can stand behind it. This will just make us work harder to be recognized next year.
Season Two of Insecure premieres July 23 on HBO.