The United States has the highest rate of incarceration of any country in the world—and the country is home to almost a quarter of the global prison population. Over the last few years, the rate of incarceration for women specifically has skyrocketed.
This week, Senators Cory Booker and Elizabeth Warren introduced the Dignity for Incarcerated Women Act. The act would forbid prisons from keeping pregnant women in shackles—because prisons are still allowed to do that—and would require that federal prisons provide sanitary napkins and tampons to female inmates.
The bill would also restructure the way the justice system deals with female inmates who have children. If it passes, the Federal Bureau of Prisons will be required to take steps to make it easier for mothers to stay in touch with their children.
"We have a choice to make as a country, and a choice to make in Washington," Warren said at a press conference Tuesday announcing the bill. "Do we want to break more families apart? Or do we want to give more families a chance to heal?"
Booker echoed her concerns, noting that he had learned from a number of children of incarcerated women and formerly incarcerated women as part of the legislation-writing process.
G/O Media may get a commission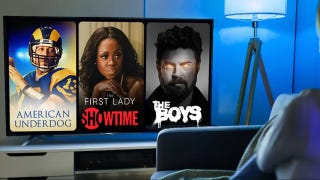 UNDER $1
99¢ Prime Video Channels
"When the mother in a family is incarcerated, the main provider in a family is incarcerated, the entire family suffers—the entire family is in prison," Booker said.
"When we were able to talk to advocates and people who were formerly incarcerated, the stories you hear are chilling, of barriers and walls we've put up to keep women from communicating with their children," Booker added.

As part of a campaign to support the senators' efforts, #cut50, a nonprofit that works to bring attention to issues of criminal justice, published some of those stories in a series called "Beauty on the Inside."
Some of the women who met with photographer and writer Wes Bruer were pregnant when they entered jail. Others spent years trapped in the "sexual abuse to prison pipeline," a well-documented trend showing how victims of long-term abuse often end up in jail.
#cut50's ultimate goal is to reduce the American jail and prison population by 50% over the next 10 years.
Below are three of the women's stories, as written by Bruer. You can find more photos and profiles of incarcerated women here.

---
Crystal Munoz: Arrested while pregnant with her second daughter

Convicted on charges of conspiracy to possess with intent to distribute marijuana
Sentence: 19 years, 10 months
Priors: First offense
Time Served: 10 years
Left behind: Husband, two daughters
Being sentenced to nearly 20 years in prison for conspiracy to possess and distribute marijuana wasn't the biggest tragedy Crystal Munoz had experienced in her life. Having lost her 5-year-old son to a choking accident, Munoz desperately wanted to grow her family, eventually having two daughters. But she would have never imagined being sent to prison while still pregnant with her second daughter.

She was charged and convicted on the marijuana trafficking conspiracy charges, which she insists was based only on the word of acquaintances who had been convicted for the same charges and were looking to reduce their sentences. Never found to be in possession of drugs, Munoz went to trial not knowing anything about the mandatory minimum sentencing guidelines that would devastate her family.
"You lose everything, you are stripped of everything. You are just a number here," Munoz said in the visiting room of Carswell Federal Prison. Scheduled to be released in late 2021, Munoz is still desperate to be released well before then as each day is crucial to playing a role in raising her now 10 year old daughter. "What I have experienced can be described as cruel and unusual punishment," Munoz said. "If you tear a baby apart from their mother, that's a heinous crime."
But Munoz is able to do her time knowing that she has a loving family waiting for her on the outside, spending all her phone time speaking to her daughters and feels blessed to still be married to her husband of 20 years. Despite being denied clemency years ago, Munoz's sentence was eventually reduced to 15 years and 8 months. But with more than four years of her sentence left to serve, she still clings to hope. "I've always had this hope, this great faith that it would change when I was most depressed," she said.
---
Rose Ella Summers: Another first-time, non-violent offender

Convicted on charges of conspiracy to distribute methamphetamine, money laundering  
Sentence: 24 years, 4 months
Priors: First offense
Time served: 20 years
Left behind: One son
"It feels like being buried alive," Rose Ella Summers told me in an email after visiting her the previous day at Carswell Federal Prison when she couldn't adequately sum up the feeling of spending most of her life incarcerated. "That is the only description without you really being there but only imagining how trapped and miserably hopeless the situation is," she said.

Summers' childhood, like so many other incarcerated women, was checkered with abuse and neglect. Raised in a household where drug transactions were common, Summers constantly sought the love of a mother who would "brainwash" her into justifying the illegal activities. "I'm not a drug dealer," Summers would tell herself, only using the proceeds of the drugs sales to pay for college and other necessities. She had been kicked out of her house by her mother at the age of 17, and had no choice but to move in with her boyfriend where she soon became a victim of domestic violence. With nowhere else to turn, Summers was forced to move back in with her mother to escape the physical abuse where soon thereafter, she was coerced into moving in and becoming romantically involved with her drug supplier.
After becoming pregnant, Summers sought to escape the toxic environment which she found herself in, moving across the country to Alabama to raise her son. So she was blindsided when federal agents came calling with handcuffs, accusing her of a leadership role in the drug operation which she had tried so ardently to distance herself from. The mother of a five month old son was now, according to prosecutors, the head of an international drug smuggling ring, with her mother and son's father taking plea deals for shorter sentences, leaving her to bear the brunt of the responsibility.
Faced with a choice of testifying against her mother and taking a plea or rolling the dice with a jury, Summers couldn't bring herself to put her mother in, despite all the childhood turmoil. But she also didn't know she could face a life sentence, despite being arrested for a first time, non-violent offense. "If I would have testified against my mom, I wouldn't be here right now," Summers recalls. "I have had to live with the decision to not testify all these years and the guilt of leaving my own son."
Sentenced to almost 25 years, Summers has spend 20 years in prison and is scheduled the get out in the fall of 2018. While incarcerated, Summers has earned two college degrees while inside and has been a model prisoner. In addition to advancing her education, Summers has also been a Hospice volunteer at Carswell and was elected by the prison's warden to speak to at risk females for a community outreach program for five years. Despite all of her accolades and clear signs of rehabilitation, Summers was denied clemency in November of 2014.

---
Deneise Quintanilla: Granted clemency after 16 years

Convicted on charges of conspiracy to possess with intent to distribute methamphetamine
Sentence: Life
Priors: Conspiracy to possess with intent to distribute cocaine
Time served: 16 years
Left behind: Two sons, one daughter
Deneise Quintanilla breaks down in tears as she looks at a picture of her and her daughter from more than a decade before. "This was the last vacation we took as a family before I was locked up," she said. Initially sentenced to life in prison, Quintanilla can't think about the time she had to tell her family she was never coming home without crying. Having served more than 16 years already, there was no reason to believe her case would end any other way.

That is, until Quintanilla was granted clemency by President Obama in January 2017. So getting to tell her family that she would be home after all was "beyond words" that she could express. "My gratitude towards President Obama is beyond anything I can say."
Quintanilla credits finding God with her change in attitude that led her to seeking redemption as a model inmate, rather than lashing out at the injustice of serving a life sentence for non-violent drug crimes. "I was broken when I came in here," she said. "We all make mistakes but these punishments don't fit the crime."
Quintanilla walked out of Carswell Federal Prison on May 17, 2017, and found her daughter and grandson waiting for her. With no words spoken, only tears, Quintanilla embraced the family she's missed so much time with, relishing in the opportunity to play a role in her grandson's life after being taken from her children. "Nobody can replace a mother," she said.
"Beauty on the Inside" was originally published by Wes Bruer and #cut50. Learn more about The Dignity for Incarcerated Women Act.