MAYWOOD, Ca.—Iván Ceja landed at the Los Angeles International Airport at 11:30 p.m. Sunday night. A friend picked him up and they drove toward the California-Arizona state line to deliver 30 checks that would cover the DACA renewal fees for 30 applicants. At around 4 a.m. on Monday, Ceja met with immigrant rights organizers in Blythe, the halfway point between Los Angeles and Phoenix. The organizers from Phoenix drove back with the checks, each one made out for $495, or what it costs to apply for DACA.

Ceja and his friend then drove back to Maywood, a predominantly Latinx community southeast of Downtown Los Angeles. At 7 a.m. on Monday, they picked up another volunteer. They stopped at an office supplies store to buy a printer and paper and set up a makeshift legal clinic at the First Baptist Church in Maywood. The pop-up clinic was helping young undocumented immigrants apply for DACA just hours before the application deadline.
Attorney General Jeff Sessions announced on September 5, 2017 that the administration was rescinding DACA. But the administration allowed a small portion of the almost 800,000 DACA recipients—beneficiaries whose benefits expire between September 5, 2017, and March 5, 2018—to renew their authorizations. The DACA renewal applications must be received by the United States Citizenship and Immigration Services (USCIS) by Oct. 5. USCIS says it will only review applications that have arrived in their office by the deadline, which means applicants have to overnight applications by today, Oct. 4.
USCIS told Splinter about 63% of the 154,000 DACA recipients who are eligible to renew their status have submitted applications so far. As of Monday, 56,000 eligible DACA recipients had not submitted renewal applications.
G/O Media may get a commission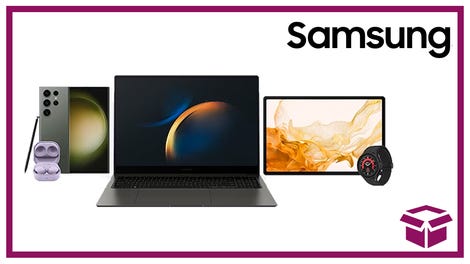 24 hour deals
Discover Samsung - Daily Deal
Ceja and immigrant rights organizers like him are doing the work the U.S. government failed to do; DACA recipients who are eligible to renew their status were not notified by United States Citizenship and Immigration Services (USCIS) that they could do so.
A total of 18 young undocumented immigrants visited the legal clinic in Maywood on Monday—more than half were young women, according to Ceja.
Organizers say one of the barriers holding people back from submitting requests to renew DACA is the $495 application fee. But several groups have launched fundraisers to provide grants that would cover those costs. One group, Mission Asset Fund in San Francisco, raised $3.8 million to cover DACA fees, and set a goal of covering application fees for 6,000 applicants.
Mission Asset Fund CEO José Quiñonez says he personally signed the first 2,000 checks that were mailed out. They were able to send out an estimated 5,000 checks, according to Quiñonez, who was honored with a MacArthur Genius Grant in 2016. But even with resources, the abrupt renewal deadline has been hectic for everyone.
"It takes a month just to get the word out and [the administration] gave DREAMers, just a month to apply," Quiñonez told Splinter. "A lot of people just don't know they're eligible to apply."
Members of the Congressional Hispanic Caucus have called on USCIS to issue an extension of the DACA renewal deadline on three separate occasions. But USCIS has not budged, not even for applicants affected by Hurricane Harvey in Texas. After California, Texas is home to the second-largest group of DACA recipients.  

"They intentionally wanted people to not apply because of the timing and we're seeing that play out," said Quiñonez.
[Update, 5:53 p.m. ET: A USCIS spokesperson said Quiñonez's "claim is without merit."
"The Acting Secretary's decision was to responsibly wind down the program to give Congress time to pass legislation and the wind down gave eligible individuals four weeks to apply for renewal," the spokesperson went on to say.]
Acting Homeland Security Secretary Elaine Duke on Wednesday announced she directed USCIS to "consider on a case-by-case basis DACA requests received from U.S. Virgin Islands and Puerto Rico residents." Fewer than 20 current DACA recipients from the territories affected by the recent hurricanes have submitted renewal applications, according to Duke.

The legal clinic at the First Baptist Church in Maywood stayed opened until 8 p.m. on Monday. Ceja and other volunteers then got in their cars and hand-delivered checks. One volunteer drove two hours to deliver a check to someone in the Coachella Valley. On Tuesday, Ceja was visiting banks depositing money directly into DACA recipients' banks accounts. Then on Wednesday, he was back at the bank wiring money to help applicants who couldn't afford to pay the expedited shipping costs.
"I just don't want money to be an excuse for people not applying," said Ceja, who is a DACA recipient himself.
Just hours ahead of the DACA renewal filing deadline, Splinter spoke with applicants visiting the pop-up legal clinic at the First Baptist Church in Maywood. The following interviews have been edited and condensed.
Maria Cervantes, 20
I was born in Mexico and came to the US at the age of three.

I left my job to start school, so I could have a career. I was enrolled in school to be a nurse but I dropped out when the Trump administration announced they were getting rid of DACA. I had to start working full-time again to start saving money. I have a son and have to be prepared in the event they take my work permit away.
I paid about $600 for the semester of classes and spent about $200 in books. I lost all that money. And then on top of that I had to come up with the $495 filing fee for the DACA application. That's a lot of money for us. I don't know that I would have been able to apply for my DACA renewal without the financial help here.
I think a lot of people still haven't applied because the administration only gave us a month to come up with the money for the application fees. I wish there were more organizations helping with the applications. This should have been all over the news. I learned about it on Instagram through the Undocumedia account.
The first time I applied for DACA, the lawyer I hired made it seem like it was a huge process. But here I'm realizing it's not that big of a process. I feel like some lawyers just take advantage of the situation.
Jagla Romero, 31
I was born in Mexico and came to the US at the age of 15.
I'm always prepared. As you can see, I brought my filing case with me that weighs about three pounds. It's got all my important paperwork. I have everything ready in the event of an emergency.
I wanted to apply for my DACA renewal earlier but I didn't have the money. I'm a single mother. I have a two kids, age five and 10.
The first time I applied for DACA, it took me three months to save up enough money to hire a lawyer and pay the application fee.
I saw many news stories about the deadline approaching on the TV, Facebook, and the radio, but I didn't learn about this legal clinic until yesterday. I learned about it through a Facebook group called DACA "Dreamers" Only.
Things are easy right now because everyone is helping. Giving us more than a month to come up with the application fee would have made things easier.
Brianda Ponce, 27
I was born in Mexico and came to the U.S. at the age of two.

This is my second time renewing my DACA and it's been way more stressful. I'm a single mom of two. It was either food and diapers for my kids or DACA.
DACA has saved my life and my kids' lives because I'm able to provide for them. Before DACA I was babysitting, but after I was approved for DACA I got better jobs. First I started at a Subway, then got a job at IKEA, then I started tutoring for an after school program. Now I work with children and I just got a promotion!
It's a big deal. I wouldn't have been able to do all this if i didn't have DACA. Before DACA, I didn't really see a career forming, now I have a career.
This time around, renewing DACA has been more stressful because of the time crunch and because our president is not trustworthy. I was going to borrow the $495 application fee from a family member and then work extra hours to pay the debt off.
I have a little bit of fear knowing that by applying for DACA I'm giving all my information to the government. I think the main thing holding people back from applying is fear of not getting approved and then the government having all your information. I have a family member who didn't apply because they were afraid of giving all the information to this administration.
I've seen a lot of comments on social media where people blame our parents for bringing us here or telling people like me to work hard and get my residency. If it was that easy I would have done it already. When I read those comments, it's so obvious these people don't know the process. I have to wait for my daughter to turn 21 so she can petition for my residency. My sister could petition for me, but that would take just as long.
Briana Ponce sent her DACA renewal application to USCIS last week. She received an application fee grant from Mission Asset Fund. She filled out the application on her own.
Jennifer Medina, 21
I was born in Mexico and came to the U.S. when I was a child.
I was going to file my DACA renewal application last Saturday, but I ended up having to take care of my siblings. I had everything ready, including a check from the Mission Asset Fund but my mother is a single mom and I had to help.
I knew this day was coming. I've been informed. I'm a student studying journalism. I was watching the press conference where Attorney General Jeff Sessions announced the Trump administration was getting rid of DACA. I watched him make the announcement on my phone, with the CBS News app.
It's been really rough. Last semester I had to register for classes late because I couldn't pay school fees in time. I considered not renewing my DACA even though I'm graduating soon. But I need this program. I need my rights.
Andrea Gutierrez, 29
I was born in Mexico. I first came to the United States at the age of one but my family went back to Mexico. Then we returned permanently to the U.S. at the age of seven.

I lost my DACA card that allows me to work here legally. I just moved to Los Angeles from San Francisco and I need it to find a job.
I came to the legal clinic today not knowing if I could even apply for a new card. I requested a replacement but I have to pay the $495 fee, again. To pay that amount again is just too much.

My boo drove me to this event. To be honest, if it wasn't for this event, I wouldn't have had the necessary information to fill out the application.
The top issue holding people back from applying is probably money, but there's also a lot of fear and misinformation out there. When DACA first came out, people were all about it, but with the current political climate people are very conscious of what information they provide to the government. Everyone is taking more precautions.
Correction, 6:45 p.m. EST This post has been updated to properly reflect Romero's age when she came to the United States.