It's difficult to exaggerate the repulsiveness of what today's top political news story: the fight over whether or not Barack Obama called Gen. John Kelly, who is now Donald Trump's chief of staff, after Kelly's son was killed in 2010 while fighting in the forever war in Afghanistan.
What's worse, the White House is adding fuel to this unholy fire, claiming—anonymously—that Obama definitely did not call Kelly to offer condolences after his son Robert, who was a second lieutenant in the Marines, was killed when he stepped on a landmine. (BuzzFeed's Steven Perlberg reported that the anonymous source is none other than White House Press Secretary Sarah Huckabee Sanders.)
It speaks to the grotesque nature of this entire back-and-forth, which Obama has not yet publicly engaged with, that not even the administration's top spokeswoman wants to go on the record about the issue.
The nauseating plot thickened with CNN's Jeff Zeleny reporting that Kelly and his wife attended a breakfast for Gold Star families at the the White House back in 2011 and were seated at then-First Lady Michelle Obama's table.
G/O Media may get a commission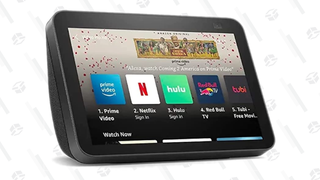 The whole matter began yesterday, when the president, in a wide-ranging press conference, claimed for no apparent reason that Obama and previous presidents didn't call the families of deceased soldiers. Trump added that he does "when it's appropriate." It was a low blow even for a rich-boy draft-dodger like Trump, who for weeks lobbed personal attacks at Gold Star father Khizr Khan and his wife.
Just four days after his son's death, Kelly addressed a group of Marines in November 2010. Kelly asked the officer introducing him not to mention his son, and he referenced him in the address just once, to say both of his sons are Marines. A father who lost his son should get to set the terms for how this unknowable loss is, or is not, discussed in the public sphere or used for political ends. But unfortunately, this and previous administrations have crafted whatever false narrative they want around the deaths of soldiers who fought the wars in Iraq and Afghanistan. Their stories are reduced to avatars of patriotism as a justification to keep fighting the longest-running war in American history.
It also provides a convenient distraction and a receptacle for our collective outrage, so we can continue to condemn Trump's violating the norms of how a president should talk about dead soldiers and engage with their families, rather than talking about why they were sent to die in the first place and how we can stop it from happening again and again and again.
We regard these illegal, unjust wars as immutable facts of American foreign policy. But far worse than the Trump administration defiling the legacy of Robert Kelly's sacrifice for petty political points is perpetuating the meaningless war that sent him to his death in the first place.