The days of gay couples at the vanguard of gentrifying neighborhoods are over: It's now really, really expensive to live in "gayborhoods."
New data from Trulia released in honor of Gay Pride month show that over the last three years, home prices in neighborhoods with a high density of gay male couples according to the 2010 Census have grown by an average of 23 percent, and 18 percent for dense gay female couple neighborhoods.
By comparison the average U.S. home price climbed 13.5 percent during the period.
For gay men, the median square foot home price is now $238, compared with $163 nationally, according to Trulia (lesbians actually come in a bit below the national average, at $157).
For male gayborhoods, Palm Springs, Calif. saw the biggest increase, at 65 percent, followed by the Noe Valley area just south of Castro, the the original West Coast gayborhoood, at 47 percent.
G/O Media may get a commission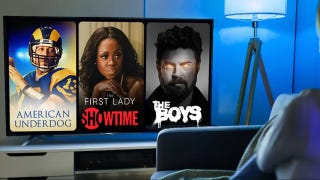 UNDER $1
99¢ Prime Video Channels
For female gayborhoods, Redwood Heights in Oakland and Avondale Estates in Atlanta saw the biggest increases.
The reason for these increases is pretty straightforward, according to Trulia housing economist Ralph McLaughlin: Gays now tend to have more disposable income, since most don't have kids. Gays have also been found to earn more and have less debt, though there are wide racial variations here.
This helps explain why gays also tend to seek out nicer, more expensive neighborhoods. Besides being generally expensive compared to national averages, many gayborhoods are now among the most expensive neighborhoods in their own cities, McLaughlin says.
For instance, in West Hollywood, prices are 123 percent more expensive than metro L.A., and in Provincetown they're 119 percent more expensive.
Provincetown, Avondale Estates in Atlanta, and Jamaica Plain in Boston have the highest premiums for heavily lesbian neighborhoods.
Although home values grew faster for gays than the rest of America,  gay neighborhoods aren't just located anywhere. They tend to be in fast-growing cities themselves, which explains why, despite their impressive price growth, only a handful of gayborhoods measured by Trulia are outpacing the price growth of their own metro areas (even if, as the two charts above show, the median price is still more expensive). (McLaughlin says no data has been published since 2010 that would show how gayborhoods themselves have evolved).
And as it turns out, there are more lesbian neighborhoods (six) than gay male ones (two) where this is occurring. McLaughlin explains why:
"First, the top gay men neighborhoods are places where prices were already high relative to their metros, and thus were not hit as hard during the housing crash as other less expensive neighborhoods within their respective metros," he writes. "Second, gay women couples are 2.4X as likely to have children than gay men couples, so it could be that gay women seek up-and-coming neighborhoods with good schools to raise their children."
So maybe the traditional notion of the frontier gayborhood isn't dead yet.
Rob covers business, economics and the environment for Fusion. He previously worked at Business Insider. He grew up in Chicago.