After years of sweet-toothed adoration, the pop culture tide has finally turned against red velvet cake.
Exhibit A: Orange Is the New Black. The third season of the binge-watch favorite was released on Netflix in June. In the sixth episode, an off-duty C.O. O'Neill browses the selection at a local donut shop. The employee behind the counter (who we'll later come to know as C.O. Coates) makes a friendly suggestion: "You should try the red velvet. It's new."
O'Neill is incensed. "Do I look like an idiot to you?" he asks, launching into a speech that evokes the hatred for merlot expressed in Sideways:
"You think you can squeeze an extra dollar out of me because it's like, 'Ooh, trendy, it looks like it's bleeding.' No, in your heart of hearts, you know as well as I do, red velvet is bullshit. It tastes like Play-Doh. It is not velvety. And the only thing that's good about it is the cream cheese frosting, which is meant to live on top of carrot cake, like God intended."
"Red velvet isn't a thing," he concludes.
Forget red velvet donuts. As the New York Times pointed out last year, we live in an age of everything from red velvet protein powder to red velvet vodka. There's red velvet yogurt, red velvet jewelry (scented and not), red velvet lipstick (expensive and not), red velvet soap,  red velvet marshmallow Peeps, and at least one red velvet tattoo.
G/O Media may get a commission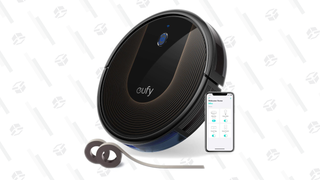 48% Off
Eufy BoostIQ RoboVac
Joel M. Garland, the actor who plays O'Neill, has earnestly taken up the #redvelvetisbullshit crusade on his Twitter feed.
"@spikybluegirl: I got you a cupcake @joelmgarland #OITNB #RedVelvet pic.twitter.com/KtYxGHhnCy" sadist

— Joel Marsh Garland (@joelmgarland) June 23, 2015
This fan-favorite rant clearly touched a nerve. On Etsy, you can already buy a tank top, T-shirt, or necklace inspired by Orange Is the New Black's unapologetic anti-red velvet stance.
Jenji Kohan's prison dramedy isn't the only recent work of fiction to come out against red velvet. In Magic Mike XXL, which premiered on July 1, Mike (Channing Tatum) finds Amber Heard's character singlehandedly devouring a red velvet cake. A self-proclaimed "cookie guy," our frequently-shirtless hero dismisses red velvet as "bullshit." He'd prefer Oreos, he says.
Ironically, Red Velvet Oreos hit the shelves this February, in time for Valentine's Day, followed by a foul, limited-edition red velvet frappuccino from Starbucks in June.
In its platonic form, red velvet is a vibrant red cake slathered in white — often cream cheese-based — frosting. The batter conventionally contains cocoa powder, albeit far less than you'd use for a chocolate cake, and a heavy dose of red food coloring, though some inventive bakers prefer beet juice. Early red velvet cake recipes called for vinegar or buttermilk, which may have reacted with baking soda to lighten the cake's texture and with the cocoa to produce a red tint.
It's important to recognize that pop culture backlash to red velvet — as seen on Orange and in the Magic Mike sequel — is a remarkably recent phenomenon. Until now, when the dessert has surfaced in film or television, it's almost universally been depicted in a positive light.
In 2008 and 2010, respectively, episodes of Throwdown with Bobby Flay and the Food Network's Food Feuds enthusiastically devoted themselves to the subject of red velvet cake. In the world of scripted television, we learned in 2012 that the character Penelope Garcia on Criminal Minds loves red velvet cupcakes, which are not only the title of but also make a delectable cameo appearance in a 2013 episode of The Mentalist.
In 2012's The Vow — oddly enough, another Channing Tatum movie — Paige's (Rachel McAdams) wedding vows include a promise to "agree to disagree on red velvet cake." (A mixed endorsement, yes, but a lot better than "bullshit.") Just this past March, NBC's The Blacklist climbed aboard the red velvet train, serving Liz Keene (Megan Boone) red velvet cupcakes for her birthday.
So, what happened? Now, more than ever, red velvet is an easy target. We feel you, C.O. O'Neill. Red velvet-flavored non-cakes (those wines, lattés, and candles) are a tempting punchline in part due to their sheer number, and in part because the concept of "red velvet flavor" is largely nonsensical. Pumpkin spice-flavored products swarm shelves like an invasive species every fall, but at least they promise a familiar profile of cinnamon, cloves, and nutmeg (albeit no pumpkin). Red velvet's flavor is… chocolate, sort of? Vanilla-ish? Cream-cheesy? Red? A nonbeliever might describe it as an anemic hit of cocoa, chased by the chemical kick of food coloring.
Speaking as a believer, the real joy of red velvet cake is not in its taste, but in its visual impact: that gonzo, visceral red rarely occurs in nature, let alone in human diets. And in other incarnations of red velvet (edible or otherwise), that color often translates poorly. The Oreos are a disappointingly muted maroon. The Starbucks frappuccino — a seemingly arbitrary blend of mocha sauce, raspberry syrup, and vanilla — reportedly oxidizes rather quickly from red to an unappealing shade of brown.
This shark has been jumped.
To understand red velvet's present, it helps to revisit its past. The history of this dessert has been highly contested since long before your barista got his hands on it. We do know that red velvet cake was served at Manhattan's luxurious Waldorf Astoria Hotel in the 1930s, which, legend holds, is where John A. Adams, the president of the Adams Extract Company, and his wife Betty first encountered it. The Texas-based purveyor of food colorings aggressively marketed its own version of the dye-laden recipe in the 1940s, and so a distinctly Southern classic (by way of New York City) was born.
It's been widely noted that red velvet might have 1989's Steel Magnolias to thank for its modern reemergence. But ironically, the cake's treatment in the Louisiana-set tearjerker was ambivalent at best. Shelby (Julia Roberts) is dismayed by her fiancé's gauche choice of groom's cake: it's shaped like an armadillo. The confection's unsettling gray frosting is one thing, but the worst part is its red velvet interior.
"Blood red," Shelby complains. "People are going to be hacking into this poor animal. It looks like it's bleeding to death."
She wasn't wrong: the final product is decidedly unappetizing.
After Steel Magnolias, it still took more than a decade for red velvet to find traction in bakeries around the country. Here's how the search volume for "red velvet" has compared to "blue velvet," the title of the David Lynch's acclaimed 1986 thriller and the popular Bobby Vinton song heard in that film, in recent years.
According to Google Trends, searches for "red velvet" have consistently outranked those for "blue velvet" since spring 2007. You'll also notice that two "red velvet" peaks occur annually in December and February, presumably because red cake is thematically appropriate for Christmas and Valentine's Day. (That particularly sharp spike in August 2014 coincides with the formation of the K-pop group Red Velvet and the release of their debut single that same month.)

2007 represented something of an early mainstream tipping point for red velvet, with the New York Times publishing a feature on the dessert that Valentine's Day. The publication's interest in red velvet is appropriate. Although red velvet cake benefited greatly from its proper Southern upbringing, it arguably took hold as a nationwide cultural phenomenon after rediscovering its New York City roots. A major milestone in the history of red velvet cake was the lines-down-the-block success of Raven Dennis III's Cake Man Raven bakery in Fort Greene, opened in 2000, which imbued the dish with a sense of Brooklyn cool. Before rising rent displaced him from the storefront in 2012, Dennis' famous patrons included Maya Angelou and Mary J. Blige, and it was he who faced off with Bobby Flay in that red velvet-themed installment of Throwdown.
But in many ways, the rise of red velvet is inextricable from the rise of the cupcake. Red velvet has been a popular fixture of the cutesy, retro-inspired menu at West Village's Magnolia Bakery since its launch in 1996. The dessert, then little-seen elsewhere in Manhattan, quickly became (and remains) one of its popular offerings. The now internationally-franchised cupcake emporium was first made famous in a 2000 episode of Sex and the City — although it's worth noting that Carrie and Miranda enjoy vanilla cupcakes with pink buttercream frosting, not red velvet.
The new millennium gave rise to an American cupcake craze, and specifically a red velvet cupcake craze. Today, the Beverly Hills-based cupcake chain Sprinkles (in operation since 2005) bakes not only a classic red velvet — its most popular offering — but sugar-free, gluten-free, and vegan variations. It's the only flavor the company offers in that many dietary restriction-friendly versions, Sprinkles' Nicole Schwartz tells Fusion.
In fact, red velvet cupcake mania is probably responsible for red velvet Pop-Tarts, red velvet air freshener, and all the unlikely forms of its current market saturation. "The red velvet cupcake trend is what really ignited this new trend," Megan West of ConAgra Foods recently told Quartz.
By 2011, the red velvet cupcake was even the toast of the A-list. That's when actress Emma Stone famously mused inGlamour, "You're a human being, you live once and life is wonderful, so eat the damn red velvet cupcake." According to West, it was this year that the "volume in conversation" about red velvet lifted off, as reflected by the Google Trends chart above.
But nothing, no matter how sweet it may be, lasts forever. The Crumbs Bake Shop started with a single New York City cupcake shop in 2003. In 2011, it went public, trading on the NASDAQ as CRMB. Yet by 2013, its shares had dropped from $13 to $1.70, prompting the Wall Street Journal to suggest that the cupcake bubble had burst. The cupcake chain — America's biggest — finally delisted from NASDAQ last July. Within a week, Crumbs closed all its stores, some of which reopened in October after new ownership purchased the company out of bankruptcy.
Today, red velvet still features prominently on the Crumbs menu. Given how intertwined their fates once seemed, is it doomed to face the same decline suffered by the gourmet cupcake?
Red velvet is among the original flavors at Baked By Melissa (established in 2009), which churns out bite-sized mini cupcakes at a dozen locations in the New York metropolitan area. Their menu's description of red velvet calls it "an elegant cupcake favorite that needs no further introduction."
This language is typical of the way we've conceived red velvet since its renaissance: premium, posh, refined. That's not too surprising, considering that — at Magnolia Bakery, for instance — a red velvet cupcake can run you a considerable $3.50.
The Red Velvet Cupcakery, a self-professed "designer" bakery in Washington, D.C., bills its cupcakes as both "classy" and "elegant." Better Homes and Gardens has also characterized the cake as "elegant," while a Today Show staffer improbably praised Red Velvet Oreos as "subtle and sophisticated." Within red velvet-centric blog posts, adjectives like "sophisticated," "chic," and even "fancy-pants" are not uncommon.
It wasn't always this way. Remember that New York Times feature from Valentine's 2007? The dessert's prior appearances in the paper of record paint a very different picture from the glowing coverage it would later receive: one of affectionate derision.

In 2002, food writers Matt and Ted Lee dismissed red velvet cake as "Southern and trashy," threatening to bake a friend of theirs a red velvet wedding cake as a prank. Some would say the Lees' description was apt — later that same year, Jessica Simpson and Nick Lachey celebrated their union with a red velvet wedding cake. The couple's baker of choice was himself "dumbstruck" when the bride, a Texas native, chose red velvet.
Poet Suheir Hammad labeled the brightly hued cake, a favorite of hers, "nasty" in a 2003 New York Times profile. Nora Ephron's 2006 review of Jane and Michael Stern's Two for the Road described red velvet as one of the "uncelebrated, homely, traditional regional American foods," in the same breath as biscuits, ribs, and fluorescent blue gelatin. Even in that 2007 Times story, food writer Angie Mosier called red velvet "tacky" — in a good way, like Dolly Parton, she clarified.
"Tacky" and "trashy" are, of course, a long way from "elegant."
In the course of its Sex and the City-adjacent ascendance, red velvet made an unlikely transition from lowbrow to luxury. And that's a box in which it does not fit. Nostalgic, neon, and, frankly, kind of weird (in a good way), red velvet is the pink flamingo of baked goods. It's not cosmopolitan; it's camp.
Assuming our pop culture barometer is properly calibrated, red velvet (not to mention its attendant yogurts and cosmetics) could soon go the way of the high-end cupcake — and the way of the Jell-O mold and the chocolate fondue before that — but I hope it won't. Red velvet is a thing, but perhaps not the thing we've been conditioned to expect. Maybe the key to falling back in love with this dessert is to accept red velvet, food coloring and all, for its true nature: whimsical, unpretentious, and not at all out of place in an armadillo-shaped cake.
Molly Fitzpatrick is senior editor of Fusion's Pop & Culture section. Her interests include movies about movies, TV shows about TV shows, and movies about TV shows, but not so much TV shows about movies.