The cause of women's rights isn't just for famous feminists in the United States. Everyone from the U.S. Department of State to the Multilateral Investment Fund and Big Four accountancy Ernst & Young are working to provide aspiring female entrepreneurs in Latin America access to the materials they need to grow their businesses.
Recently, the State Department teamed up with Ernst & Young to aid female entrepreneurs in Colombia, El Salvador, Bolivia, and Argentina as part of the Women's Entrepreneurship in the Americas Initiative (WEAmericas). The partnership is designed to help women better use technology to grow their businesses and will culminate in four "TechCamps" over the next six months.
TechCamps began a few years ago, but this year's venture is the first iteration to support gender equality, said Jennifer Walsh, with IRM's Office of eDiplomacy.
In Latin America and the Caribbean, women represent 41.6 percent of the economically-active population. However, the average rate of entrepreneurial activity among women is just 15 percent, according to a March 2014 study from MIF and Ernst & Young.
Women in Latin American countries lag behind their male counterparts in studying science and technology, but these paths offer the most growth potential.
G/O Media may get a commission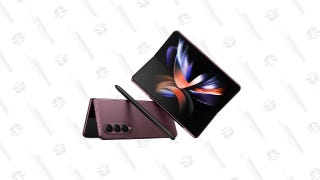 Save Up to $300
Galaxy Z Fold4
"Women tend to create businesses with less chances to scale: lifestyle; retail, while men traditionally have been much more present in STEM careers and have created companies that are easier to grow and become global," Susana Garcia-Robles, the principal investment officer for MIF, told Fusion via email.
Despite that sad discrepancy, 85 percent of high-growth female entrepreneurs in Latin America and the Caribbean have the ambition to grow their business.
"Gender equality is a pillar of our diplomacy," Walsh said, adding that there is evidence that places which offer women more advantages and an equal playing field with men tend to be more stable and prosperous.
According to the World Bank, women are Latin America's "best partner" in its pursuit of economic growth.
More than 70 million women joined the region's workforce over the past 20 years and those women's income reduced the area's extreme poverty by 30 percent, the World Bank reported in March 2013.
But women still face crippling barriers.
"In Latin America and the Caribbean, women face much more complex challenges in the formal economy than women in more developed countries, such as: a lack of policies and programs to support and encourage entrepreneurial activity, excessive norms and regulations, and restricted access to credit," The Global Entrepreneurship Monitor found in its annual report.
Women also face gender barriers — discrimination because they are women — when starting and developing their businesses.
Geraldine Mlynarz, a 41-year-old entrepreneur from Chile is divorced and has two children. She founded ActivaQ, a biotechnology company, in 2011.
"I knocked on a thousand and one doors and all of them stayed closed but one," she told MIF for its March study, citing the opposition she faced from her business peers.
"It was just harder for [women] to find opportunities to demonstrate leadership," Walsh said.
A lack of available mentors, according to Garcia-Robles, compounds the difficulties. Male entrepreneurs tend to become mentors and angel investors to fellow male entrepreneurs, but there aren't that many high-growth female entrepreneurs who are able to serve in the same capacity for their fellow women, she said.
While Garcia-Robles is not working with Ernst & Young and the State Department on "TechCamps," MIF last year created WeXchange, a platform for high-growth female entrepreneurs in Latin American countries to access mentors, potential investors and be exposed to valuable role models.
The four upcoming TechCamps are aimed at helping female entrepreneurs find low cost-technologies and develop new technologies to meet their business needs.
The first camp in Colombia will primarily target women in the fashion and leather working industries and will focus technologies that help with marketing, exporting and growing those businesses.
The camp in El Salvador will focus on textiles and tourism and will rely heavily on social media training for advertising while the camp in Bolivia will feature more basic business development centers.
The TechCamp in Buenos Aires, however, will focus on the tech sector, since more women in that area are already working in software development.
The camps are all very focused on the unique traits of the country in which they're being held, Walsh said.
Each camp will host about 80 participants. While selection criteria is unique to the host country, it depends on whether women have already opened their businesses, how many employees they have, and their entrepreneurial needs.
The camps are primarily designed to help women who have already established their businesses and are looking for their next growth opportunity, said Stefanie Fabrico, the economic inclusion policy officer with WEAmericas.
"In terms of outcome, if we can help even a small percentage to grow their business, to give them some new tools to work with, then that helps their families, their employees, their communities, then we would just like to be responsible for the ripple effect of that," Walsh said expectations of the camp.
The best contribution Ernst & Young is offering, according to Fabrico, is extended mentoring for the camps' best performers. For about six months after the camps, Ernst & Young will provide mentorship through their in-country affiliates; the women who are mentored will then, presumably, take that advice back to their in-country networks and pass it along.
While some more conservative stereotypes about women persist in Latin America — women do still have "largest share of family responsibilities" according to Garcia-Robles — Walsh said those mindsets aren't as consistent as they once were and people have been "very pleased" to have TechCamps take place.
Stereotypes aside, or perhaps because of them, hosting TechCamps may be more a question of making sure certain women who haven't had the chance to be exposed to the type of information offered at the seminars will now have it and can start to make use of it, according to Walsh.
"It is by now common knowledge that well-gender diversified companies perform better because women bring a different set of business skills than men to the table, and they are very complementary," Garcia-Robles said. "Women  comprise half the global population or slightly more and make most of the decisions when purchasing goods and services, why should they be excluded then from the process that produces those products and services?
The first of the four tech camps begins Tuesday, Oct. 14 in Colombia.
Abby Rogers is a feminist who is completely content being a crazy cat lady. She reads everything, but only in real book form — no e-readers thank you very much.